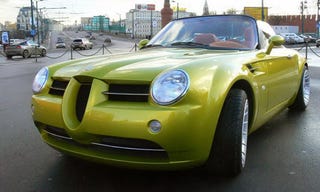 We thought the Mitsuoka Himiko was a clever re-envisioning of the Mazda MX-5. We do not feel the same way about the Russian-built, E-36-based Cardi Body II.

We're not sure what the Body I looked like, but the Body II is an interesting mix of BMW Z8, Edsel and Playskool design languages that combine to create something distractingly unattractive. The vehicle looks especially awkward next to St. Basil's Cathedral, an example of good Russian design.
Designed by Russian design firm Cardi, underneath the yellow-green skin it is assumed the Body II is a BMW 325i (E36) equipped with the 196-horsepower version of the 2.5-liter inline-six. Cardi claims the vehicle is capable of reaching 62 mph from a cold start in 6.6 seconds with a speed-limited top speed of 155 mph.
We're not sure of the price tag, but if you have to ask... you're probably some rich Siberian oil oligarch with more money than taste and you don't care.
[CarScoop]