Good Morning! Welcome to The Morning Shift, your roundup of the auto news you crave, all in one place at 9:00 AM every weekday morning. Here are the important stories you need to know.
1st Gear: An Alfa Romeo Reality Check
We're only a few weeks from the launch of the new Alfa Romeo Giulia luxury sport sedan (if that's what they end up calling it) and the case could be made that it's Alfa's most important vehicle ever. After all, Fiat Chrysler wants them to sell 150,000 cars in North America by 2018 — that's a little less than half of what BMW sold in the U.S. in 2014. In other words, a lot.
That goal is a real longshot when you consider their history here, according to this must-read story from Richard Truett in Automotive News:
Alfa has made some gorgeous and technically interesting production cars in the last 50 years, but they never sold in high volume. Rarity, you see, has a lot to do with the high prices being paid for original and professionally restored classic Alfas.
I wonder if the fervor among collectors for old Alfas has Fiat Chrysler boss Sergio Marchionne overestimating the demand for stylish new models that capture the brand's DNA.

I went back into the archives and looked at Alfa's sales history in the United States. Even if Alfa had a large base of loyal old customers — which it doesn't — 150,000 units annually would be tough, especially in this competitive era. Alfa's best sales year here came in 1986, when it sold 8,201 cars. Also, Alfa dealers usually ranked dead last in U.S. sales per outlet in the 1970s.
G/O Media may get a commission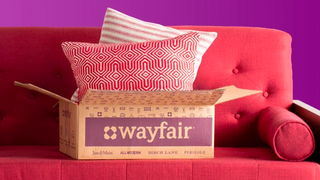 Big deals
Wayfair Surplus Sale
While Alfa Romeo builds a wide variety of sedans and hatches in other markets, in the U.S. they're still primarily known for sports cars — thank The Graduate for that. But they have six new cars coming through 2018, including two SUVs. Can they really become Fiat Chrysler's BMW?
2nd Gear: Lots Of Delays At Fiat Chrysler
Speaking of Fiat Chrysler, remember last year when they unveiled their five-year plan for all their brands? That seemed hugely ambitious at the time.
But now, a year later, Reuters reveals at least a dozen big-deal models have been delayed while Sergio Marchionne looks for a partner to consolidate with:
Among the North American vehicles FCA has delayed updating are high-margin models including the Ram 1500 pickup and the Jeep Wrangler utility vehicle, according to five people familiar with the company's plans. Sales of pick-ups and utility vehicles account for more than half of FCA's pre-tax profit, according to industry analysts.
At the same time, they pushed up development of new Alfa Romeos. Is sacrificing proven brands like Ram and Jeep for something unproven like Alfa a wise strategy?
3rd Gear: MORE RECORD SALES
And now here's the part where we report the same thing we've reported at the beginning of every month for the last year or so: thanks to cheap gas, a continued economic recovery, low interest rates and longer loan terms, last month was a record sales month! Especially for trucks and SUVs! Via Bloomberg:
The annualized pace of sales, adjusted for seasonal trends, rose to 17.8 million, according to Autodata, from 16.7 million a year earlier and topping estimates for a 17.3 million rate. It was the fastest pace since July 2005, Autodata said. The biggest surge is coming in SUVs, minivans and pickups, which gained 6.8 percent last month while traditional car sales fell 3.7 percent.
Everything is awesome! Nothing bad can possibly happen here!
4th Gear: Takata Be Like ¯\_(ツ)_/¯
It wouldn't be a Morning Shift if I didn't mention the massive Takata airbag recall. Yesterday on Capitol Hill, Takata U.S. Executive Vice President Kevin Kennedy got grilled by lawmakers on why the recall took so long to happen — you'll recall Takata knew these airbags had problems in the mid-2000s. From The Detroit Free Press:
"Six months ago I asked the question: What should I say to the mom in Michigan who asks me if she and her family are safe behind the wheel?" asked U.S. Rep. Fred Upton, R-St. Joseph, who chairs the House Energy and Commerce Committee. "Six months later ... I have to ask the same question."
But Kennedy said his company still isn't sure exactly why the airbags have the potential to explode and fire shrapnel into the cabin, something that has killed six and injured more than 100:
But at today's hearing, Kevin Kennedy, an executive vice president with Takata, acknowledged that the root cause of the defect is still unknown and that the company, at least for a time, plans to continue using a chemical propellant even it considers one of the factors in the air bags' failure.
5th Gear: Rick Wagoner Faces Grilling Of His Own

Speaking of deadly defect recalls (those and booming truck sales are all we really talk about here on TMS) former General Motors CEO Rick Wagoner is set to be deposed by lawyers waging a class-action lawsuit against the automaker over the ignition switch defect, now linked to more than 100 deaths. Via The Detroit News:
Wagoner is scheduled to be questioned Sept. 2. Bob Hilliard, a Texas attorney who is one of three lead attorneys for class-action personal injury and death lawsuits against GM, said Tuesday he is seeking to land depositions of Wagoner's successors as CEO: Fritz Henderson, Ed Whitacre and Dan Akerson. They were on the job when the U.S. government owned a significant share of the automaker. Hilliard said he wants to get "every CEO who was there during the active coverup."

GM has repeatedly denied any coverup, attributing the delayed recalls to a culture of incompetence and neglect.
A ton of former and current GM officials are set to give depositions as well. This won't be going away for GM anytime soon.
Reverse: Monopoly, But Not The Fun Kind
On this day in 1957, the U.S. Supreme Court rules that the chemical company E. I. Du Pont de Nemours & Co. must give up its large stock interest in the Detroit-based automobile company General Motors on the grounds that it constituted a monopoly, or a concentration of power that reduced competition or otherwise interfered with trade.
Neutral: How Can Alfa Romeo Make It In America?
Can what was mainly a tiny maker of niche sports cars become a luxury titan here? And if so, how?
---
Contact the author at patrick@jalopnik.com.