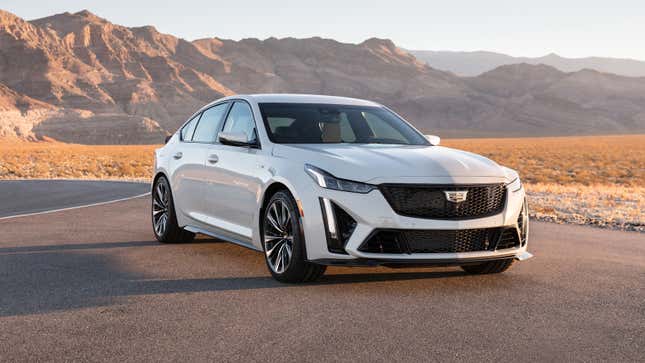 I hate what Cadillac has become in the last couple of decades. The brand's decision to compete with the Europeans by becoming edgier and sportier is, in my opinion, one of the industry's bigger blunders. The current Escalade is basically perfect. There's also Caddy's decision to spend a boatload of cash on a twin-turbo V8 engine called the Blackwing, and then scrap it after putting it in one model for two years of production, and then inexplicably reusing that name on V8 performance models without that engine. Weird flex, GM.
With that said, it would stand to reason that I'd hate the several weeks I spent with the 2023 Cadillac CT5-V Blackwing, with its 668-horsepower supercharged LT4 V8, right? Nope. Wrong. It's an amazing car, and I loathe the fact that I had to give it back. But why?
While the regular Cadillac offerings have largely become muddled over the years, the sporting V brand has always had a pretty clear idea of what it should be. It has leaned into GM's core competencies, and the whole Cadillac branding thing has always just been sprinkled on top, making the cars nicer to live with. The CT5-V Blackwing is a perfect example of this.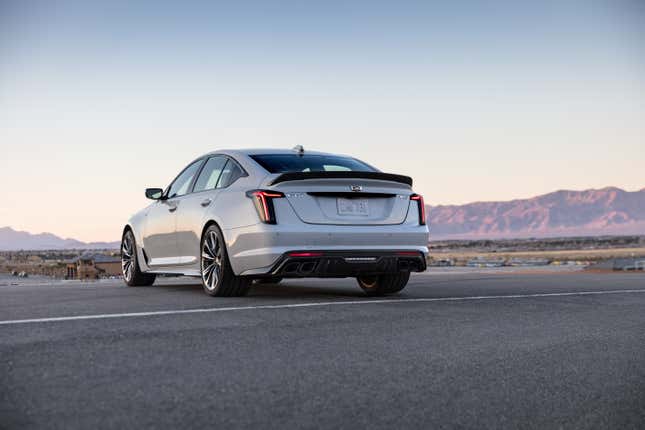 The base CT5 is a profoundly unexciting and not-especially-competitive car. It offers meh powertrains, a dated interior and nice, if not exceptional, exterior styling. It's not hugely expensive, but it's also not super cheap, with a starting price around $40,000. If you spend another $10,000 you can have the twin-turbo V6-powered CT5-V (which I can't really make a case for), but the real magic happens when you open your wallet wide enough to allow at least $93,000 to fly out, netting you the V8-powered Blackwing version.

GM's 6.2-liter supercharged LT4 V8 debuted in the C7-generation Corvette Z06, making 650 hp and 650 lb-ft of torque. In the Blackwing – it's second-most powerful version of the engine behind the one in the Escalade V – it makes 668 hp and 658 lb-ft. This is arguably one of the greatest engines ever conceived of by humanity. It offers an unparalleled blend of power, torque, driveability and efficiency that most other performance engines can only look at and weep. In this car, it's pure joy.
The LT4 can be had in the Blackwing with either a six-speed manual or a 10-speed automatic transmission driving the rear wheels exclusively. Most keyboard warriors would doubtless say that the six-speed is the way to go here because manual is always better. They're wrong, and not only because getting the car with three pedals prevents you from getting a ton of awesome safety and convenience tech. Even though it's not the best torque converter auto around, the auto is the move here because it best suits the car's character. It allows you to drive like an escaped lunatic when you want and casually and comfortably cruise the big CT5 when you need to. It's just the right tool for the job.
(Editor's note: Kyle has not driven a manual CT5-V Blackwing and is deeply wrong about this.)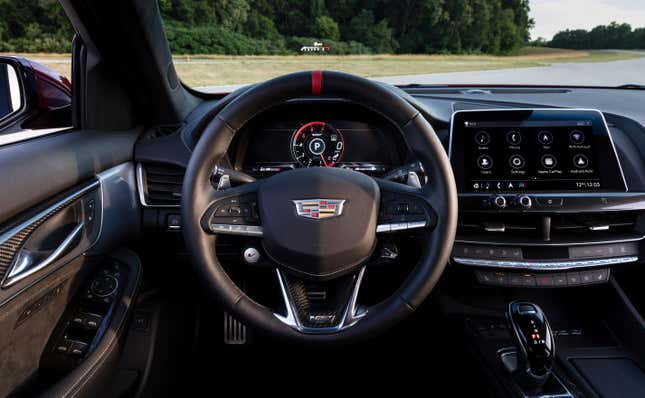 While the powertrain has always been the star of the show when it came to V models, the chassis has always felt like a real priority for the engineers. It's like The Miracles to the LT4's Smokey Robinson. This generation of V benefits from GM's extremely well-calibrated MagneRide suspension, which, like the automatic transmission we discussed, completely suits this car's dual natures. Even in the softest suspension setting, though, the car's body feels well-controlled, even with its over-4,000-pound curb weight. The steering is direct and accurate, if not particularly communicative, but this is, at its heart, a luxury car.

Braking is handled either by great big steel brakes (Brembo 15.67-inch rotors up front, 14.7 inches in the rear), or, if you have money to burn and ego at stake, you can spend $9,000 on a set of carbon ceramic brakes. My test vehicle had the latter, and they were great without the overly grabby feel that carbon brakes can often have at the initial bite point. I suspect, however, that the car would be equally great without this upgrade, but fuck it, we ball.
The interior is arguably the CT5-V's weakest point. While it has all the mod-cons like Apple CarPlay and Android Auto and a reasonably responsible touchscreen, it feels lightyears away from Caddy's best interiors like the one in the Escalade. The materials don't feel spectacular, and the fit and finish is fine but not great. The high-performance bucket seats are comfortable enough, and they're both heated and cooled, which is good. Compared to the miserable BMW M Carbon Buckets with their #grundlebusters, the Caddy's seats are both cheaper and considerably more liveable. Safety tech is decent and comparable with other cars in the class, though, as I mentioned previously, much of it is only available on automatic-equipped cars.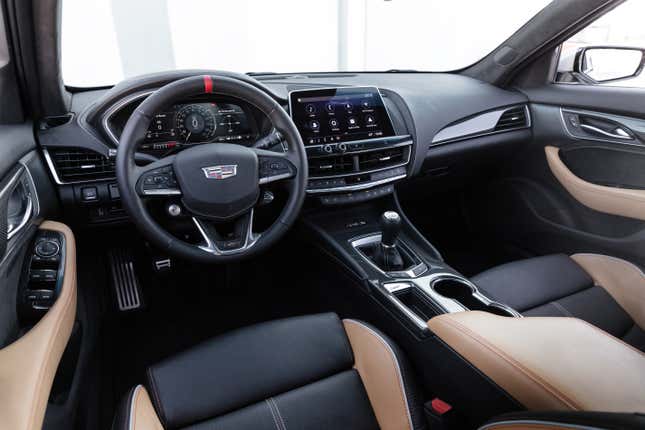 The 2023 Cadillac CT5-V Blackwing starts at $93,390, including a $1,395 destination charge. My test vehicle stickered for $110,280 and came with those carbon ceramic brakes, the high-performance bucket seats, premium paint and wheels and the performance data recorder. The 10-speed auto is a $2,275 option, and the driver assist package is $900.

The nice thing about the CT5-V Blackwing is that there is nothing else in its immediate price range offering the same kind of power, chassis tech and carbon brakes. If you want something similar from BMW, the M8 Competition Gran Coupe has less power and torque, all-wheel drive and a better interior for an addition of almost $40,000. Audi will sell you the RS 7 Performance, which has less power and more torque and will set you back just shy of $130,000 with no options, and as for Mercedes-AMG, good luck getting an E63 now.
While the CT5-V Blackwing is in many ways the antithesis of what I think Cadillac should be doing, it's an almost impossible car to hate. It has one of the world's greatest engines, which makes an almost violently delightful noise, a good chassis and a killer price for what you're getting. Is it perfect? Nope. Do I really, really want to live with one? You bet your ass I do.