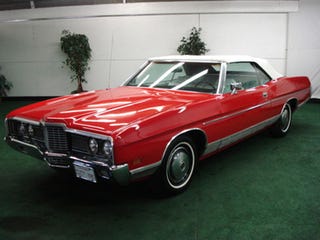 Want to help raise drug addition awareness? Want a 1972 Ford LTD convertible? Want to buy a car previously owned by someone once considered an "international sex symbol?" We have exactly the car for you.
This is certainly one of the stranger celebrity auctions we've seen — well, ever since Gary Coleman's Saturn Sky. We're not sure how feel about this as a pure value proposition, but can you really put a price on owning something so strange? You can, and it looks to be about $15,000. Details below.
Enjoy Sharon Stone's 1972 Ford LTD. She is one of Hollywood's most famous and powerful actresses. She has appeared in Basic Instinct, The Specialist, Total Recall, Casino, and Sphere. An international sex symbol who has managed to perform alongside virtually all of Hollywood's leading men including: Russell Crow, Leonardo DiCaprio, Robert DeNiro, Michael Douglas, Dustin Hoffman, and Sylvester Stallone. She is none other than the gorgeous powerhouse, Sharon Stone!

Bid now on her classic car!

1972 FORD LTD CONVERTIBLE
ENGINE: V-8 400CID
TRANSMISSION: AUTOMATIC
POWER BRAKES, POWER STEERING, POWER OPERATED TOP, AM/FM CD PLAYER.