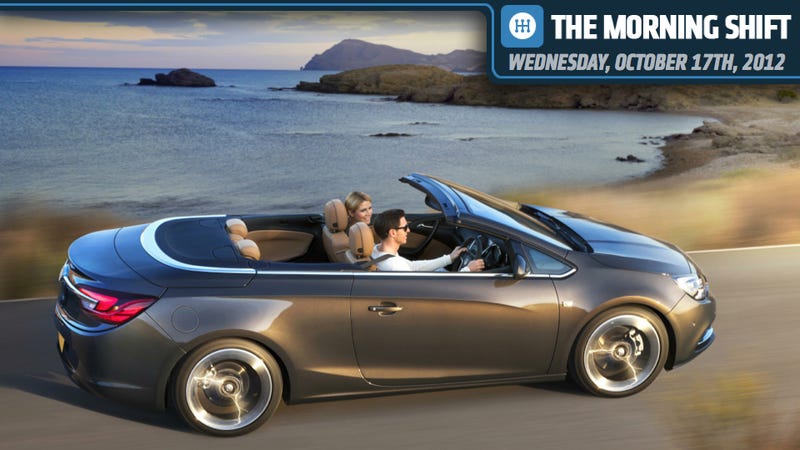 The Morning Shift
All your daily car news in one convenient place. Isn't your time more important?
This is the Morning Shift, our one-stop daily roundup of all the auto news that's actually important — all in one place at 9:00 AM. Or, you could spend all day waiting for other sites to parcel it out to you one story at a time. Isn't your time more important?
---
1st Gear: Would Anyone Have Saved The Auto Companies?
The auto industry made an immediate and more lengthy appearance in last night's presidential debate, and the central issue: would someone have saved General Motors and Chrysler? Mitt Romney, author of the famous "Let GM Go Bankrupt" op-ed, essentially said it was okay for the companies to wind up in Chapter 11. "The president took General Motors bankrupt, he took Chrysler bankrupt," Romney said. "That was a process that was necessary to get those companies back on their feet."
Obama, who seemed much more awake than he was in the first debate, immediately shot back, "You wanted to take them into bankruptcy without providing the, any way to stay open. We would have lost 1 million jobs. Don't take my word for it. Take the executives at GM and Chrysler, some of whom are Republicans. They may even support Governor Romney." It's never been completely clear whether the car companies could have found bankruptcy financing without the administration's help. They never seriously prepared bankruptcy cases, and that process would have included looking for debtor-in-possession financing to keep them going until they could reorganize. Conventional wisdom says the only alternative was the government, which was true in fall, 2008 when the carmakers went to Washington for a bailout, but by spring, 2009, the banks had their own federal bailout. Could Treasury have put pressure on them to help?
Meanwhile, Romney seems ready to start a trade war with China if he's elected. One of his first steps upon his inauguration will be to declare China a currency manipulator, "which will allow tariffs to be put in place." And who will China then retaliate against? GM, maybe? There's one more debate before Nov. 6, when you'll finally get to vote (unless you've already voted early). You are registered, right?
---
2nd Gear: GM Building The Caddy Volt In Hamtramck
The Detroit News says GM will build the Cadillac ELR plug-in next to the Chevrolet Volt at the Detroit-Hamtramck assembly plant. The plant will get an additional $35 million investment, GM North American president Mark Reuss announced at the SAE Convergence conference in Detroit. Reuss wouldn't talk about ELR's range, but he thinks it will attract a different kind of customer than Volt.
The News says the ELR will probably debut at the North American International Auto Show in January, and will be the first two-door Cadillac T built at Detroit-Hamtramck since the 1999 Cadillac Eldorado. ELR is the production version of the Cadillac Converj concept car, which GM first showed in Detroit in 2009. Along with Volt, GM builds the Opel Ampera for Europe, the Holden Volt for Australia and will start building the Chevrolet Impala at Detroit-Hamtramck, set to arrive on lots next year.
---
3rd Gear: BMW 3-Series Gran Turismo Spotted
Carscoop has pictures of one of the many shades of the BMW 3-series: the Gran Turismo. It was spied on the Nurburgring in Germany, decorated with psychedelic black and white cladding. Some people thought the 3GT might be shown in Paris, but that didn't happen. The 3GT is a compact, and Carscoop says a better-looking alternative to the 5-series GT. The 3-series GT will fit in the lineup between the sedan and touring models. According to Carscoop, "it justifies its existence by combining a longer wheelbase than the F30 sedan with a taller cabin area and an angled tailgate, which promise to offer more room for the rear passengers and luggage along with added versatility." The new model carries the internal codename F34, and borrows its engine lineup of four- and six-cylinder turbocharged gasoline engines (and a selection of diesel units for the Europeans) from the rest of the 3-Series lineup. It also will offer all-wheel drive.
---
4th Gear: Isaac Mizrahi's Malibu Collection Arrives To Customer Yawns
I took a look for Forbes at the fashion collection Isaac Mizrahi introduced yesterday on Living Social as a tie-in with the Chevrolet Malibu. You know how Web sites have crashed when hot clothes hit the market? Didn't happen. By mid-afternoon, Mizrahi had sold one pair of shoes, two pairs of jeans and three purses. The six-piece collection was inspired by the new Malibu, as Mizrahi has been explaining in a series of videos. And they're pretty nice looking, Mizrahi-type fashions, right on trend and sort of preppy.
But there has been very little promotion for the Mizrahi collection compared with the big splash Ford has put on with Ryan Seacrest for the new Fusion. And it goes to show the unpredictability of choosing celebrities to go with your cars, especially fashion designers. Now, on paper, Mizrahi looks like a perfect choice for Chevy — he's designed for Target, QVC, still has his own higher-end line, and is all over cable. And who knows, maybe sales will pick up over the next seven days, if word of mouth about the oversized boyfriend watch sets Twitter on fire.
---
5th Gear: Presenting The Vauxhall Cascada Buick Regal Convertible
The fine folks over at Chrysler got away with selling a lot of Chrysler Sebring Convertibles because they were the cheapest, biggest drop-tops on the market. They were also crap. The new Buick Regal is far from crap. We quite like it, especially in Turbo trim. Therefore, the "final" reveal of the pleasantly-named Vauxhall Cascada has us thinking it'll be a good guide to what the platform-mate Buick Regal will look like sans top. It's a no-brainer for Buick and, assuming they maintain the style, an easy chance for a win. Remember when Buick was the automotive equivalent of a pacemaker? Those days continue to fade away.
---
6th Gear: 2013 McLaren 12C Spider: The Jalopnik Review
McLaren was predestined to build a version of its MP4-12C for the pate-tanning set. But is the new Spider as good as the closed-top coupe that shares its nerdy alphanumer-name, or is it - More »
---
Reverse: A Day That Will Live In Auto Industry Infamy
On this day in 1973, the Organization of Oil Exporting Countries declared an embargo, and the American auto industry was never the same again. OPEC declared that its member states would not sell oil to any country that had supported Israel in the Six-Day War with Egypt, Syria and Jordan. The move helped usher in one of the worst recessions the U.S. had ever seen. Gas prices not only rose to an average 84 cents a gallon (from 38 cents), but there were shortages across the country. Buyers began to line up for fuel efficient cars, and Detroit scurried to downsize, beginning what essentially was the auto industry's modern era. [History]
Neutral
In keeping with our new discussion system, here's a place for you to own the floor. We're asking each day what you think about an issue that comes up in TMS.
If you could play the auto industry's reaction to the Arab Oil Embargo over again, what would you do? It's a question that's been debated in Detroit for the last 39 years. Weigh in. Remember there's no right answer or wrong answer. It's Neutral.
Show us your tips!
Got tips for our editors? Want to anonymously dish some dirt on a competitor? Know something about a secret car? Email us at tips@jalopnik.com.
Lost in our new layout?
Click here for the Opposite Lock or Tips forums. Want a more "blog-like" look? Click the button up top next to "Top Stories."
Get more Jalopnik!
Want even more Jalopnik? Want to know which of your friends read us? "Like" us on Facebook, follow us on Twitter, and subscribe to our newsletter.