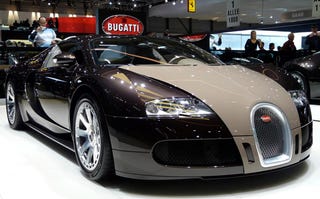 We've heard there's plans to reveal a special Bugatti Veyron Centenaire Edition at next month's Geneva Motor Show. If true, it confirms our suspicions Veyron is the new Mustang.
AutoBlog.nl is reporting, through unknown sources of course, Bugatti will bring a Veyron Centenaire Edition to the Geneva Motor Show helping us to celebrate 100 years of European supercars we can't afford. It's yet another showing of Bugatti's attempt to win the variant war with more "special edition" Veyrons than "collector edition" Mustangs.
But we digress. The specs? The rumors are crazy, hinting at a beast-of-a-Bugatti with close to 1350 HP and a top speed of over 250 MPH. If we ever live to be 100-years-old we hope we'll still have that much power.
Pictured is the Bugatti Veyron Fbg par Hermés from last year's show.