---
1st Gear: Car magazine reports this morning that BMW plans to shake up its badging strategy like a polaroid picture, turning the next-gen 1-series and 3-series sporting derivatives into the 2-series and 4-series. Two-door Ones and Threes — the coupes and convertibles — will in future be rebadged as the BMW 2-series and BMW 4-series. A decade ago, BMW had exactly the same idea and came very close to sticking a 4-series badge on to the two-door 3-series derivatives. But at the eleventh hour, this plan was withdrawn, allegedly because management feared that a split in registration numbers would be perceived as brand weakness. Also, by the way, Polaroid said you shouldn't shake their pictures. Maybe BMW should stick to the same strategy.
---
2nd Gear: Honda forecast a bigger-than-estimated 63% drop in full-year profit, citing output disruptions following the nation's record earthquake in March and the strong yen. Net income may fall to 195 billion yen ($2.4 billion) in the 12 months ending March 31 from 534.1 billion yen a year earlier, the Tokyo-based company said in a statement today. That compares with the 375 billion yen average of 10 analyst estimates compiled by Bloomberg in the past 28 days. Honda predicted a larger decline in profit than Toyota, as both companies work to restore full operations after the temblor and tsunami on March 11 damaged parts factories and caused power shortages. Honda's global vehicle sales may decline 6% this year to 3.3 million, while Japan's strengthened currency will also erode profit, the company said today.
---
G/O Media may get a commission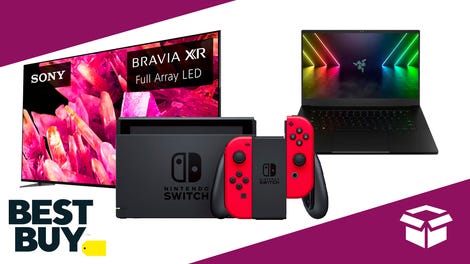 Three Day Sale!
Best Buy - 3-Day Sale
3rd Gear: General Motors CEO Dan Akerson assured the head of Opel that the U.S. carmaker was not in talks to sell the European arm to a rival, a German newspaper reported. Akerson spoke with Opel CEO Karl-Friedrich Stracke on the telephone, Handelsblatt reported, citing a person familiar with the matter. German media reported last week that GM was considering putting Opel and its UK sister brand Vauxhall up for sale because Akerson is impatient with the slow pace of restructuring at the money-losing division. Of course it's not like he'd tell him, "Yo, Karl, we're gonna sell yer ass."
---
4th Gear: Carbon fiber is expensive in part because the production process is so labor-intensive. About half of a carbon-fiber component's cost is due to the lengthy and finicky manufacturing process. A worker places a carbon-fiber sheet on a mold, followed by a thin layer of resin, followed by another layer of carbon fiber. Then the component is placed in an autoclave, a container that uses superheated steam under pressure, where it is carefully heated, then cooled. Using traditional techniques, it can take hours to make one part. Now, automakers are finding ways to speed the process. Lexus came up with that whole "loom" thing. And now Lamborghini and Callaway Golf Co. have partnered to develop a manufacturing process called "forged composites." I knew golf would someday have a purpose other than allowing us to determine the capacity of a trunk.
---
5th Gear: GM's Holden subsidiary will ask the Australian government to adopt the American cold-start emissions testing regime for E85 ethanol-powered vehicles instead of the more stringent European test under new Euro 5/6 rules that threaten to upset its plans for the renewable fuel. Yeah, we don't care. What we do care about is I just got an email this morning saying HSV, the Holden Special Vehicles team, is having a huge four-day sale right now in Aussieland. Why can't American performance vehicle arms have huge four-day sales? Just askin'. By the way, HSV's tagline is "I just want one." I couldn't agree more.
---
6th Gear: According to a report today by Bloomberg, Ford Motor Co. plans to launch 20 new products in Europe in the next three years, said Henrik Nenzen, the managing director of Ford Romania, at a press conference today in Bucharest. The U.S. automaker will begin building the Ford B-Max model beginning next year in Craiova, Romania, Nenzen said. The company will also begin producing 1-liter EcoBoost engines in 2012 as the company invests more than 675 million euros in Romania.
---
Reverse:
⏎ Petra Ecclestone, the 22-year-old Formula One heiress daughter of Bernie, to buy Candy Spelling's $150 million LA mansion. Although she may have her dad's money, thank god she got her mom's body. [Wall Street Journal]
⏎ Did you know Avis Budget didn't own Avis Europe? Yeah, we didn't either. We kinda just figured they did. Why wouldn't we? They have the same name. [Wall Street Journal]
⏎ Quake's effects may delay U.S.-built Leaf. [Detroit News]
⏎ The second-generation 1 series will evolve into six body variants on two platforms. Because that makes sense. [Autocar]
⏎ NHTSA chief skeptical of Google's driverless vehicles. Finally, common sense in Washington. [Detroit News]
⏎ Why we're getting a commercial driver's license. [PickupTrucks.com]
---
Today in Automotive History:
Danish inventor Jacob Ellehammer was born on this day in 1871. During his lifetime, Ellehammer developed a triplane and helicopter, which flew in 1914. [Wikipedia]
Show us your tips!
Got tips for our editors? Want to anonymously dish some dirt on a competitor? Know something about a secret car? Email us at tips@jalopnik.com.
Lost in our new layout?
Click here for the Opposite Lock or Tips forums. Want a more "blog-like" look? Click the button up top next to "Top Stories."
Get more Jalopnik!
Want even more Jalopnik? Want to know which of your friends read us? "Like" us on Facebook and follow us on Twitter.