Before the green flag waved over the big enduro race, cars from the Continental Tire series hit the track for the BMW Performance 200. Our friends at MotorSportMedia were there to bring you photos from the race.
Click through the photo gallery to see the Mustangs, Camaros and Kias battle it out. — Ed.
The Grand-Am Continental Tire Series is one of the most competitive racing series in the United States. That proved to be correct at the season opening BMW Performance 200.
With a dark sky looming above and rain coming down in short bursts, most teams did not make a final call on whether or not to run on slicks or rain tread tires until the last minute. The feedback from the drivers during the pre-race reconnaissance laps would be the deciding factor.
Here's how they did. The big 24-Hour wrap up coming soon.
BMW Performance 200 Finishing Results:
Grand Sport:
1 - Johnson / Roush Jr. - Mustang Boss 302R GT - 1:57.186 (81.713 mph)
2 - Espenlaub / Putman - BMW M3 Coupe - 1:57.143 (81.704 mph)
3 - Boden / Sellers - BMW M3 Coupe - 1:57.243 (81.704 mph)
G/O Media may get a commission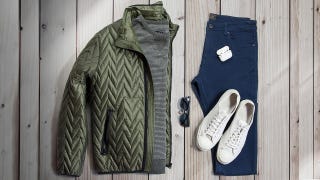 60% off
Jachs NY Fall Sale 60% Off
Street Tuner:
1 - Clunie / Kleinubing - Mazda Speed 3 - 2:05.738 (81.195 mph)
2 - Jonsson / Lally - KIA Forte Koup - 2:06.460 (81.195 mph)
3 - Levine / Liefooghe - BMW 328i - 2:06.243 (81.182 mph)
Photo Credit: Halston Pitman/Trevor Andrusko of MotorSportMedia, Timing & Scoring via Grand-Am
Photo Credit: Halston Pitman/Trevor Andrusko of MotorSportMedia
Photo Credit: Halston Pitman/Trevor Andrusko of MotorSportMedia
Photo Credit: Halston Pitman/Trevor Andrusko of MotorSportMedia
Photo Credit: Halston Pitman/Trevor Andrusko of MotorSportMedia
Photo Credit: Halston Pitman/Trevor Andrusko of MotorSportMedia
Photo Credit: Halston Pitman/Trevor Andrusko of MotorSportMedia
Photo Credit: Halston Pitman/Trevor Andrusko of MotorSportMedia
Photo Credit: Halston Pitman/Trevor Andrusko of MotorSportMedia
Photo Credit: Halston Pitman/Trevor Andrusko of MotorSportMedia
Photo Credit: Halston Pitman/Trevor Andrusko of MotorSportMedia
Photo Credit: Halston Pitman/Trevor Andrusko of MotorSportMedia
Photo Credit: Halston Pitman/Trevor Andrusko of MotorSportMedia
Photo Credit: Halston Pitman/Trevor Andrusko of MotorSportMedia
Photo Credit: Halston Pitman/Trevor Andrusko of MotorSportMedia
Photo Credit: Halston Pitman/Trevor Andrusko of MotorSportMedia
Photo Credit: Halston Pitman/Trevor Andrusko of MotorSportMedia