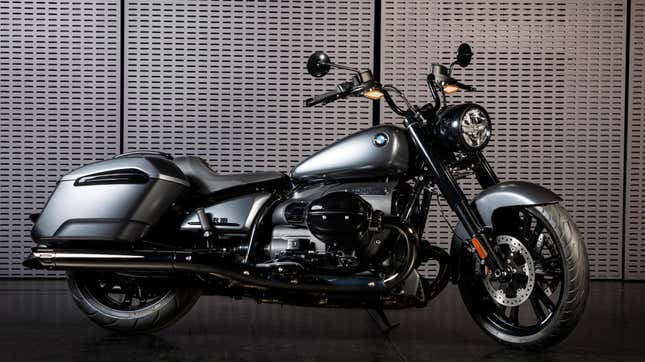 For $24,000, Harley-Davidson will sell you its Road King Special: A cruiser with a big twin-cylinder engine, subtle recessed gauges, a naked front end, and sleek saddlebags out back. But if you could get all that for just $18,695, without sacrificing that classic style, would you? What if it swapped the bar and shield for a Bavarian roundel?
In case you missed it:
That seems to be the value proposition of the new R 18 Roctane, BMW's latest entry in the Harley-fighting R18 cruiser line. Spec for spec, the two seem similarly matched, but is that enough to pry the Harley loyal away from Milwaukee?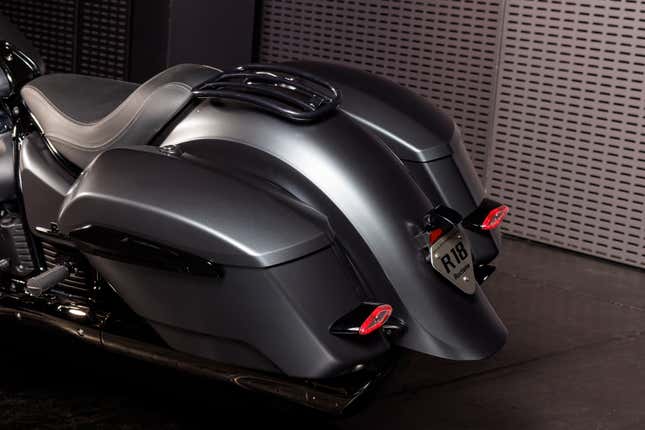 The Roctane is eight inches longer than the Road King, measuring 103 inches tip to tail, and weighs in at 825 lbs to the Harley's 807 — close enough, on curb weights that high. That extra size and weight, however, isn't balanced out with extra power: The Harley's 118 lb-ft narrowly beat out the BMW's 116.
That (slightly) lower weight and shorter length may make the Harley more nimble, while the BMW appears as if it'll be slightly more stable for those highway tours. Both have their gauges built into the bike's design (the Harley into the tank, the BMW into the headlight) and both have paint-matched side cases that hold about a cubic foot worth of stuff each. The choice, then, may come down to style — something both bikes have in spades.
The BMW does have one stylistic element the Harley can't match: A 21-inch front wheel, which serves to visually lengthen the bike to a nearly chopper aesthetic. Whether that works for you is a matter of opinion, but the look is certainly a definitive style choice — and perhaps enough of a differentiator to win sales.
BMW didn't announce an on-sale date for the R 18 Roctane, so keep your eyes peeled towards your local Motorrad dealer if you're interested in trading that Road King in.