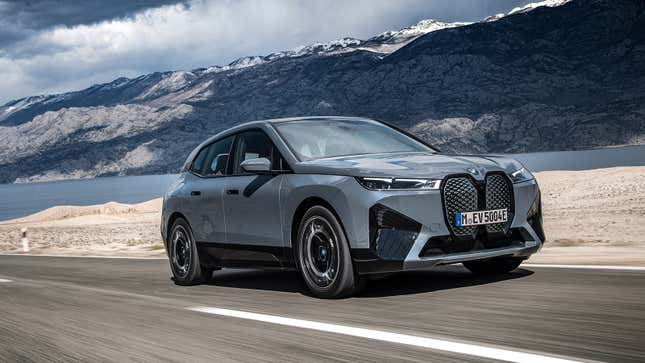 The BMW iX has been in the news quite a bit since the start of 2023, but not so much for the reasons the German automaker would've preferred. Weeks after the battery-electric SUV was recalled for random power loss and also being too quiet, it's now come under scrutiny for improperly deploying airbags.
2024 Nissan Z NISMO | Jalopnik Reviews
The campaign, dated February 14 per the National Highway Traffic Safety Administration's website, mentions that the driver-side airbags in the 2022 and 2023 iX and X1 may have been manufactured defective by BMW's supplier. To be clear, this isn't one of those Takata-esque, shrapnel-spewing airbag recalls. The problem in this case is that the airbags in affected vehicles — estimated just one percent of the group recalled — may not deploy with the intended trajectory, limiting their effectiveness in the event of a crash.
According to the official Safety Recall Report, both SUVs' driver-side airbags still meet federal requirements even despite this defect, but BMW is voluntarily replacing them all just to be safe, as it should. The automaker says it's not aware of any injuries or deaths related to the problem at this time.
The number of SUVs impacted totals 15,803 — 9,464 units of the iX and 6,339 X1 examples. While not the most alarming recall, it joins a growing list of notices the NHTSA has had to issue about the iX over the last 12 months. Before the pair of January bulletins, BMW issued a "do not drive" order to owners in July covering 83 iX and i4 EVs, because their Samsung-manufactured batteries were believed to have damaged cathode plates, increasing the chance of a short circuit and fire.
Building cars is hard and, for BMW anyway, building electric cars is proving a little bit harder right now. Dealers have already been notified about the airbag recall, and owners should expect letters by April 7.