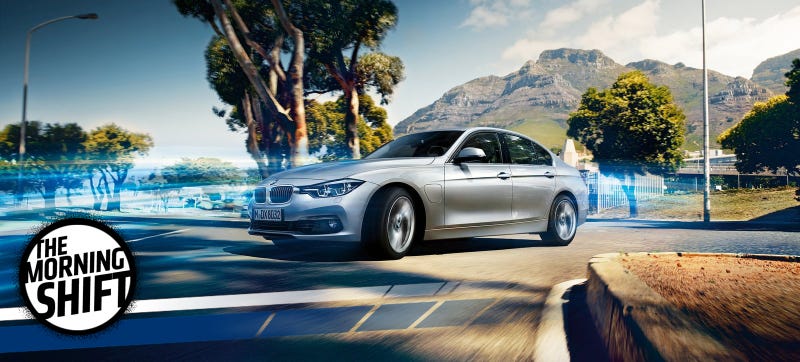 Good morning! Welcome to The Morning Shift, your roundup of the auto news you crave, all in one place every weekday morning. Here are the important stories you need to know.

1st Gear: Free Trade Man
President Donald Trump's made it known that he despises some of the nation's free trade agreements, particularly NAFTA and TPP. And while some U.S. automakers are playing nice with Trump — at least, somewhat — BMW made it clear that it supports free trade to the end.
According to Bloomberg, BMW's factory in South Carolina is currently being expanded to produce upward of 450,000 vehicles annually, and the company employs 70,000 in the U.S.
That, said BMW's Chief Executive Officer Harald Krueger, has happened because of free trade. From Bloomberg:
"As a global company, we're present on all important markets," Krueger said at an industry conference in Bochum, Germany. "That also means that we allocate automobile value-creation in a balanced way internationally. This safeguards continuity in volatile times."
Trump's already signed an executive order to effectively put the kibosh on TPP, and now has his sights on renegotiating NAFTA. He's also threatened the German automaker with, yep, a 35 percent tariff to import any cars to the U.S. that it builds in Mexico. So, to put it lightly, their relationship isn't off to the best start.
2nd Gear: Bosch Settles
Last month brought a torrent of news related to the Volkswagen Dieselgate scandal, and, as expected, the German automaker's supplier Robert Bosch GmbH is settling claims of its own. The supplier said it agreed to pay $327.5 million to end class action claims over its role in devising the cheat VW used for emissions tests. From The New York Times:
Owners of Volkswagens and Audis with two-liter diesel motors in the United States will receive $375 per car under the settlement, in addition to the cash they are receiving from Volkswagen under a separate settlement. Owners of cars with three-liter motors, including some Porsche Cayenne S.U.V.s, will receive $1,500.

Bosch said it was not admitting wrongdoing as part of the settlement, which it reached with Volkswagen owners and with the United States Federal Trade Commission. The company could still face criminal charges in the United States and Europe for its role in the scandal. Last month, Volkswagen pleaded guilty in the United States to charges that included conspiracy to defraud the government and conspiracy to violate the Clean Air Act.
Beyond the gargantuan sum of $15 billion that VW has already ponied up in response to the scandal, a half-dozen executives and employees have been criminally charged by U.S. authorities for their role in devising the cheat. Bosch could be facing criminal charges, according to the Times, so it's not in the clear just yet.
3rd Gear: VW Also Paying (Another) $1.2 Billion
And speaking of VW, it's tab actually grew more overnight. The company may have the sweeping criminal case launched by the U.S. Justice Department in the lurches, but in the meantime, it's still settling claims — again, by the billions. This time, it's with the Federal Trade Commission. From Bloomberg:
The proposed settlement, with the Federal Trade Commission and drivers of about 78,000 diesel models with 3.0-liter engines, is Volkswagen's latest step in overcoming the biggest scandal in its history and brings the total cost of penalties, buybacks and fixes in North America so far to more than $23 billion. The deal covers VW Touaregs, several Audi models and Porsche Cayennes, according to filings in San Francisco federal court.

...

The total tally includes a $14.7 billion agreement reached last year to buy back cars with 2.0-liter diesel engines that carry the so-called defeat devices, and a $4.3 billion settlement of criminal and civil penalties in the U.S. agreed in January that requires the company to plead guilty to three felony counts. Volkswagen is also involved in investor lawsuits in the U.S. and in Germany related to how the emissions-test rigging affected the stock price, as well as consumer lawsuits and a criminal probe in Germany.

The latest settlement, filed just before midnight Tuesday in San Francisco, requires Volkswagen to repair or buy back vehicles, in addition to offering cash compensations. It includes the buyback of as many 20,000 cars with 3-liter engines, which comes on top of more than 500,000 diesel vehicles the company had previously agreed to repurchase or fix.
With one exec potentially facing a life sentence in prison, this story's never going to stop being unbelievable.
4th Gear: Chao In
Elaine Chao had what must've been the most boring confirmation hearing, compared to other administration picks put forth by Trump. Maybe that worked to her favor: Now she's at the helm of the U.S. transportation department, after the U.S. Senate approved her on Tuesday.
Interestingly, her nomination drew dissenting votes from a half-dozen Democratic senators, perhaps signaling the effort by the minority party to follow the obstructionist lead of Republicans during the Obama administration. The Detroit News reports that Chao was sworn in at transportation headquarters by Vice President Mike Pence, who said Chao's leadership and experience "will serve us well as the secretary of transportation, overseeing what we anticipate will be historic investment in our nation's roads, bridges, airports and above all in our future."
Chao also has a new Twitter handle. From the News:
Chao tweeted from a newly established Twitter account after the ceremony: "It is an honor to rejoin the extraordinary people of @USDOT and begin working to rebuild America's infrastructure."
Chao, a longtime face around D.C., will potentially be tasked with overseeing a $1 trillion infrastructure package being pushed by Trump that's flush with billions of dollars worth of tax credits for companies hopped up on hopes of privatizing our nation's roadways.
5th Gear: Tesla Model S Falls Short For Safety Award
The Insurance Institute for Highway Safety's Top Safety Pick+ award for 2017 were announced yesterday, and for electric vehicles like the Model S and i3, earning top honors just wasn't in the cards. The coveted + award goes to vehicles that handle five crashworthiness tests well, including small overlap front, moderated overlap front, side, roof strength, and head restraints, according to Automotive News.
With Tesla's Model S, everything went well, save for the small overlap front crash test. From Automotive News:
The Model S earned a good rating in all IIHS crashworthiness evaluations except the small overlap front crash test, in which it earned an acceptable rating.

IIHS said the Model S "ran into problems in the test when the safety belt allowed the dummy's torso to move too far forward. That allowed the dummy's head to hit the steering wheel hard through the airbag."

IIHS noted that the Model S ratings apply to 2016 and 2017 cars built after October 2016.
The institute also reportedly noted the 2017 Model S only comes with "poor-rated headlights" but Tesla said its working with a supplier to improve them, and a new evaluation will follow when they're available.
Reverse: Ford GT Hits The Super Bowl

Neutral: Will Revamping NAFTA Go Down?
We talked about it quite a bit last month, and it seems almost certain that some form of an adjustment will transpire. But Trump has a reputation for being swayed by whomever has his ear last, so it'll be interesting to see how much BMW makes an effort on its pro-free trade front. Still, the question remains: How far will Trump take things with NAFTA?