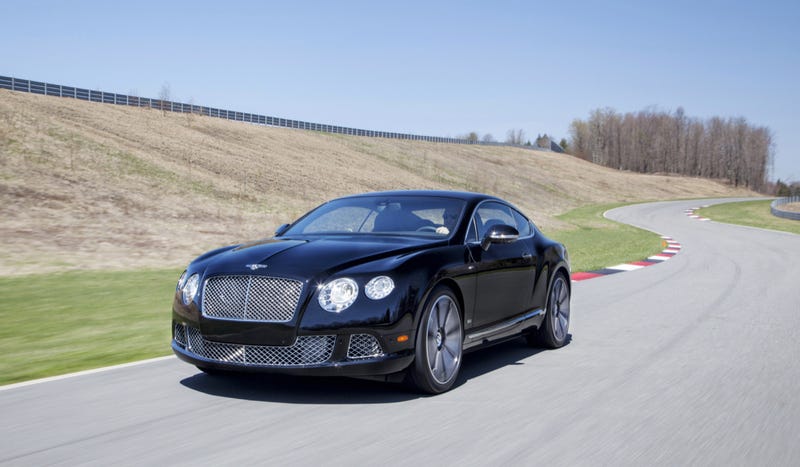 It's been ten years since Bentley won at Le Mans with the Speed 8, and 90 since they first tried their luck, only to score fourth in 1923 as the only British contender and come back the next year for the win. Naturally, this calls for special edition Continentals and Mulsannes for North America.
While the Mulsanne only gets "diamond-quilted hide seat covering, diamond-quilted hide door panels, Le Mans Edition illuminated treadplates, drilled alloy foot pedals, sports tuned suspension and steering, 'Quad' Effect Tailpipe Finishers, and two-piece five spoke dark tint alloy wheels", there will be as many as six different Le Mans Continentals, with 48 units being built of each.
They'll be dedicated to various winning drivers and the descriptions and names are so wonderfully Bentley and ridiculous we include them here in full description:
John Duff

The original Bentley Boy, John Duff gave Bentley its first win at Le Mans 24 Hours in 1924. After a fourth place finish in 1923, Duff returned to Le Mans the following year with Bentley co-driver Jack Clement. The pair raced to a first place finish, defeating many of the leading sports cars of the day.

Exterior: Moonbeam

Interior: Two-tone Linen and Beluga

Stitching: Contrast

Veneer: Piano Black and Bright Aluminium
Dudley Benjafield

Competing for the sheer pleasure of driving and the thrill of the race, "Benjy", drove at numerous events and took 1st place at Le Mans in 1927.

Exterior: Verdant – the same colour of the victorious Bentley Speed 8 in 2003

Interior: Two-tone Linen and Cumbrian Green

Stitching: Contrast

Veneer: Dark Stain Burr Walnut and Bright Aluminium

Woolf Barnato

Considered "the best driver we ever had" by W.O. Bentley, Barnato remains the only driver to have won on each occasion of entering the race recording wins at Le Mans in 1928, 1929 and 1930.

Exterior: Granite

Interior: Hotspur

Stitching: Beluga

Veneer: Carbon Fiber in Continental series

Dark Stain Burr Walnut with Dark Aluminium in Mulsanne

Tim Birkin

A formidable personality, Birkin, an ex-fighter pilot was renowned for his willingness to be utterly ruthless with his car to achieve a winning result.

Exterior: Glacier White

Interior: Beluga

Stitching: White

Veneer: Piano Black and Bright Aluminium

Le Mans Edition Specifications (cont.)

Glen Kidston

Kidston claimed 1st place at Le Mans in 1930 and is known for being an adventurer; rough, tough, sharp and fearless.

Exterior: Dark Sapphire

Interior: Two-tone Newmarket Tan and Imperial Blue

Stitching: Contrast

Veneer: Dark Stain Burr Walnut and Dark Aluminium

Continental GT Convertible models are finished with a Blue hued exterior roof.

Guy Smith

A central figure for Team Bentley's attack on both the Sebring 12-Hours and the Le Mans 24 Hours, Guy Smith secured his place in racing legend at the 2003 Le Mans 24 Hours. Smith was selected to pilot the Bentley Speed 8 across the finish line to mark an emotional sixth win for Bentley.

Exterior: Beluga

Interior: Beluga

Stitching: Hotspur

Veneer: Piano Black and Dark Aluminium
Great news for American footballers with a deep sense of motoring history, but how about getting back to Le Mans, dear Bentley? Oh, sorry, I forgot about Audi for a second.