The two-millionth Land Rover "Defender" built at the illustrious Solihull plant was just sold at auction for $600,000 to a bidder from Qatar. The truck is a publicity product which Bear Grylls and actress Virginia McKenna "helped assemble." The money collected for it will go to charity.
Defender-related hype is running high this year as Land Rover is finally shutting down production on a beloved design that's basically been effectively with us for 70 years. Of course Land Rover's most rugged 4x4 didn't take the name "Defender" until much more recently but the shape is pretty darn close to the company's elemental product.

This week Land Rover threw a spectacular event for the sale of "number 2,000,000" where they set up a museum-style little display and party hosted by Bonhams Auctions.
G/O Media may get a commission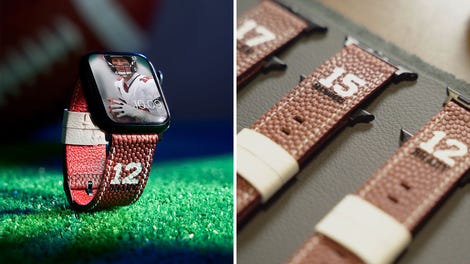 Official NFL PRODUCTS
Official NFL Apple Watch Bands
The truck was featured in a killer black-on-silver color scheme with little "no. 2,000,000" badges. The "S90 HUE" license plate is a nod to the registration on "the first ever pre-production Land Rover, registration 'HUE 166'" the company explained in a press release.
(In England, license plates are sold with the car they're on. They can also be sold between people.)
Land Rover will be giving all the money they made on this vehicle to the International Federation of Red Cross and Red Crescent Societies, which will use it to execute humanitarian aid in Nepal, and the Born Free Foundation which will put the money into their 'Project Lion Rover' wildlife conservation initiative in Meru National Park, Kenya. Their mission is to protect wildlife from poaching and other threats.

Without a doubt both sound like organizations worth supporting, but from a vehicle-value standpoint $600,000 is a tough proposition even for a really nice version of a $40,000 car.
You see the 2,000,000th Defender isn't the last Defender. It's just the last nice-sounding production number. It's also, as we touched on earlier, only the 2,000,000th "Defender" if you count the Series I, II, IIA, and III models as well as the vehicles known simply as "90" and "110" before the Defender badge was born.
So as far as an investment in a historic artifact I don't think "number 2,000,000" is going to do much for its owner. But who cares; the cash went to good causes and the truck's probably destined to collect dust in a beautiful garage anyway.
Now if you can get a bid on the very last Defender to roll off the line, you might be on to something special. But you might have to fight the British Museum for that one.
Images via Land Rover, Bonhams
---
Contact the author at andrew@jalopnik.com.