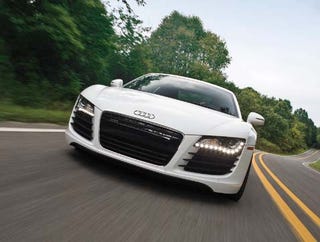 Jalopnik Reviews
All of our test drives in one convenient place.
Here comes the long-awaited Part 3 of the R8 review. Remember that cool Audi-branded USB flash drive that Audi gave me back in Part 2? I just took a look at the Expensively Produced Photos on it, and some of them are so pretty that I figured I should share them in gallery form. Now, on with our traditional Part 3 wrapup- to nobody's surprise, this car is not suitable for treehuggers!

Why you should buy this car:
You want to turn a large amount of money into a definitive statement on your sense of style and respect for top-shelf engineering. Oh, and you want to drive really, really fast.

Why you should not buy this car:
The R8 is neither insane nor flashy enough to satisfy your Inner Hoon.


Suitability Parameters:
Speed Merchants: Yes
Fashion Victims: No
Treehuggers: No
Mack Daddies: No
Tuner Crowd: No
Hairdressers: No
Penny Pinchers: No
Euro Snobs: Yes
Working Stiffs: No
Technogeeks: Yes
Poseurs: Yes
Soccer Moms: No
Nascar Dads: No
Golfing Grandparents: No
Also Consider:
• Porsche 911
• BMW M6
• Corvette Z06
• Ferrari F430
Vitals:
• Manufacturer: Audi
• Model tested: R8
• Model year: 2008
• Base Price: $118,000
• Price as Tested: $126,400
• Engine type: 4.2 Liter DOHC V8
• Horsepower: 420 @ 7,800 RPM
• Torque: 317 @ 4,500-6,000 RPM
• Red line: 8,250 RPM
• Transmission: 6-speed automated manual
• Curb Weight: 3,605 lbs
• LxWxH: 174.5" x 75" x 49.3"
• Wheelbase: 104.3"
• Tires: 235/35 front, 295/30 rear
• Drive type: AWD
• 0 - 60 mph: 4.4 seconds
• 1/4-mile: 12.7 seconds
• Top speed: 187 MPH
• Fuel economy city/highway: 13/18 MPG
• NHTSA crash test rating: N/A



Audi R8, Part 1
Audi R8, Part 2