A number of notable artists have created artwork using cars as their canvas. Most of those were famous beforehand. Today's Nice Price or No Dice 500SL was painted by a lesser-known artist, which might make it a prudent investment should they someday get famous.
Whether it's living in one down by the river or driving one through a "town that was so small, you could throw a rock from end to end," the Chevy Van has a rich and illustrious history. The 1974 Chevy G-10 van we looked at yesterday sure looked like it had some history. It appeared to also have some rust and a bit of fading to its cool retro color scheme. Those were minor issues, and they may have been easily overlooked if the van had been priced within reach of someone who might actually need to live in it down by the river. Instead, at $13,500, it was premium-priced and that was too much for most of you non-river-dwellers. The result was a substantial 74 percent No Dice loss.
Hey, let's shout out some random names. Andy Warhol! Roy Lichtenstein! David Hockney! Jenny Holzer! Ethan Lipsitz! What all of those people have in common? They are artists who have at one or another each created an art car. What's an art car? Well, it's a car that has been uniquely painted as an expression of the artist's vision and talent. Using an automobile as a canvas is a challenge for an artist since it's a three-dimensional object and so its visual impact will be informed by the angle at which it is viewed. It's almost like a melding of painting and sculpture.
Now, out of the list of names we just shouted — alerting the neighbors that, once again there's something weird going on next door — one of those names might seem a bit unfamiliar. It is likely the hope of any eventual buyer of this 1991 Mercedes-Benz 500SL that that name — Ethan Lipsitz — someday become more well known.
G/O Media may get a commission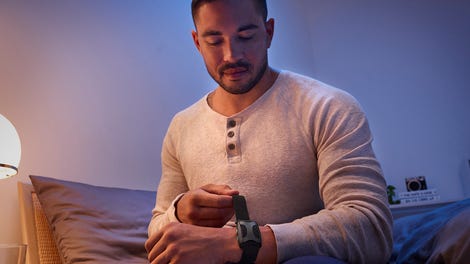 From the ad, this Mercedes was hand-painted by Lipsitz, a 33-year-old artist whose bio describes him as a "Los Angeles based visual artist who creates paintings and patterns that adorn and enhance objects, vehicles, textiles and architecture." That extensive portfolio includes a Porsche 928, Honda Del Sol, Volvo V70r, and Ducati SuperSport among others.
This 500SL seems to be the only of Lipsitz's auto art currently available for sale. Does that make it particularly valuable now? Will it become even more so in the future? Who can tell?
The car underneath the art is, at the least, a desirable canvas. The R129 is at present one of the best bargains out of the Mercedes models. The edition's predecessors have all seen prices skyrocket, and it's likely only a matter of time before these start shooting upward too.
The ad introduces us to "Babs" which is the name that has been given to the Benz by the current or perhaps a previous owner. The car comes with 131,000 miles on the clock and both hard and soft tops but apparently not the wind-blocker or its carrying case in the boot. The seller says it recently received new belts and seat upholstery, and it carries a clean title.
The bodywork looks solid under the art and the interior appears not to be excessively worn or monkeyed with. It could stand a good detailing, however. The alloy wheels are a plus since they appear un-marred and are blissfully un-chromed as well.
According to the seller, the A/C blows cold, and the seat heaters warm buns as expected and on demand. Problems noted include what's described as a "finicky passenger seat belt & seat adjustment," a burnt-out fog lamp, and issues with the vacuum-actuated door locks. Other than that, it's described as "super fast and fun to drive — ultimate RAD vehicle."
So, that's a lot to unpack. We've just been introduced to both a new artist who uses cars as a canvas and Babs, a Mercedes that is one end result of those artistic endeavors. What exactly might Babs be worth? Per the ad, the asking price is $7,999. That might seem like a deal considering that a buyer will be getting a cool 500SL AND a mobile art installation. Caution should be voiced, however, about this particular opportunity to become a patron of the arts. There's no guarantee that Ethan Lipsitz will ever gain enough fame that his works start to rise in value. There's also the issue of having an artwork that may fade in its power to impress with each and every car wash and rain shower.
With that all in mind, what's your take on this Mercedes art car and that $7,999 price? Does that seem like a fair deal to become an art connoisseur? Or, does that price paint this Benz as a less than great deal?
You decide!
Los Angeles, California, Craigslist. Or, go here if the ad disappears.
Help me out with NPOND. Hit me up at remslie@kinja.com and send me a fixed-price tip. Remember to include your Kinja handle.