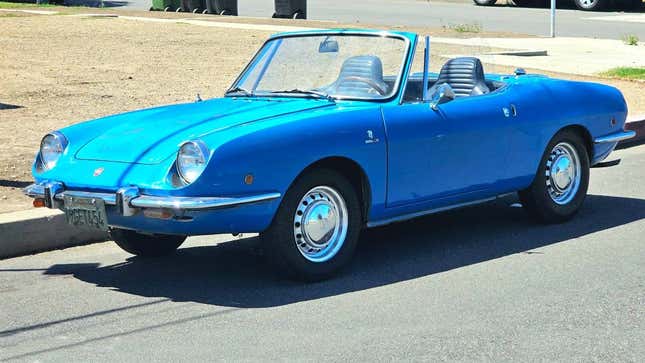 If you have a penchant for fun in the sun in the slow lane, then today's Nice Price or No Dice Fiat 850 could be your cup of Chianti. Let's see if this classic roadster's price is anything worth toasting.
Bill Withers' Just the Two of Us is one of those earworm songs that seems to have permeated popular culture ever since its debut in 1980 on Grover Washington's sultry Winelight album. It could also be a fitting theme song for yesterday's 2013 Mini Cooper S Coupe JCW, which was one of the only two-seater cars Mini has produced in its modern renaissance era. Unfortunately for the Mini's seller, few of you were sufficiently smitten by the car, and its $15,500 price tag proved less than music to most ears. After the dust settled, that resulted in a 73 percent No Dice loss.
It seemed to be more the looks and expected reliability that drove the voting on yesterday's two-seater Mini. Let's see how good looks and… well, similarly suspect reliability, affect opinions on today's two-seater Fiat.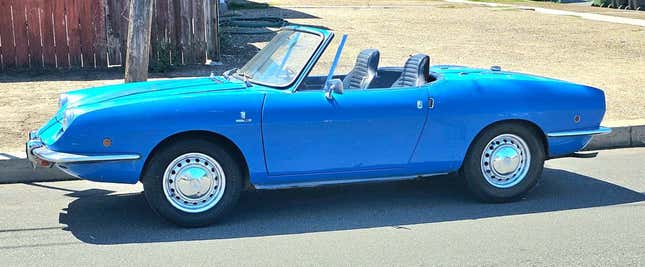 If you're anything like me, then you enjoy regaling people at parties with mundane facts and tepid trivia about cars and the auto industry. This is the reason why I don't get invited to all that many parties.
One such 'fun fact' is that when designing the Lamborghini Miura, Marcello Gandini sourced its expressive and iconic eyelash bracketed headlamps from the Fiat 850 Spider. That's not where the connection ends, either. Other commonalities between the two disparate models include the inner door handles and tail lamps. Considering the parts bin robbery, it's unsurprising to discover that both the Miura and the 850 were the work of Bertone, although Giorgetto Giugiaro led the diminutive Fiat's design, while Gandini was put on point for the Lambo. Still, they're like kissing cousins, right?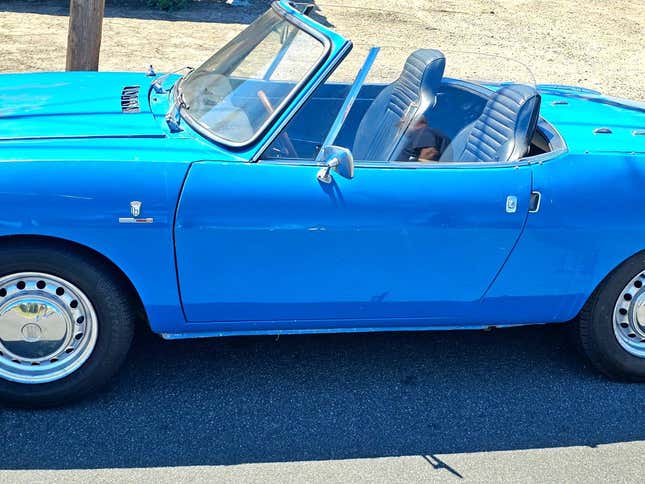 There's more intrigue with the 850 as well. The Lambo-shared headlamps only lasted in the U.S. for one year, as encroaching lighting regulations demanded a change to sealed beams. That meant a significant redesign of the Spider's nose, raising the fender line and capping each front corner with a 'sugar scoop' style bucket each housing a single seven-inch lamp. It's nowhere near as elegant as Bertone's original design and ruins the whole Lamborghini connection, but it's not too terrible.
Another oddity about the U.S. market 850 is its engine displacement. As you might have guessed, the 850 in the Spider's name was intended to denote the engine size, which initially was a 'close-enough-for government-work' 843 ccs. For the 1968 U.S. model, that displacement was reduced to 817 ccs as emissions requirements enacted to take effect in the '68 model year exempted engines of less than 50 CID. That meant that, while smaller in displacement, the little Fiat wringer could be tweaked to produce as much power as the larger motor. Tricky!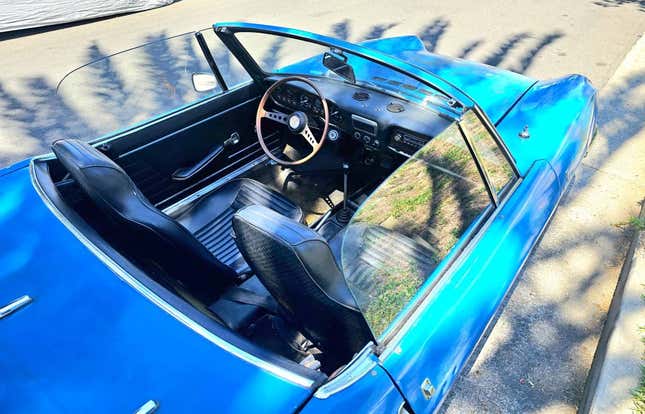 Regardless, that's not much power, and this 1968 Fiat 850 Spider — in sky blue over a black vinyl interior and top — comes with a paltry factory rating of just 52 horsepower. That's still enough to push the pointy car to a 90-mile-per-hour top speed, although it will take a Moses' Month to get there.
That mighty mite of an engine sits at the back of the car, sending its meager corral of ponies forward through a four-speed transaxle and powering the independently sprung rear wheels. A disc/drum setup does braking duty on the car.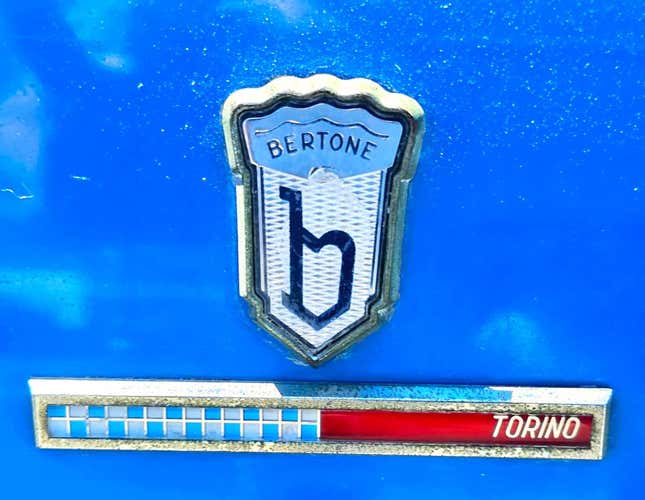 According to the ad, everything is complete on this 850 save for the rear window in the convertible top, which has aged out of active duty. It appears to be running and to carry current registration, although the seller warns that the brakes need to be bled.
That's a bit of a red flag. I mean, wouldn't that be an easy enough job that you'd take care of it before pushing the post button on Craigslist? Even if the brake issue proves more serious, requiring, say, a new master or wheel cylinders, that shouldn't be a big deal as parts for these cars are still readily available.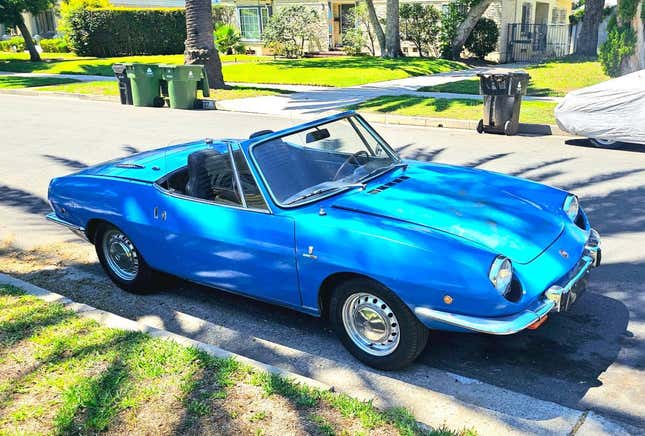 On the plus side, the car looks reasonably good in the pics, with just some rough patches of paint, a broken front turn signal lens, and a split in the passenger seat to call out. Countering that, it does come with its factory tool kit and jack, items often lost to time on any old car.
The mileage is claimed to be 80K, and the car comes with a clear title. The asking price is $5,900.
What's your take on this "Baby Lambo" and that $5,900 asking? Does that seem like a deal for a small car that still carries a ton of party trivia? Or does that price on this Spider bite?
You decide!
Los Angeles, California, Craigslist, or go here if the ad disappears.
Help me out with NPOND. Hit me up at remslie@kinja.com and send me a fixed-price tip. Remember to include your Kinja handle.