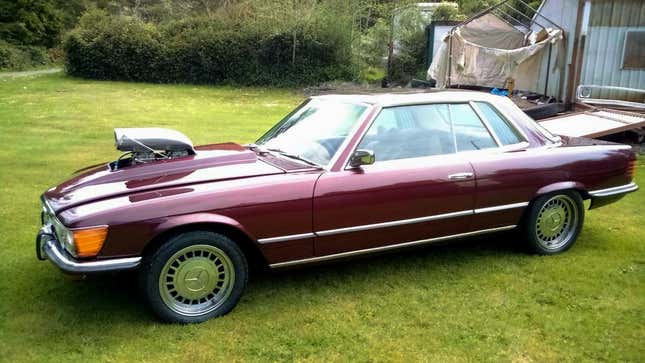 It's long been said that there's no substitute for cubic inches and today's Nice Price or No Dice 450 SLC has upped the ante on those. Let's see if its price also makes this a car with no substitute.
This NYC Garage Takes Vanlife To The Next Level | Jalopnik Visits
Hollywood's Indiana Jones made his name by appropriating antiquities under the justification that they "belong in a museum." Yeah, right.
Yesterday's 1974 Mercury Comet was in nice enough shape to be reasonably considered museum-quality, however, with a three-on-the-tree transmission, it'd be a shame not to keep it on the road and just enjoy it. The only real stumbling block to that was the $10,500 asking price, which 60 percent of you found too rich for your tastes, dunning it with a No Dice loss.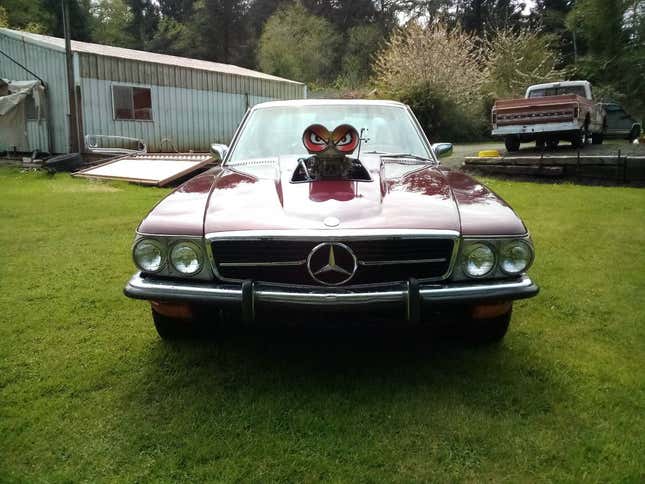 Hey, what's the craziest thing you've ever done? Naked skydive? Sketchy third-world gorge bungee jump? Day old street sushi? Call me crazy, but I don't think any of those can hold a candle to driving around in a 1973 Mercedes Benz 450 SLC with a dual-quad intake and angry-eye scoop popping out of its hood. I mean, it might be less dangerous, but it's still pretty nuts.
This otherwise stock-appearing C107 has lost its raison du nom 4.5-liter SOHC fuel-injected V8 in preference of a 350 cubic inch small block Chevy. According to the ad, that has recently been imbued with a new 280 Comp cam and lifters as well as a double-row roller chain to drive all that.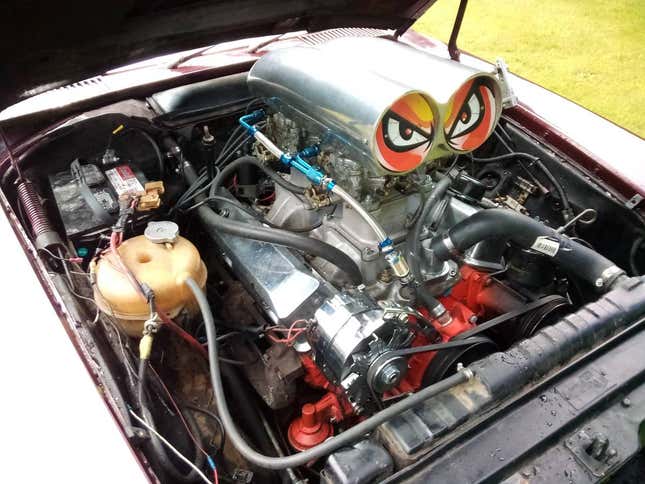 That's pretty much all the ad tells us about the car. There's no explanation as to when or why it was Chevy-ized, nor any info on why the builder went to extremes when it came to carbs and a tall boy intake. It does note that the transmission is an automatic but leaves it at that.
The pictures show a fairly clean install, and the eyes on the air scoop butterflies are a nice touch. One of the issues with the car's original engine is its Bosch D Jetronic fuel injection which can be fiddly and hard to maintain for the uninitiated. Maybe that was the motive?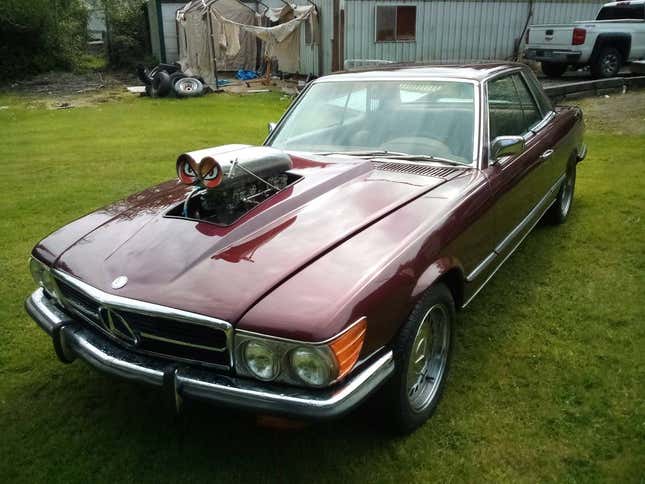 The rest of the car seems perfectly serviceable. The burgundy paint might be a respray as there does seem to be some primer over-shoot on the dash behind the door. That could just be some weird fading though. Obviously, the hood has been cobbled together or is some aftermarket unit. If the latter, I wonder where one finds something like that?
All the trim is intact and this being a pre-1974 car, it wears lovely skinny bumpers. There don't appear to be any rust issues—at least not anywhere noticeable—nor problems with the glass or brightwork. Chrome-plated deep-dish alloys wrapped in fat tires do a pretty good job of filling out the wheel wells below all that.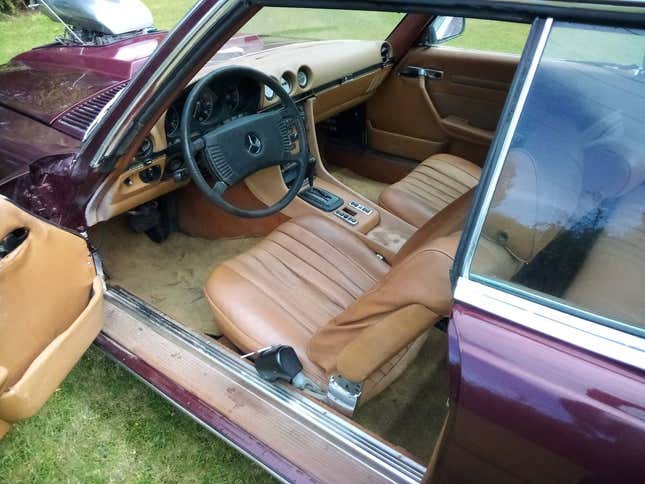 The interior is complete save for the sun visors and does feature a large sunroof above the front bucket seats. The upholstery appears to be the tenacious MBTex and that has held up as well as we might expect. The same can't be said for the carpet and floor mats which look to have faded into a jumble of off-beige hues throughout the car.
Per the ad, the odometer broke at 75,000 miles but in a car as crazy as this, does that even matter? No one is going to buy this to be a reliable commuter car—it's for getting stares at car meet-ups and pissing off both Chevy and Mercedes purists. It should do an excellent job at both those tasks.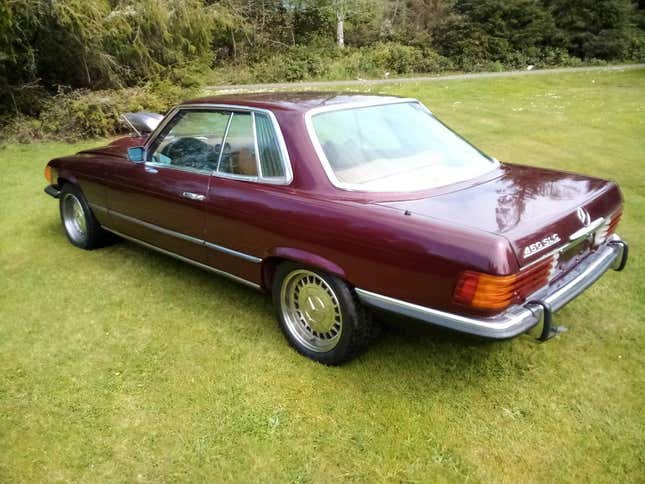 Before we can test those talents, we'll have to deal with the small matter of the car's price. The seller is asking $5,500 for the Benz, bringing both the car and a clean title. What do you think, could it reasonably claim that much? Or, is that price tag just as nuts as the car?
You decide!
Show Low, Oregon, Craigslist, or go here if the ad disappears.
H/T to RevUnlimiter for the hookup!
Help me out with NPOND. Hit me up at remslie@kinja.com and send me a fixed-price tip. Remember to include your Kinja handle.