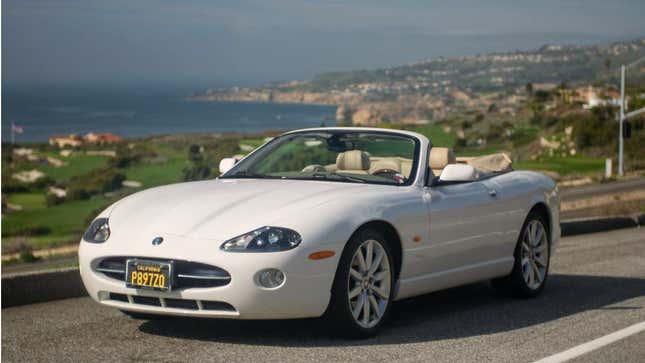 It's expected that within a couple of years, Jaguar will no longer offer a sports car of any kind. That makes used examples like today's Nice Price or No Dice XK8 all the more dear. Let's see if this clean convertible cleans up in our vote.
You remember Bruce Willis' character in Die Hard, don't you? He was a prototypical hero of a sort. Throughout the movie, he's shot at, chased through broken glass and air vents, and gets beaten down and cut up. Despite all of that, he doesn't stop until he's finally vanquished the bad guys.
Old Volvos, like the 1972 145 Estate we looked at yesterday, have a similar reputation for tenacity. Call them Johan McClane or maybe Dö Hårt. Like Willis' movie character, yesterday's Volvo had seen some shit, and that left it a bit worn around the edges. According to the ad, it still has plenty of life left in it, and that factor, paired with a $6,800 asking price, was good enough for a narrow 57 percent Nice Price victory.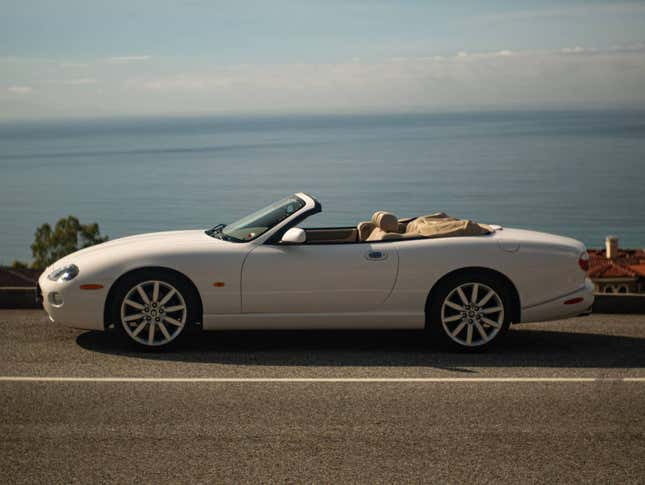 Here's a sobering thought: the 2024 model year will supposedly be the last for Jaguar's stunning F-Type. With no replacement announced or even hinted at by mysteriously cloaked prototypes, that means a likely and ignominious end of Jaguar's sports car heritage.
That's a damn shame for a company that built its name on the backs of full-fledged sports cars and sporting saloons quick enough that bank robbers' anointed them their getaway car of choice. An even sadder fact is that, in a few years, Jaguar as a brand may not exist at all. The company's CEO recently and unceremoniously stepped down amid confusion over the company's corporate vow to move to an EV-only model for new cars starting in 2025.
With that looming deadline rapidly approaching, you'd think Jag would have a plan in place, or at least something to show us all some set expectations. There's still time for that, or maybe Jag will just drop some amazing products in 2025 that will simply blow our minds. Until then, however, all we can do is speculate and have a look at this extremely low-mileage 2005 Jaguar XK8 to take our minds off the company's tenuous future.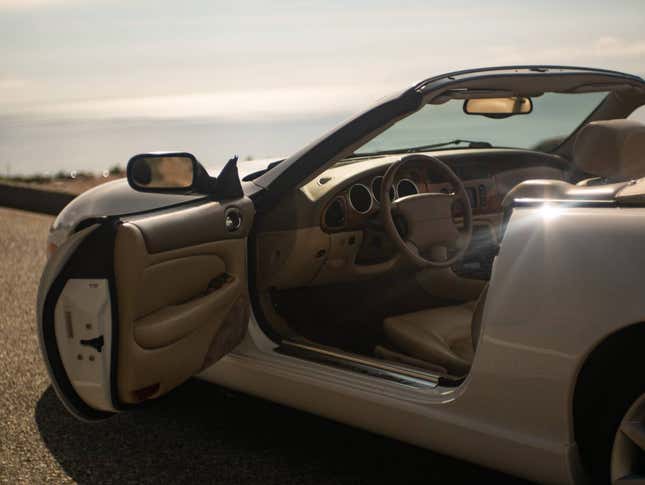 The XK8 replaced the XJS as Jaguar's grand touring sports car starting in the 1997 model year. This model, code-named X100, was not the company's first attempt at an XJS replacement. An earlier attempt, re-clothed as the XJ platform in XKE-style bodywork, was undertaken in the '80s but was eventually abandoned. Its completed design was handed over to Jag's sister marque at the time, Aston Martin, where it became the DB-7.
The X100 was designed under Ford's ownership of Jag and benefitted from the company's deeper pockets and vast supplier chain. It also gained the AJ-V8 engine which slotted into its XJS-derived chassis replacing the earlier car's six-cylinder and, in supercharged "R" form, the V12.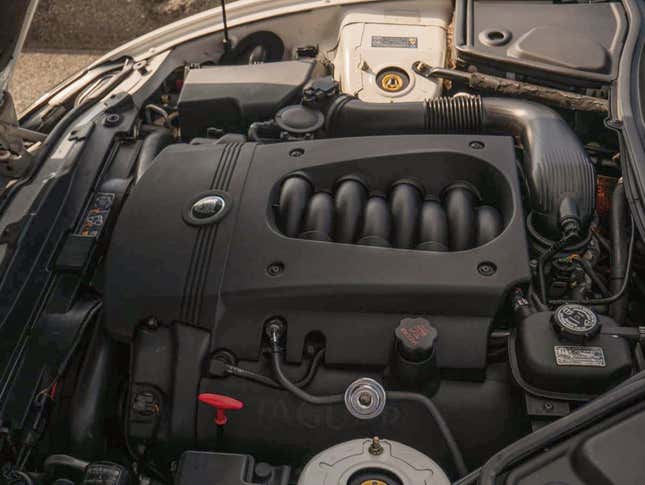 Being a 2005, this XK8 sports the larger 4.2-liter all-alloy V8 and a six-speed ZF automatic. Earlier editions had a slightly smaller engine and offered only five cogs. As fitted, the naturally aspirated V8 is good for 300 horsepower and 310 lb-ft of torque. That's enough to put some Grand in the car's Touring.
According to the ad, that drivetrain has motivated this cream-over-biscuit convertible for a mere 58,133 miles, serving as the ride for the present owner's eight-mile daily commute. A recent move has made that commute less tenable in the Jag so now it's up for grabs.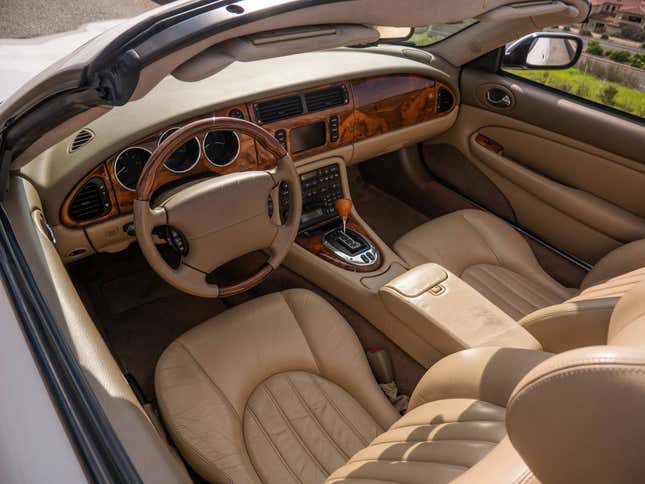 The car is described in the ad as "Superb" with the seller noting that it has been kept under a cover and washed and waxed with a militaristic schedule. It all looks pretty fantastic, with no flaws evident in the bodywork, top, factory alloys, or interior. These use hydraulics for the top mechanism, so it's helpful that the ad shows the top both raised and open, indicating that it doesn't leak in operation. The title is clean and the car just had both the front shocks and trunk struts replaced in the past month.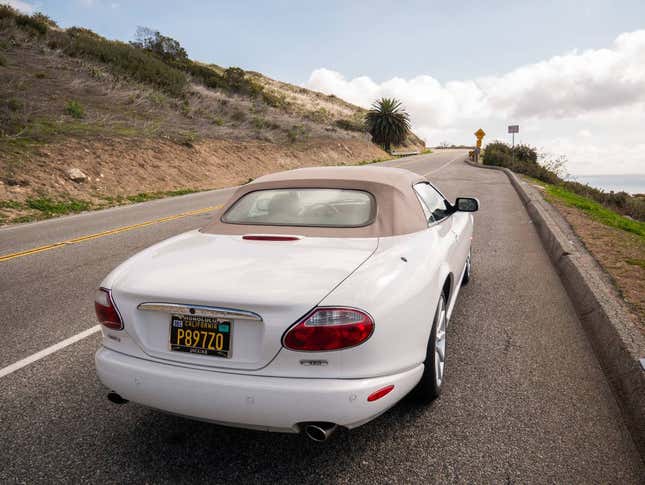 There are a few boogers here though. The seller notes that the rear tires could stand replacing, and also indicates that the lumbar and headrest adjusters on the seats no longer function. That's pretty much the case on most of these. Most critically, though, the seller says that the micro switches on the doors are broken, so they don't properly lower the windows out of the weatherstripping when opening. The ad says the price has been set accordingly in consideration of these minor flaws.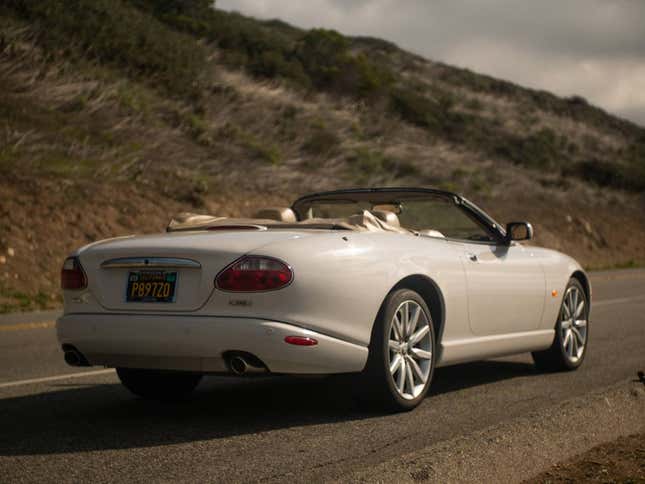 That price is $15,000 and it's now incumbent upon you to vote as to whether or not that makes this XK8 a deal. What do you say? Is this representative of Jaguar's sports car past a value at the $15,000 asking? Or, is that just too much to let this Jag out of the bag… er, car cover.
You decide!
Los Angeles California, Craigslist, or go here if the ad disappears.
Help me out with NPOND. Hit me up at remslie@kinja.com and send me a fixed-price tip. Remember to include your Kinja handle.