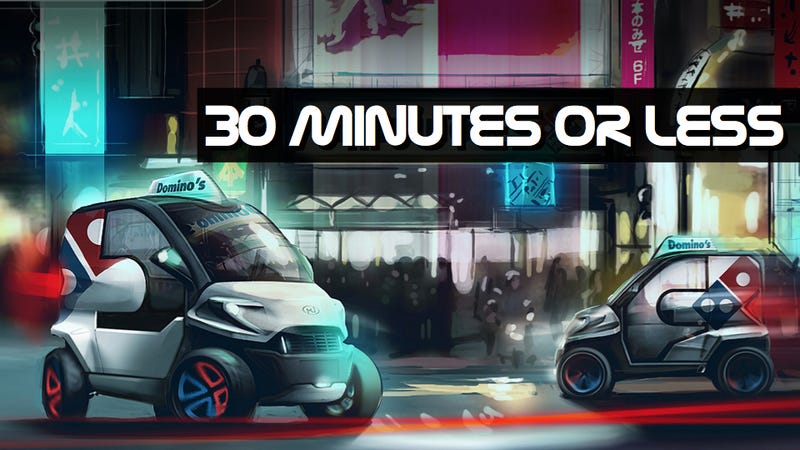 Have you ever though about what would make the ultimate pizza delivery vehicle? Something that would match Neil Stephenson's The Deliverator. Dominos did, so they teamed up with Local Motors and sponsored a design competition to come up with something better than that miserable, rusted out beater that brought pizza to your apartment last time you got the late night munchies.
It may come as a surprise that the winner wasn't an American (wait, they eat pizza in other countries?). It was a dude from Slovenia, and he drew up a cute little pizza box-holding pizza box on wheels in CAD and sent it in. Introducing the Dominos Pack.
Pack is a small and agile pizza delivery vehicle, with all the functionalities that a modern pizza driver needs to get his delivery to customers in time. With its compact size and small engine it is able to easily manuver through the city jungle. It is designed to be robust, safe and capable to overcome different weather and road conditions. It has multiple storage solutions to enable the driver a comfortable ride and easy access to everything he needs. Navigation system or maps are stored on the large touchscreen display and are easy to use. For the night deliveries the vehicle has an auxilary light integrated in the right side mirror illuminating the suroundings. Sodas and salads are cooled via air conditioning in the side box next to driver or in teh back drawer. Interior has multiople storage solutions to keep all required elements at hand.
There were ten finalists in this phase of the contest, each submitting cool little bubble van things that could one day carry the solution to your study session hunger problem. Some the names were cool, if a bit weird/overdone (hopefully the pizzas aren't overdone).
Who knows what the future holds, but it could be like when they gave the U.S. Postal Service those funny little vans to replace the old school mail Jeeps. Here are a few of our favorites.
---
---
---
---
---
Photo credit: Local Motors