The original International Scout was a pig, a pile of iron propelled by about 90 horsepower moving through an unsynchronized three-speed transmission. So what happens when you drop in a 570 horsepower LS V8? No, seriously, I'm dying to know too, now that I see somebody has done it.
I woke up this morning to several emails and messages about this particular 1963 Scout for sale in my neighborhood. We don't usually share random classified ads—who am I kidding, we do all the time—but this is an exceptional case.
I've seen off-road upgraded Scouts, near-concourse Scouts and LS-swapped Scouts, but this in on a whole new level of seriousness. That's probably because the only thing "Scout" left on this thing is the badging and some bodywork. And even a bit of that has been custom fabricated with carbon fiber.
Regular readers will know I have a rusty spot in my heart for the International Scout. You may also remember that we tried (and eventually failed) to resurrect one just like this little monster.

G/O Media may get a commission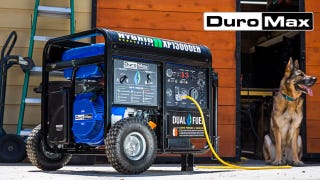 Black Friday Sale
DuroMax Generator Sale
Well. Not just like it. The engine in mine had precisely zero compression and the catastrophically decomposed body had been "repaired" with street signs riveted in place of missing panels.
But this is pretty much the truck I would have built with just a little more time. Right, guys?
The ad calls this particular truck a "thousand plus man hour" build. Since it took me about a year to get the left blinker working and the driver's side window to work on my Scout I pretty much believe it.

This rig's sitting on completely custom suspension. Completely custom. Not some janky lift kit made from hockey pucks like the rest of us are running on our Scouts—the entire geometry of the truck has been rewritten with a legit multi-link setup a la a desert racing trophy truck with large coilovers all around. The seller says his truck is set up for 18 inches of travel but can be dialed to 20 up front and 30 in the back.
Behind the gauge cluster of a Corvette Z06 is a 6.2 liter LS3 V8, apparently ported to over 570 horsepower and 500 lb-ft of torque hooked up to a GM Turbo 400 transmission. For your reference, the original 2.5 liter International four-cylinder was factory rated to just shy of 100 horsepower on whatever scale the SAE was using in 1963.

The whole build sheet looks impressive for any privateer project and it's downright ridiculous to see on a Scout.
In spite of having similar (cooler) style than a Ford Bronco, Chevy Blazer, any Land Rover or Toyota Land Cruiser the Scout is pretty much the least-loved of all classic SUVs. I know this because you can still buy one for the price of popcorn in a Hollywood movie theatre, a trend I hope continues at least long enough for me to buy two more.
I haven't found any YouTube videos of it in action yet, but I dropped the seller a line in case he's among you readers and wants to be friends.

Hat tip to Joel!