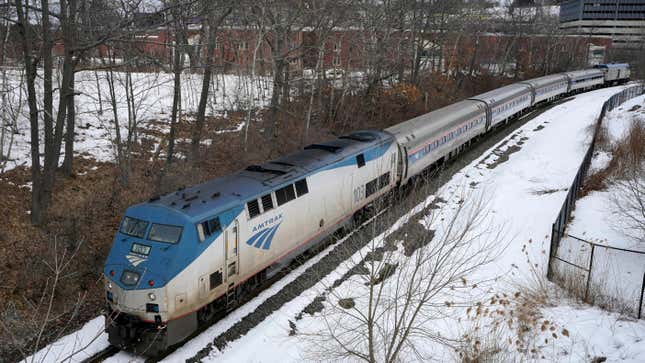 These days, with the rich jet setting off to exotic locales in expensive private jets, the era of puttering around in a private railcar is far from most folks' minds. But if you're rich enough and want to stand apart from the folks who just fly everywhere, Robb Report details how you can purchase your own railcar and pay to have Amtrak pull you around the nation on its routes.
We're Driving the 2024 Integra Type S, What Do You Want to Know?
In case you missed it:
The ability to do this comes by way of Amtrak and a little known side hustle they offer of towing privately owned rail cars. It's not as simple as calling them up and asking if you can hook your car up to a train. There's a specific set of guidelines that have to be followed, and it's not cheap. The American Association of Private Railroad Car Owners President Tony Marchiando told Robb Report that basic towing fees start at a little over $4 per mile. Storage fees run even higher, at $2,000 to $3,000 per month.

And with Amtrak being a federally charted company, getting the ball rolling means lots of red tape:

Modern-day Vanderbilts should expect a trainload of paperwork. Amtrak typically requires 30 days' notice per trip, and cars must meet stringent safety requirements, says Marchiando, including annual inspections, insurance, and specific wiring to comply with Amtrak's power system.
None of this, of course, is including the price of the railcar itself. I couldn't find exact pricing myself due to many companies that sell these things wanting you to either register to get pricing information or go through a lengthy process of contacting them for a price as if you're an interested buyer. Robb Report spoke with one rail car brokerage. The price for these railcars can cost as much as a house:

The biggest brokerage is Ozark Mountain Railcar, which sells cars ranging from 40 to 100 years old. A "deluxe" renovation, Marchiando says, will cost "close to a million dollars, [for] new air-conditioning, new plumbing, new electrical systems," and other structural considerations. And that's before you start "redoing the interior totally to modern tastes.
So if you ever come into some money, don't be so quick to head to Gulfstream for a jet. Consider how much more relaxing and cool it would be to take a private train to New York or L.A.