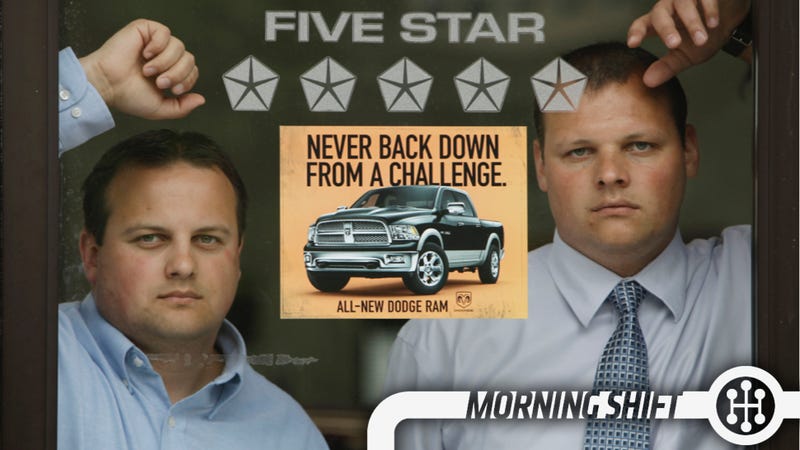 This is The Morning Shift, our one-stop daily roundup of all the auto news that's actually important — all in one place at 9:30 AM. Or, you could spend all day waiting for other sites to parse it out to you one story at a time. Isn't your time more important?
1st Gear: SAAR At 16.4 Million Vehicles
The seasonally adjusted sales rate is the number all analysts look to in order to see the strength of the auto industry. Last month's SAAR? A whopping 16.4 million. While that's only a 1% year-over-year increase for cars and 11% increase for trucks, that's over a 2013 that was already strong.
As always, we we look to Automotive News for the big chart, which helps us think that perhaps we were all not fooling ourselves and the downturn in sales over the last two months was in fact related to a Norse ice God getting loose and stealing the sun.
The big winners? Chrysler was up 13% thanks to a strong Jeep and Ram. Ford was up 3% with Lincoln up 31%. GM survived, which is nice, but Cadillac stumbled a bit. Honda overall was down, but Nissan and Toyota both saw gains. Overall, almost everyone was up except for Volkswagen, Scion, Honda, Hyundai, Smart and Cadillac.
2nd Gear: Volkswagen And Audi Going In Opposite Directions
Rough month for Volkswagen, again, as they're down 3% year-over-year. A great month for Audi, up 8% to 13,253 cars. In the VW Group everyone but VW did better, including a 36% rise for Bentley (to 280 total cars).
Per Automotive News, again, Audi had their 39th consecutive month of record monthly sales. Volkswagen saw their totals drop for the 12th month, despite rising Jetta and Passat sales.
A glimmer of hope? That $1,000 fuel card trick is wooing buyers, as VW of A reported to AN that diesel powered cars were 27% of the brand's total sales.
If only they had a new diesel coming out soon…
3rd Gear: Here's A Chrysler Recall Most People Will Miss
In light of all that's happening with GM, let's help Chrysler bury a recall that covers about 870,000 Jeep Cherokee/Dodge Durangos built between 2011 and 2014.
According to David Shepardson, Chrysler seems to think brake boosters are subject to high levels of corrosion and thus dealers need to install shields to help protect them.
There was only one reported accident, with no injuries, but here's the nut:
Chrysler said last year it didn't see any safety issue. But in February, the National Highway Traffic Safety Administration told Chrysler it had reports of water entering the boosters through corroded joints —a previously unseen occurrence by the automaker. Chrysler says brake function may be compromised if the water freezes.
See, this is how it's supposed to work.
4th Gear: How Bad Is The GM Recall? They Hired This Guy
What are the biggest U.S. disasters of the last 15 years? Katrina. 9/11. Deepwater Horizon. The HIMYM Finale.
GM thinks its recall is so troubling they hired Kenneth Feinberg, the lawyer that helped mitigate half of those disasters/
Bankruptcy experts say that because many of the crashes involving the defect in 2.5 million small cars occurred before GM filed for bankruptcy in 2009, the company does not have to pay victims unless lawyers can prove that GM intentionally hid the defect at the time.

But analysts for Barclays have predicted that GM will opt for a settlement of up to $1.5 billion instead of engaging in a legal battle.

In a statement, GM said Feinberg would serve "as a consultant to explore and evaluate options," but it offered no other details about the scope of his authority or what those options might be.
5th Gear: More Electric Cars In China?
In what has to be good news for Tesla (and BYD), China's Vice Premier say they may exempt electric vehicles from the country's 10% auto purchase tax.
Why has it come to this? You know, besides the terrible pollution. Here's Bloomberg with Ma Kai's take:
Five years after China began promoting new-energy vehicles, fewer than 70,000 are on its roads, lagging behind the central government's target of reaching 500,000 by 2015. Ma blamed the wavering commitment of local authorities and slow pace of building charging stations, according to the statement. The development of such vehicles carries grave importance for helping ease China's energy dependency, combating air pollution and nurturing the local auto industry, he said.
Good luck with that.
Reverse: He Dreamed Of Building A Company So Strong It One Day Gets Sold To An Italian Company For Almost No Money
Walter Percy Chrysler, the founder of the Chrysler Corporation, which for years was one of America's Big Three automakers along with General Motors (GM) and Ford, is born on April 2, 1875, in Wamego, Kansas.
[HISTORY]
Neutral: Biggest winner, biggest loser?
Who did better than you'd expect in March? Who did worse?
Photo Credit: AP Images