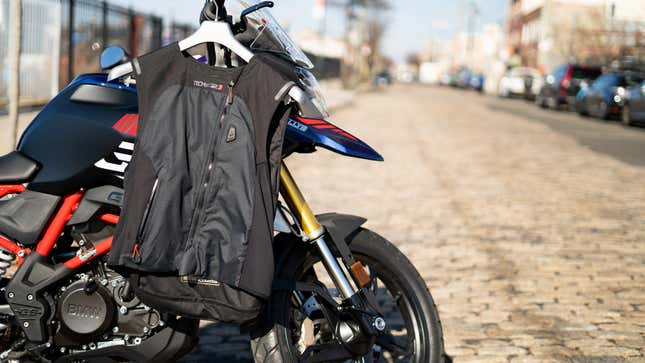 Motorcyclists are masters of risk. We're happy to sit inches from hot engines, fully exposed to the elements and without a single crumple zone between us and the neighboring Suburban. At the same time, most of us wear helmets, armored jackets, pants, boots, and gloves — our bodies may be in the breeze, but we don't fully throw caution to the wind. That makes the prospect of a motorcycle airbag vest like the Alpinestars Tech-Air 3 interesting. After all, it seems to hit the perfect middle ground: comfortable, unobtrusive, yet claiming nine times the protection of even the best conventional chest and back pads. It's objectively a smarter, safer way to ride — but it shouldn't be your only protective gear.
We Hope Steve Never Has to Test This Motorcycle Airbag Vest
Full Disclosure: Alpinestars sent me this Tech-Air 3 airbag vest to review in the bustling urban environment of Brooklyn, NY. I've worn it on highways and city streets, from the smoothest pavement New York can offer to the worst, most cracked and broken cobblestones.
Comfort and Convenience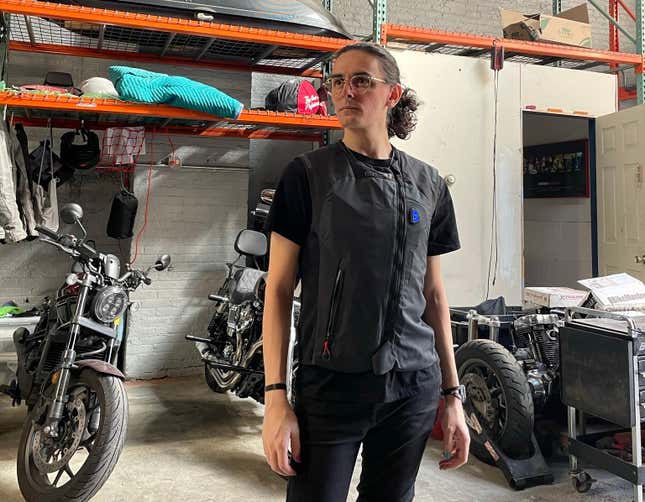 The Alpinestars Tech-Air 3 vest is shockingly comfortable. I wouldn't wear it as a pair of pajamas, but it's lighter than you'd expect. In fact, I brought it by the Jalopnik office one day and passed it around, and every writer who tried it on remarked on how unobtrusive it was to wear. The gas canister that inflates the vest, the computer that controls it, and all of the other hardware is neatly tucked away. Slip on the vest over a leather riding jacket, and you'll forget it's even there.
Until you reach for a pocket, that is. Worn as an outer layer, the Tech-Air 3 blocks any external feature on the jacket you're wearing beneath. The vest has one single pocket of its own — not exactly a fair trade for all the pockets, vents, cinches, gussets, and MOLLE panels on my most technical riding apparel. (Then again, this can be a benefit if, like me, you happen to wear your perforated leather jacket on a 34-degree day and need something to block the icy wind.)
Of course, the issue can be avoided entirely by wearing the Tech-Air 3 inside your existing jacket. Alpinestars markets a number of jackets as "Tech-Air compatible," but any jacket that allows for 1.6 inches of inflation room inside should allow the Tech-Air vest t0 work just fine.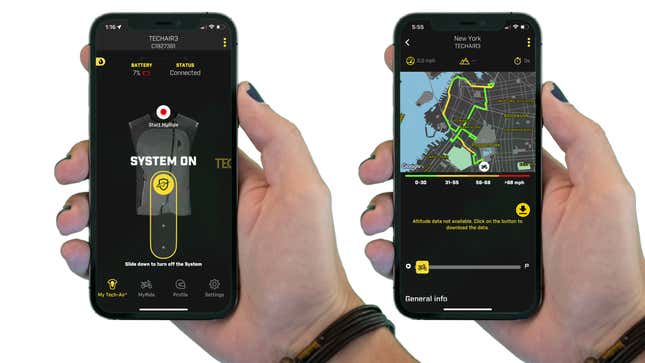 The whole system can be managed through the optional Alpinestars Tech-Air smartphone app, which works more reliably than most device-control apps I've tried. It allows you to turn the airbag vest on or off, check the vest's battery level, and even track ride routes, so long as you remember to stop and start the tracking for each ride. The app also handles any firmware updates Alpinestars may send your way, all through the vest's Bluetooth connection.
That battery control is important, it turns out. Alpinestars claims 40 hours of battery life from the Tech-Air 3, but beware of how quickly the vest chews through battery when it's left on but not being worn. Twice, I went to throw on the airbag vest for a ride and ended up abandoning it at home, out of juice. After the second time, I began leaving it on the charger constantly between rides.
Protection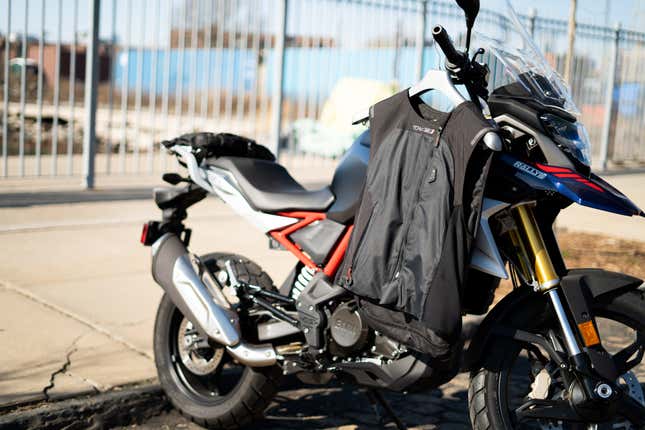 Alpinestars claims the Tech-Air 3 inflates in 50 milliseconds, and disperses impact nine times as well as a conventional CE Level 2-rated back protector. I, fortunately, did not test that impact absorption myself; I generally try to keep the rubber side down while out on my bike. Given the volume to which the Tech-Air 3 inflates, I believe Alpinestars' claims — it's like bubble wrap for your body.
Of course, there's another reason I'm glad I never had to test the Tech-Air 3's inflation capabilities: Resetting the vest isn't a trivial matter. The system needs to be shipped back to Alpinestars, which charges $99 for each replacement gas canister. If your crash puts a hole in the vest's air bladder or ruptures it, a replacement is $199 — all on top of the $599 purchase price of the vest itself.
But, there's a bigger problem with the Tech-Air 3's protection than cost. See, we have data from motorcycle crashes that details exactly how people are injured when they go down: A study called MAIDS, based on European crash data. MAIDS tells us that, for a rider's thorax, abdomen, and spine, half of all injuries are "minor," a category that includes "laceration or abrasion." One could reasonably expect, in the low-speed city environments that the Tech-Air 3 is designed for, the majority of incidents would be considered "minor." And that kind of injury requires abrasion resistance more than impact absorption.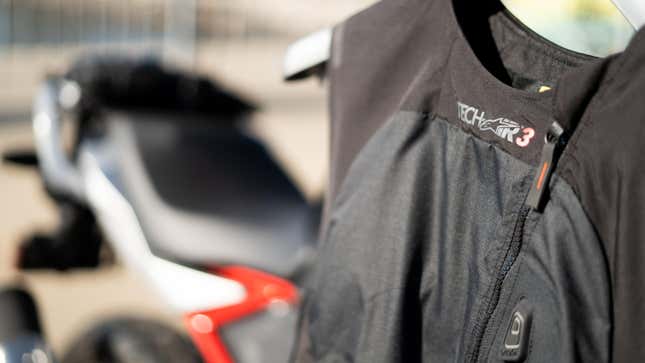 Alpinestars, to its credit, claims in the Tech-Air 3 manual that "Although the Tech-Air 3 System is abrasion resistant certified, it is highly recommended to use it in combination with an additional protective garment." Looking deeper through that booklet shows that the Tech-Air 3 is rated according to the EN17092-6 standard, which covers protective over- or undergarments designed to be used in conjunction with another jacket. The test criteria used on the vest, EN1621-4, measures the vest's impact attenuation but not its abrasion resistance. The Tech-Air 3 might protect you from road rash, but the certifying powers-that-be simply haven't checked.

And, of course, you'll only be protected on your torso. The MAIDS data shows a higher rate of injury on a rider's upper extremities — your precious arms that, by definition, no vest can protect. For both abrasion resistance and the preservation of your two most useful limbs, the Tech-Air 3 is best used as a bonus garment, working in conjunction with an abrasion-resistant jacket.
Should You Buy a Tech-Air 3?
The Tech-Air 3 is a measurably, empirically, unassailably effective protective garment when it comes to impact protection. But we motorcyclists face all sorts of threats to our bodies, and this vest can't address them all. The question of "Should you buy this vest," then, isn't one I can answer for you. It'll depend on your commute, your riding environment, and your own propensity for risky behavior.
If your bike is your daily rider, you probably already have a favorite slide-rated jacket. In that case, buy the vest — it will genuinely keep you safer, and at this point what's one more piece of gear? If you're a touring rider, one who doesn't wear an inflation-limiting backpack, buy the vest. It can be worn on top of your usual gear, unlike the Alpinestars Tech-Air 5, the next step up the airbag ladder, which offers more comprehensive coverage and a solid back protector. And if you're a sportbike rider, you should definitely go for the Tech-Air 5, where the extra inflation areas around your torso is well worth the additional $150.
But if you're cobbling together your first set of gear on a budget, don't make the Tech-Air 3 your first buy. That $600 can get you an excellent armored jacket, made of abrasion-resistant material and loaded up with impact pads at all your vulnerable spots. If you're only going to buy one piece of gear, a good jacket will offer you more protection in more types of crashes than the Tech-Air 3 would on its own. Adventure riders, too, should hold off for now, until Alpinestars makes a more off-road friendly option with longer battery life and more neck-stabilizing inflation around the collar.
For most riders, the Tech-Air 3 is a safer way to ride — no question. But its protection is limited enough, both in scope and in area, that it shouldn't be the only safety layer you put on. Wear it over a real jacket, though, and someday you might appreciate the protection it offers.