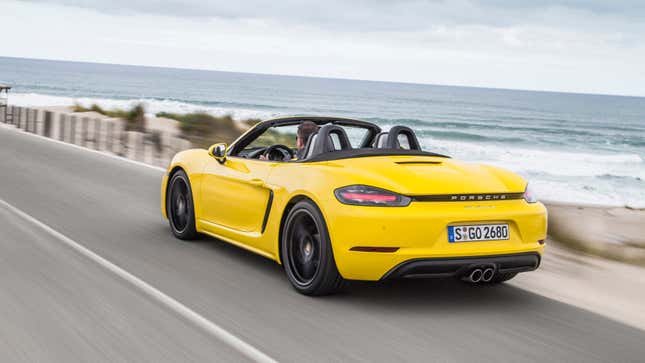 I heard the hoarse screeching when the Porsche Boxster/Cayman abandoned the flat-six engine and went with a turbocharged flat-four. That's nothing, according to a new report. When we last left off, all we had Porsche CEO Oliver Blume was saying that a mid-engine Boxster EV "could work." Now there are reportedly physical manifestations of that vision.
Cristo Fernandez Is Playing His First Car In The New 'Transformers: Rise Of The Beasts'
Porsche is reportedly building a fully electric 718 Boxster and Cayman for 2022, according to Autocar. The German automaker will supposedly offer them "alongside mild-hybrid and plug-in hybrid versions of the current cars." And there are prototypes.
Blume told the outlet:
"We have prototypes of the 718 running in electric now, and a hybrid prototype is being built. If you look to the next generation of those cars it is possible, although it is not yet clear whether it would be plug-in hybrid or hybrid."
Porsche, as you already know, will soon launch the all-electric Taycan four-door, which will be followed by the Taycan Sport Turismo. The next-generation Macan will use Porsche's new electric vehicle architecture, called the Premium Platform Electric, which could be used in the electric 718 models as well.
Meanwhile, the company also said earlier this year that by 2022, it will invest over €6 billion (approximately $6.7 billion) in electric mobility and estimated that by 2025, half of all new Porsche cars would have "an electric drive system."
Of course, that doesn't expressly mean that the pure gasoline-driven 718s are going away. It just means that there will probably be more cars to choose from.
When tapped for comment, a Porsche spokesperson wrote, "Porsche will present its first purely electric sports car, the Taycan, in the fall of 2019. A year later, the first derivative of the Taycan, the Cross Turismo, will follow. Early in the next decade, a fully electric Macan will be brought to the market."
"Beyond that, no decisions have been made regarding other model lines such as the 718. Of course, Porsche is currently evaluating all potential possibilities for electrification. Different hybrid powertrains or a fully electric solution are potentially possible, This is true for the 911 as well as the 718. Since 2011, Porsche has gained a lot of experience and insight with various Boxster and Cayman development vehicles that have a fully electric powertrain. We will continue to build on this experience in the quest to offer our customers fascinating sports cars, now and in the future."