Rather than your typical "Hi, welcome aboard United Airlines Flight whatever, remember to put your oxygen mask on before assisting others" greeting, a pilot in street clothes welcomed passengers aboard Saturday with a rant on politics and her divorce. Just another reason why it's always fun to fly the friendly skies!
According to CBS News, all of this occurred on United Airlines Flight 455 from Austin to San Francisco before the plane took off. (What is it about plane transit between Austin and San Francisco that makes people act wildly out of line?) CBS News reports that the pilot outburst led to a delay of about two hours, which is exactly what every airline passenger wants to happen during an already long travel day.
A snippet of the pilot's intercom address can be seen over at the Sunday Express, during which a man gets up to leave the plane while the pilot adamantly argues that she didn't offend several of the other passengers still in their seats.
CBS News reports that a passenger, Pam O'Neal, said the pilot came aboard the flight and asked everyone to vote on whether she should change into her pilot's uniform or keep the street clothes on. She was also late, according to BuzzFeed:
"She said, 'Sorry I'm late, the reason I'm late is I'm going through a divorce," Randy Reiss, a passenger aboard the flight told BuzzFeed News. "It quickly went from playful to scary."
G/O Media may get a commission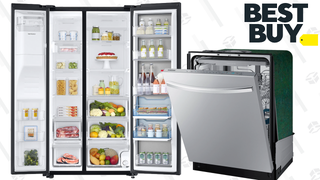 Up to 50% off
Best Buy - Samsung Major Appliance Sale
She then transitioned into some political commentary, according to CBS News:
She then used the plane's overhead PA system to rant about President Trump and Hillary Clinton — calling them both "a–holes" and then ranting about her divorce. That's when passengers began tweeting to United to get a new pilot.

"She started off by saying that she had not voted for either Trump or Clinton because they're a bunch of liars," said passenger "O'Neal. "That's an odd way to start of the welcome to your flight. It really sort of went downhill from there and didn't make a lot of sense to any of us."
According to CBS News, about 20 passengers got off the plane while it was still at the gate. And as you can see from the interviews below, they appear rightfully spooked about the whole thing:
United Airlines found a replacement pilot for the flight and it finally got going. An airline spokesperson, Charlie Hobart, said he didn't know why the pilot was allowed on the plane in street clothes without any raised eyebrows.
The weirdness didn't end when the pilot got off the plane, though. Here's what BuzzFeed reports happened with Reiss, the passenger quoted earlier:
Reiss said the pilot was escorted off the plane by uniformed officers, and he could see that she had been crying.

"She apologized, I hugged her, and I told her, 'You're going to be fine,'" Reiss said. "She was just in a bad place emotionally and should not have been flying."

As she was escorted away she turned back again, toward him.

"We should go on a show together," Reiss said the pilot told him. "We should write a book together."
Hobart also said the company will be discussing the ordeal with the pilot—let's just hope no one brings up the governing of our nation or anything like that.