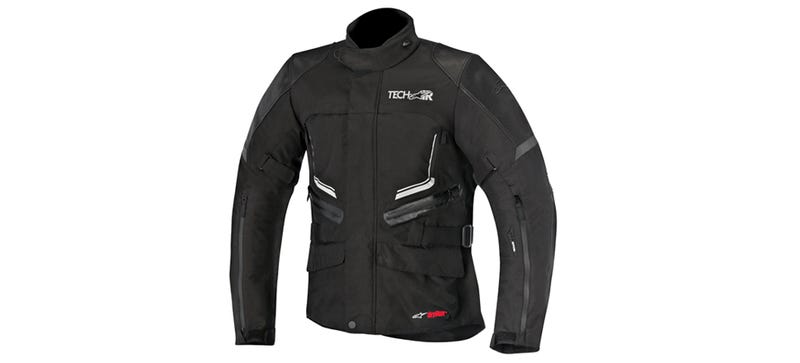 Up until now, if you wanted to wrap your body in airbag-equipped riding gear, you normally had to go with a full-on race suit like the pros in MotoGP and World Superbike. That's starting to change, and the latest entrant is the Alpinestars Tech-Air Street system.
Airbag systems have prevented broken bones (and worse) on the track for years, but wearing a leather one-piece isn't exactly practical when riding across town. The new Tech-Air Street system solves that by using the same tech on its racewear to protect the rider's back, chest, kidneys, and shoulders by inflating a series of bladders with an onboard can of compressed argon air when the electronics inside detect an impact.
The Street setup is basically like a jacket liner. It's a single, removable piece, with fabric and mesh holding all the components, including the Airbag Control Unit (ACU), the canister, and the two cables that run into the jacket. There's also a lithium-ion battery to power it all, which is good for 25 hours, with a recharge time of 6 hours using the same micro-USB cable as your phone. The ACU is also upgradable with new software and sealed to protect against the elements, along with being homologated under the stringent ECE crash regulations.
Alpinestars is offering two Tech-Air jackets to start, the water-resistant adventure/touring-focused Valparaiso (above) and the summer/street-styled Viper (below). Both get an LED panel on the arm to make sure the system is functioning and charged up, and come equipped with CE-certified shoulder and elbow protection, with pockets to add chest and back pads.
We're eager to test this stuff out since we've always wanted the added protection of an airbag, but weren't fond of sitting down for a date looking like we just got done hot-lapping Laguna. There's no pricing yet, but Dainese offers something similar, and it ain't cheap.