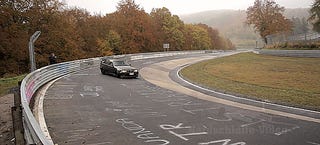 Just because it's wet at the Nürburgring doesn't mean the day is a wash-out. You won't be setting any lap records on the slippery surface, but you can get delightfully sideways much easier.

I'm not sure there's a more quintessential Nürburgring car than a BMW. You see everything from good, cheap beater Bimmers all the way up to the latest and greatest M-cars out on the infamously long and crazy Nordschleife course. That Guy you're waiting to be pulled out of the wall probably just wrecked his BMW ringtool.
Here's a brief compilation of BMWs getting sideways (or at least trying to, in some cases) on the Nordschleife's Karussell turn. They see that wall, and laugh in the face of danger's expensive flatbed tow truck.

These BMWs forego the grippy concrete on the inside to get a good sideways slide going out on the moist asphalt. After all, excessive grip is the enemy of mad stuntin'.