Seeing a huge classic car collection go up for auction makes me wonder if someone died. But 81-year-old Mike Dingman, a 21-year veteran of Ford Motor Company's Board of Directors, is alive and well and wants to thin out his fleet a bit.
So he's going to auction off 47 cars and a bunch of neon signs this weekend in New Hampshire.
Among the pile of classics he's trying to get rid of are a 2005 Ford GT, a pair of mid-60s suicide door Lincoln Continental convertibles, a Lagonda-powered Aston Martin Vantage Volante (sublime in its 80s-tastic ugliness — he can keep that one as far as I'm concerned), an assortment of Ford woody wagons from the 30s and 40s, even a late-80s VW Vanagon and a '96 Mustang GT (How did those sneak in?).
At the head of the collection Dingman will put on the auction block Saturday is a 1936 Ford Gläser cabriolet, one of only two ever made. It's interesting to note that the car was built in Germany, right about the time that Henry Ford was getting chummy with der Führer. Who knows how much it's worth, but I'm going to go out on a limb and guess that it'll sell for more than a 1940 Lincoln-Zephyr Continental Cabriolet Dingman sold at auction in 2006 for $407,000.
G/O Media may get a commission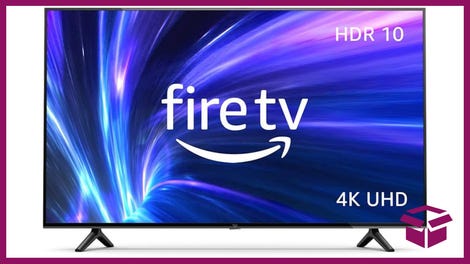 42% Off
Amazon Fire TV 50" 4K Smart TV
Right now, the cars are displayed in grand rich guy private auto museum style — amidst a hanging forest of nostalgic neon signs. They're for sale, too. Most of the signs are pretty cool — the kind of stuff you'd expect to see in a pan shot of a city block in one of those late-40s noir flicks. They just look funny all assembled in the same place, adding color to a collection of largely dark hued vehicles.
Dingman sold 54 cars and 1,000 neon signs at his last auction in 2006, raking in $8 million. We're not sure what he did with the money, but he has donated a lot of it to the University of Maryland and a school near his house in the Bahamas in the past. Yeah, he has a house in the Bahamas.
The auction goes down this weekend in Hampton, N.H., so if you have deep pockets and happen to be in the neighborhood, you might be able to score a perfectly restored classic. No reserve on any of the collection, so who knows, a killer deal could come out of it. I'm willing to bet that most of Dingman's cars will sell at pretty high prices. But someone might be able to get their hands on that Vanagon for less than 15 grand. (Hat tip to Dale!)
Photo credit: Boston CBS