Ah, yes. This weekend, Formula One made its celebrated return to très chic France after a decade of absence from the calendar, and that's pretty great! Except, well—when it's not. Which has turned out to be more of the time.
In theory, a triumphant return to Circuit Paul Ricard seems great. That is, until you consider the traffic fiascos (make sure you read that whole thread) that were so bad they resulted in an actual, real life, official FIA statement. Or the, um, incredibly confusing track patterns that look more like an attempt at hypnosis than runoff areas, which have really only served to confuse drivers and give fans a headache.
Barring the first lap shenanigans and the fact that we got some overtaking in the form of former-front-runners Sebastian Vettel and Valtteri Bottas overtaking the backmarkers and midfield teams after getting wiped out at the start, it was… a pretty standard race. Lewis Hamilton was untouchable. All the possibly spicy action (like, Carlos Sainz finding himself in third place at the restart) was pretty quickly relegated back to normal.
For a brief second, it looked like Paul Ricard might provide some pretty great action. But it proved that it couldn't sustain any action past the first few seconds.  And to top it all off, it finished under a safety car.  Ugh.
So, in honor of this pretty mediocre occasion, here is a guide to the other tracks that Formula One could have utilized for their great French comeback.
G/O Media may get a commission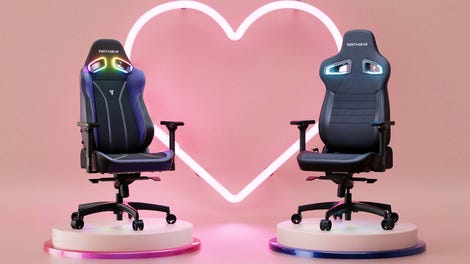 Up to $150 off
Vertagear Gaming Chairs
Circuit de Nevers Magny-Cours
Magny-Cours was the site of all F1 Grands Prix from 1991 to 2008, carrying the torch from Paul Ricard. Sure, a lot of people might have complained at the time because of how often Michael Schumacher absolutely dominated that track, but the guy is an absolute legend.
It's a more preferable option to Paul Ricard for a few reasons. Mainly because it actually has a hairpin, which is pretty neat since Paul Ricard is just a lot of sweeping turns and long straights. Magny-Cours suffered from a lack of overtaking, too, and they installed a pretty ineffective chicane in 2003—but that did mean the pitlane was cut short which enabled the pitstop times to be way shorter than they used to be.
It made for some interesting strategy calls back in the day. And, y'know, since 2018 is the era of pitstop strategy reigning king instead of on-track action, we could at least see some more interesting calls.
Circuit de Charade (Or, Circuit Louis Rosier (Or, Circuit Clermont-Ferrand))
Dude. This circuit is built around a freakin' volcano. Why are we not racing here literally all the time!!!!
This track, y'all. This is not a track for weenies. The initial circuit was 5 miles long and was set to dethrone the Nürburgring as one of the most challenging courses just because of how fast and twisty it was. Drivers like Jochen Rindt used to wear open-faced helmets here just in case they threw up from motion sickness. That's absurd.
Okay. I get it. It's a dangerous circuit. That whole volcano thing meant that rocks were prone to falling on the circuit (a rock smacking into Helmut Marko's eye here was the reason he ended his racing career). And there really weren't any run-off areas. The ended up modernizing it in 1989, so it's about 2.5 miles now.
But still. It's racing near a volcano. In France. That's like, all of my favorite things.
Circuit de Pau-Ville
This incredible street course used to host Grands Prix before Formula One was actually a thing. It's mostly used for other Formula series now, which should be a pretty natural lead-in to, y'know, F1.
We could use more street courses on the calendar. Yes, we know Monaco is boring, but a street course done right can be a super fun hot mess, and Pau might have that potential. It also has the benefit of being in a city center. So none of that annoying traveling-out-to-the-boonies nonsense anymore. All the glamour of Monaco but without those Monaco prices.
Circuit Bugatti
The Bugatti Circuit is located within the Circuit de la Sarthe—y'know, the bad boy that hosts the 24 Hours of Le Mans. It only ever hosted an F1 Grand Prix once, waaaaay back in 1967, but there's no reason not to change things up!
This one is preferable partly because of the novelty. Who doesn't want to see an F1 car screaming under the Dunlop Tires bridge? Fernando Alonso, the only driver to race in any series ever, wouldn't even have to inconvenience himself with traveling across France!
And I mean, we know Le Mans can actually, y'know, host a race. You probably won't be stuck in traffic for six hours trying to get there.
Circuit Reims-Gueux
Okay, this one is a shot in the dark, but hear me out. This old-school track held some pretty insane races back in the day. The track layout may not look like much, but I'm gonna need you to use your imagination here.
Picture a slipstream battle. All the cars are lined up and ready to go at the start of the race, and it's just a matter of who can slingshot forward first. You don't want to be the unfortunate polesitter at Reims-Gueux. Imagine the shenanigans! It would be like watching F1 on an oval without F1 actually having to deign to use an oval.
Listen. I know the circuit is pretty much nothing more than, um, some dilapidated buildings lining country roads. But this race could be freakin' awesome.
Circuit des Invalides
Yes, friends. This is in fact the travesty that is Formula E's Paris ePrix circuit. Yes, I am indeed suggesting that the FIA deposit the entire F1 circus onto a circuit in the middle of France's most popular city that's barely over a mile long. Yes, I am implying that F1 set themselves up under some temporary canvas-covered garages and wheel their cars out to pit lane. Let's ignore the fact that Bernie Ecclestone failed to do this years ago and imagine a world where F1 cars race around Napoleon's tomb.
Don't even pretend that this wouldn't be amazing. This would be the best dang race of the whole year.
Pretty Much Any Parking Lot Anywhere In The Entirety Of France
Throwing together a circuit defined with nothing but orange cones would still be less confusing than Paul Ricard.