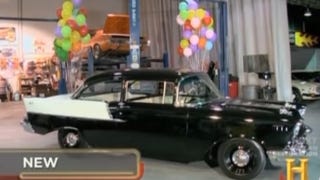 According to the infallible news source that is TMZ, the 1957 Chevrolet 150 that was the focus of a night of predictable cross over shows on the History channel was damaged when it burst into flames yesterday.
American Pickers found the car for $6500, sold it to the guy from Pawn Stars for a small profit who then paid the shop featured on American Restoration a staggering $70,000 to restore it. The result was a pretty nice 1957 Chevrolet 150 that looked like an ultra rare high performance "Black Widow". Upon completion it was gifted to the old guy from Pawn Stars.
Unfortunately for all parties involved, the hefty restoration costs did not include fire proofing the car, a fact discovered when the car burst into flames yesterday. According to TMZ this is the second time this year the old guy from Pawn Stars has had problems with classic cars and fire—in February his 1966 Imperial Crown convertible "caught on fire" by the side of the road in Las Vegas.
Considering the fact the Imperial looks to be less on fire and more overheating in the pictures included, we question how serious this fire was in the 150. No details were included on how it happened or the extent of the damage. Call it a hunch, but something tells us this pricey '57 Chevy will ride again.
Hat tip to cesariojpn!
[TMZ]