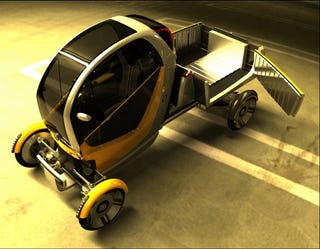 With a pickup bed able to fold up into a vertical storage bin, Adam Schacter's CarGo concept is a Piaggio Ape for the 21st century. Like its ultra-stylish Italian predecessor, the battery-powered single-seater's designed for frequent deliveries in dense cities.
Looking like a cross between an Ape, a Venturi Eclectic and something from the video game Half-Life, the CarGo can transform from a pickup truck to compact van, folding up its pickup bed into a vertical storage bin. It can also tuck in its wheels to fit into very narrow spaces. Plus, it banks into corners.
It is strictly a rendering at the moment but it would be quite lovely if someone took to manufacturing it.
Image Credit: Adam Schacter Design