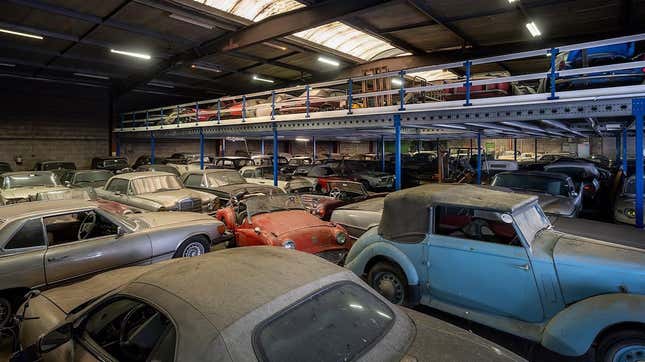 One of the greatest barn finds of all time was recently uncovered in the Netherlands and will soon be sold at auction. The Palmen Barnfind Collection is named after its former owner. Mr. Palmen began collecting special cars over 40 years ago. He eventually stored over 230 vehicles in a church and two warehouses, where the cars were rarely seen by anyone. Due to circumstances and his increasing age, Palmen can no only longer keep his impressive collection, and Gallery Aaldering, a classic car dealer, acquired the massive historic fleet.
In case you missed it:
The collection is currently being stored in Dordrecht, a city located just 16 miles southwest of Rotterdam. In a video posted by Gallery Aaldering, the cars are covered in dust but seem to be in good condition. The list of classics is honestly intimidating. From a 1912 Singer Convertible and a 1927 Ford A Roadster to a 1984 Ferrari 400 Automatic i and a 1995 Jaguar XJ-S 4.0 Convertible, there is a wide variety of American and European machinery ranging from the 1910s through the 2000s.
Nico & Nick Aaldering of Gallery Aaldering said, "This barnfind collection is truly a unique opportunity for car enthusiasts and collectors around the world to expand their collection. We are very pleased to be able to auction these cars through Classic Car Auctions and look forward to seeing how much interest there is in this wonderful collection."
The auction is scheduled to start on Friday, May 19. There will be viewing days for the vehicles in Dordrecht from May 27 until May 29. The auction will close in three parts over three consecutive days from June 5 to June 7. More information can be found on the Classic Car Auctions website.