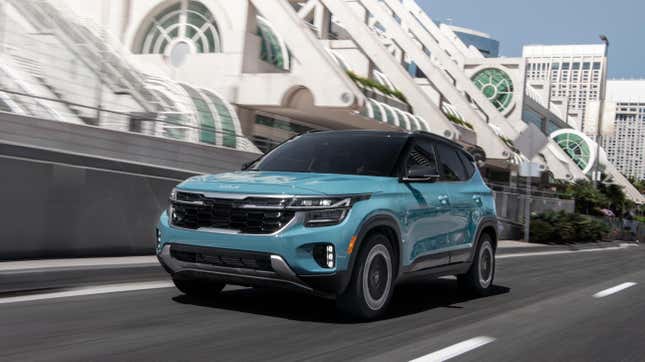 Unlike most automakers, Kia is in a unique position. The brand still sells cars and crossovers that start under $30,000. There are nine in total. One of them, the Seltos, has gotten updated for the 2024 model year. Including a $1,325 destination charge, the updated '24 Kia Seltos starts at $26,255.
In case you missed it:
The Seltos is the smallest crossover in Kia's lineup. In Kia's hierarchy of crossover/SUVs, it slots above the oddly placed Soul and right below the Sportage. And in keeping with Kia's tradition of offering a lot of the money, the Seltos comes well equipped.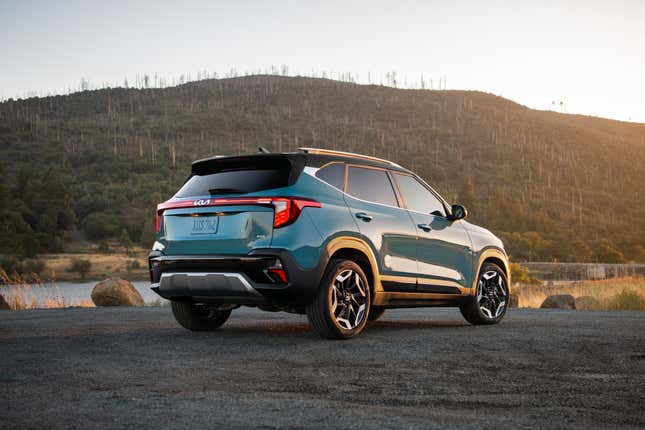 The biggest updates for the Seltos are on the exterior and interior. Outside, Kia has given it a slightly larger front fascia with distinctive lighting while the rear has gained taillights that are reminiscent of those on the Telluride and Sorento.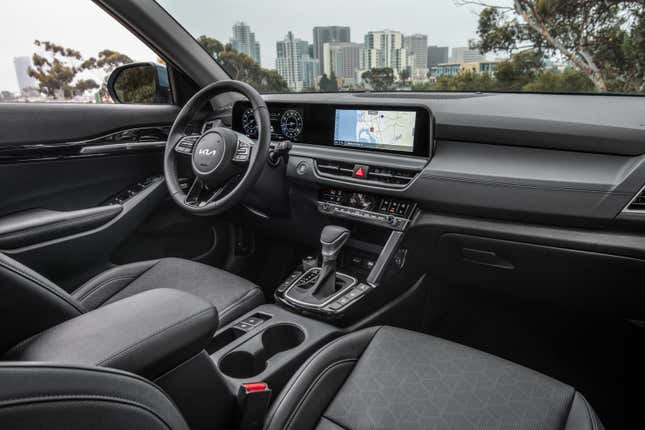 Inside, Kia is getting in on the big display trend with dual 10.25 inch displays it calls panoramic displays. This replaces the last model's tacked-on dash display.
Buyers can choose from a wide lineup of trims. There are five in total: LX, EX, S, X-Line and SX. Depending on the trim, you can choose between two engines: either a base 2.0-liter, 146-horsepower I4 thats paired with a CVT or the more powerful and smaller 1.6 liter turbocharged I4 with 195 hp and an eight speed auto. These engines can be paired with front or all wheel drive.
The trims of the Seltos alternate between front or all wheel drive. Surprisingly, the base Seltos LX comes with all wheel drive as standard for the $26,255 price. Moving up to the EX will set you back $27,115, but you lose the all wheel drive; it'll cost an additional $2,000. The S is the next trim up, but it starts just $60 more than the LX at $26,315; if you want all wheel drive on your S, add on $1,500. The X-Line, which is Kia's rugged-look trim, starts at $30,015 and comes standard with all wheel drive. The top of the line SX starts just $1,300 higher, at $31,315 (all wheel drive is standard here as well.).
If you like what you see you can check the Seltos out at your local Kia dealer soon as the Seltos is set to go on sale this spring.