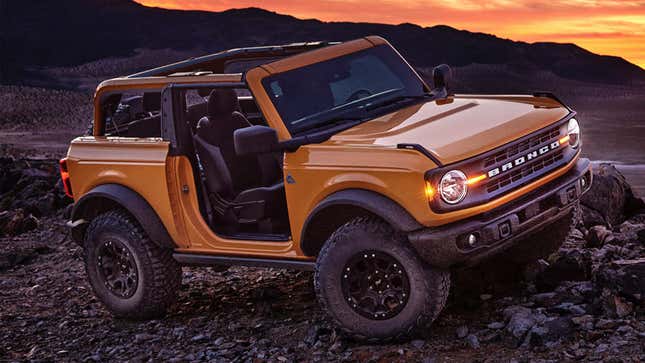 The 2021 Ford Bronco has finally been revealed to the public. Pull up a chair, crack a beverage, and let's discuss the vehicle's officially confirmed highlights and specs.
2021 Ford Bronco Revealed
Jalopnik didn't agree to any Bronco info embargoes so we'll just be discussing things as they're revealed and update this thread in real-time. Refresh early, refresh often! The Bronco Sport will be covered in another writeup, this thread will focus on the two-door and four-door full-sized 2021 Bronco models.

VW's ID Buzz Gets A Third Row For The U.S. And A Little Closer To Our VW Bus Dreams
You can see everything and everything in Ford's press release, I'll organize and interpret as quickly as I can.
I thought I was sick of this thing, after hearing it get hyped for the last few years (decades? Seems like it) but seeing these pictures... Holy guacamole. It's perfect.
The Coolest Features
Seven-speed manual confirmed! A 94.75:1 crawl ratio and 35-inch tires available from the factory! Quick-release doors and roofs! Specifics on that from Ford:
"All modular hardtops have rear quarter windows that are removable in three easy steps – snap, push and lift away in a fraction of the time it takes for competitors – without removing the roof panels. By locating the sportbar behind the second row, both Bronco two- and four-door models offer the largest overall open-top view in its class to take in the sunshine or to gaze at the stars at night."
"More than 200 factory-backed aftermarket accessories." Woo!
Trim Levels
There are seven 2021 Ford Bronco trim levels including a First Edition and 11 different colors, the availability of which differs based on which trim you get.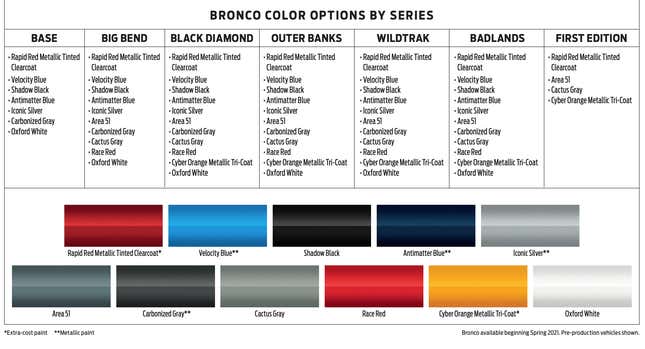 No green yet, but both blues are great and Race Red is always fun. I'd be torn between one of those and good-ol' blanco.
As for trims, the Black Diamond is the "mainstream off-roady" one, the Outer Banks is the somewhat lux variant, Wildtrak is the luxury off-road beast and Badlands is billed as the "most off-road" version. Though, of course, by nature of the Bronco's architecture, they're all going to be pretty capable.
Engines And Powertrains

The base engine will be a 2.3-liter four-cylinder turbo EcoBoost claiming 270 HP and 310 lb-ft of torque. A version of that engine currently sees duty in the Ranger.
The better powerplant will be an optional 2.7-liter six-cylinder EcoBoost that's supposed to churn out 310 HP and 400 lb-ft of torque. A variant of that engine's been seen before in the current F-150.
They both run on regular-octane gasoline, but economy figures haven't been published yet.
Transmission options will be a seven-speed Getrag manual or ten-speed automatic, but the stick shift will only be paired with the smaller displacement engine according to Ford's spec sheets.
Transmission Details
The standard transfer case provides 4x4 with part-time selectable engagement as a two-speed electronic shift-on-the-fly with 2.72:2 low ratio. Higher-spec Broncos get advanced 4x4 with automatic on-demand 4H engagement – two-speed electromechanical transfer case 3.06:1 low ratio.

Crawl ratios, with high-capability option packages, are as follows:
Automatic with electronic shift-on-the-fly: 57.19:1
Automatic with electromechanical transfer case: 67.8:1
Manual with electronic shift-on-the-fly: 79.92:1
Manual with electromechanical transfer case: 94.75:1
Here are the gear ratios for the main box: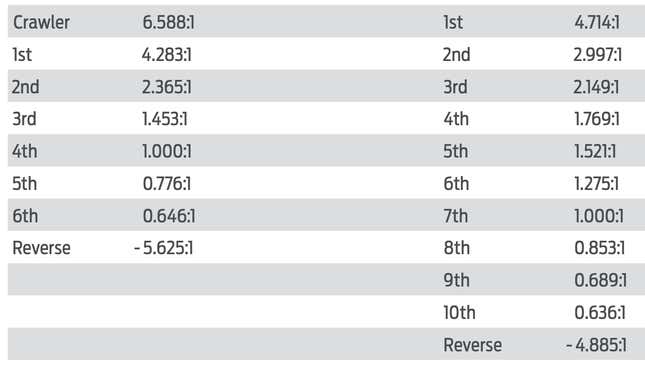 Axles
Up front Dana AdvanTEK independent front differential unit with available Spicer Performa-TraK electronic locking differentials. The Bronco's rear axle is a Dana 44 AdvanTEK solid rear axle with available Spicer Performa-TraK electronic locking differentials.
Chassis And Body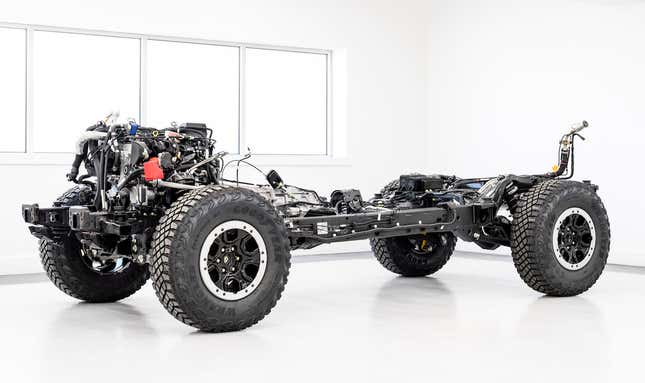 The Ford Bronco will be built at the Michigan Assembly Plant in Wayne, Michigan, alongside the Ford Ranger with which it shares a basic platform. It's a body-on-frame construction, with the steel frame bolted to a body presumably made mostly of steel (since Ford makes little mention of aluminum in the press release, and the Ranger's body-in-white is made of steel). The doors and roof are removable. Like the Ranger, there's an electronic rack and pinion steering setup, an independent front suspension (twin A-arm with coilovers), and a solid rear axle. But unlike the Ranger, the Bronco uses a five-link coilover setup for the rear and not leaf springs.

Ford claims its chassis allows for "best-in-class suspension travel – 17 percent more both front and rear over the closest competitor" (which could only be the Jeep Wrangler, right?)
Here's a chart that breaks out specifics on the vehicle's size: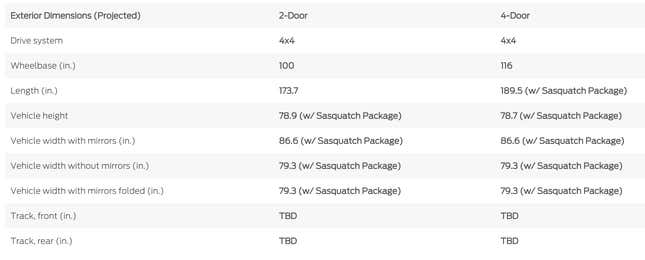 Curb Weights And MPGs
...Are going to remain "TBD" for now, looks like.
Payload And Pulling Power
Max towing is posted at 3,500 pounds, regardless of other options you pick. Payload capacity is 1,170 pounds for the two-door and 1,370 pounds for the four-door. The Bronco's rated to carry 110 pounds on its roof while underway, or 450 pounds if the vehicle's sitting still. (So, like, if you want to stand on the roof or something.)
Interior
There's a drain in the bottom! Ford's not promising a full "hose-out interior" because it also has two big infotainment screen options.
Off-Road Stuff
For measurements, it's got 11.6-inch ground clearance, max 29-degree breakover angle, and 37.2-degree departure angle, "water fording capability of up to 33.5 inches."
Here's a breakdown of how the Bronco's different variants measure out:

This chart gets into even more capability specifics: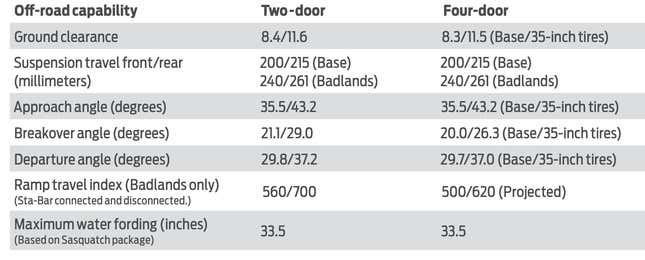 The top off-road spec is the Wildtrak, while the Sasquatch Package adds the big 35-inch tires, beadlock-capable wheels, front and rear locking diffs, and Bilstein shocks, a 4.7:1 final drive ratio and fender flares.

Ford's including something called "the FordPass Performance app with off-road navigation – a Bronco class-exclusive feature that allows owners to easily plan, navigate and share their off-road adventures," which sounds great.
As Ford explains its manual transmission:
"For maximum low-speed rock-climbing capability, a segment-first seven-speed (six-plus-one) manual transmission paired with the available advanced 4x4 system with automatic on-demand engagement generates a class-leading available crawler-gear ratio of 94.75:1. An available segment-first SelectShift 10-speed automatic transmission makes for easier driving on- and off-road, while offering a maximum 67.8:1 crawl ratio with the available advanced 4x4 transfer case."
The Bronco's terrain response system is being called "G.O.A.T." (Goes Over All Terrain, or maybe it's Any Terrain, anyway...) it has modes you've seen on the Raptor: Normal, Eco, Sport, Slippery and Sand, with Baja, Mud/Ruts and Rock Crawl that change traction control and throttle response for off-road driving.
Dimensions
The Bronco's size varies slightly depending on which trim level is selected. Check out this chart: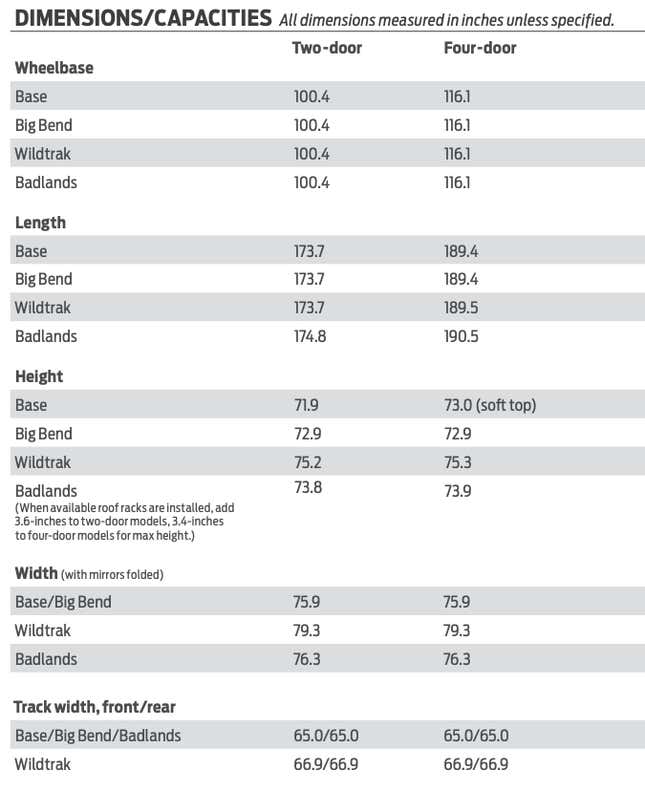 Pricing
The base model lists at $29,995, which includes a $1,495 destination and delivery charge. But there are seven trim levels, so I'd expect that the pricing will be competitive with comparably equipped Jeep Wranglers.
The most expensive First Edition is about $60,000.
You can see a more complete pricing breakdown in our pricing blog.
Trim Levels And Options
There are seven trim levels (including the First Edition), and a few option kits. The "Sasquatch Package," which you might have been hearing about because it sounds hilarious and cool, is the off-road kit.
Here's a complete breakdown of all the trims and add-ons.
So You Want To Buy A Bronco...
Ford seems to be taking a note from Tesla and is letting people "reserve" Broncos with a $100 deposit on Ford's website. I don't really see the point of doing this from a consumer's perspective, but it's a great way to generate revenue for the automaker. (I guess, theoretically, it saves you a spot in line?)
Just relax and wait for the first few months of hype and dealer markups to cool off. Wait though, if everybody does that, automakers will bail on building enthusiast vehicles. Hmm...
"But I Want To Give Ford Even More Money Now?!"
Ford has (brilliantly) done a Bronco merch drop on Amazon, so go nuts over there. (It's Amazon.com/fordbronco.)
More Pictures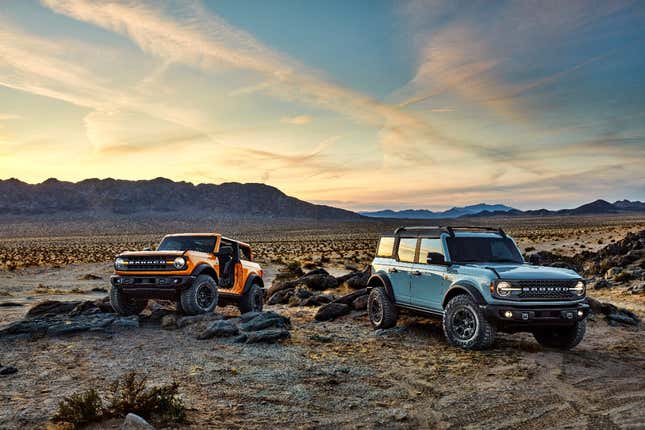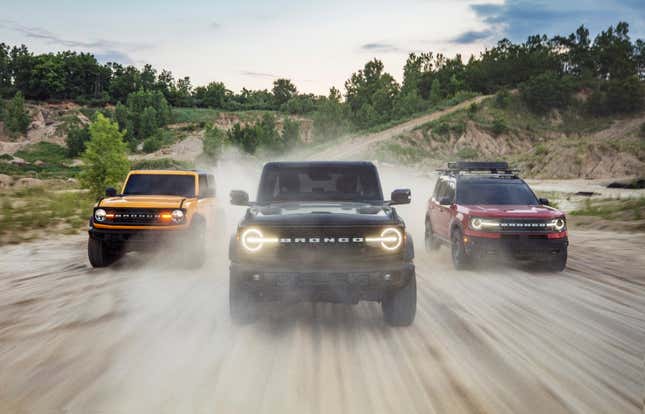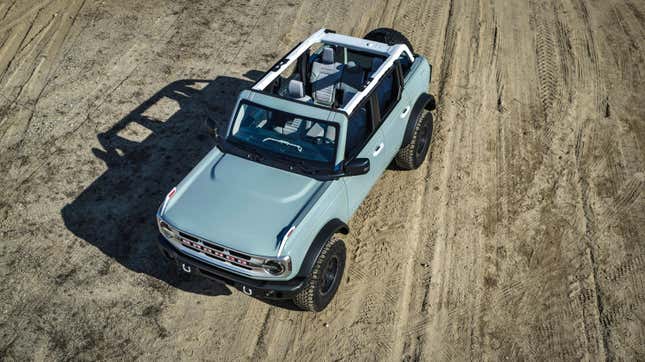 We're consolidating all the official 2021 Ford Bronco pics we can find in their own thread, too.