This is The Morning Shift, our one-stop daily roundup of all the auto news that's actually important — all in one place at 9:00 AM. Or, you could spend all day waiting for other sites to parse it out to you one story at a time. Isn't your time more important?
1st Gear: Everyone Wants To Build An Autonomous Car By 2020
Automakers are in agreement, we should have semi-autonomous cars for sale by the year 2020.
Realistically, plenty of companies have developed autonomous cars already. There are Google Cars driving around right now, their drivers busy playing Candy Crush while the car handles the slightly more complex task of driving.
G/O Media may get a commission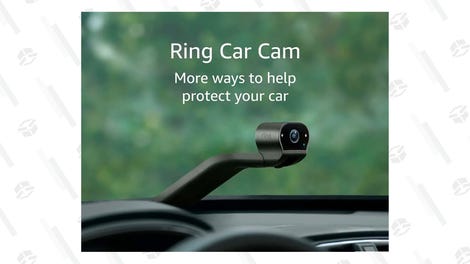 What's the point of all this beyond: We can do it?
As Dr. Z points out to Dr Shep in his article on the topic:
"For us, autonomous vehicles are an important step on the way to accident-free driving," Daimler CEO Dieter Zetsche said. "They will bring greater comfort and safety for all road users. That's because autonomous vehicles also react when the driver is inattentive or fails to spot something. On top of that, they relieve the driver of tedious or difficult tasks while at the wheel."
This is the future.
2nd Gear: Gas Stickers For Used Cars
The Government is now offering EPA stickers/labels for used cars, which can be downloaded here. This, according to the AP makes sense because, according to the government, fuel economy changes little over a vehicle's 15-year-life if maintained properly.
If only all cars were maintained properly. What's the worst mileage you can find?
3rd Gear: VW Wants More Natural Gas In The US
If you want a CNG-powered car, your options are to get a Honda or to get a truck. Despite being a largely home-supplied fuel that produces fewer carbon dioxide emissions than regular gasoline or diesel, the U.S. lacks the infrastructure.
This, says Automotive News, is the reason why we're not getting the latest crop of CNG-powered vehicles from VW.
Jonathan Browning, CEO of Volkswagen Group of America, said CNG — which has cleaner tailpipe emissions than gasoline and diesel and reduces carbon dioxide emissions about 20 percent — should be eligible for more credits under fuel economy standards in the United States.
"We have the technology available," Browning said. "We're looking for the signal that it's supported from a regulatory point of view and there's some degree of infrastructure available."
4th Gear: Mercedes Has More Demand Than Supply
Mercedes, which has sort of been waffling as of late, has suddenly reached a supply problem of the better kind: More people want cars than they can make.
Here's the interesting part of us:
Zetsche has a strategy for Mercedes to roll out 13 models with no predecessor in eight years in a bid to overtake top-ranked luxury-car manufacturer BMW in sales by the end of the decade. That compares with moves by Munich-based BMW to maintain industry dominance by bringing out 25 models in the two years through 2014, with 10 having no predecessor.
If just one-in-five of those isn't some form of crossover I'll be happy.
5th Gear: Nissan/Renault Still Rocking The Developing Markets
While "developing markets" like Brazil/Russia/India have slumped a bit this year, Nissan/Renault's Carlos Ghosn tells the WSJ that they still think there's money to be made there and other places.
"Emerging markets are multiplying," Mr. Ghosn said. "Now you have Indonesia, Burma, Africa. Maybe one will slow down, [but] the overall picture of emerging markets justifies every investment we have done. We have to do more."
We do like the new Datsun Go, which we drove here.
Reverse: The Floating Bridge
On September 12, 1993, the rebuilt Lacey V. Murrow Bridge over Lake Washington opens in Seattle. The new bridge, which was actually the eastbound lanes of Interstate 90 (the westbound lanes cross the lake on a separate bridge), connects the city and its eastern suburbs. It replaced the original Murrow Bridge, the first floating concrete bridge in the world, which was destroyed by a flood in November 1990.
[HISTORY]
Neutral: Autonomous Cars? Ultimately, is it a bad thing that people who don't want to drive will have the opportunity to Facebook while they drive without hurting anyone? Be honest, if you were stuck in traffic wouldn't you rather let your car handle it?
Photo Credit: Getty Images