Every year in America, the president issues a State of the Union address in which he (or she, to be fair and forward-looking) takes stock of the political landscape and lays out his (or her) agenda. Since this is Jalopnik, I think we should issue a State of the Wagon address, and assess where the 2015 Volvo V60 fits into it.
(Full disclosure: Volvo needed me to drive the 2015 V60 so badly they dropped one off at my house for a week with a full tank of gas. And just so we're clear, while Volvo is sponsoring our Jalopnik Film Fest, nobody from the company asked me to say anything nice about the car. Or anything mean about it, either. Or anything at all. They did tell me how to use a smartphone app that unlocks the doors, which was kind of them.)
This address won't come with much good news, because State of the Wagon in America is not very strong. Wagons everywhere, even time-honored favorites, have been disappearing in favor of SUVs and crossovers for many years, and this trend shows no signs of abating.
The Audi A4 Avant is gone, replaced by the awkward-looking, condescending Allroad. The BMW 5-Series wagon was unceremoniously dumped for the hideous 5-Series GT. The Subaru Forester and Outback are more crossover-like than ever before. The Acura TSX Sport Wagon died so the TLX sedan could live. We're waiting for a new Volkswagen Golf Sportwagen to get here. The Honda Accord Crosstour? Ugh. No. Shut up, Tom.
G/O Media may get a commission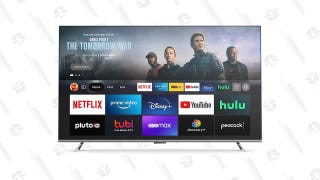 Save 46%
Fire TV 55" Omni Series 4K UHD Smart TV
We know there are reasons for this lack of wagons, like absurd CAFE rules and the tastes of the American buyer. But we don't have to be happy about them.
The U.S. went a few sad years without a Volvo wagon., but now the V60 — revised for the rest of the world and new this year on our shores — is here to deliver us from our sad state of wagonlessness.
But is this lone hero — this brave, mythical Swedish wagon-knight of legend — actually any good?
The V60 is a wagon version of its sibling the S60 sedan, and both are built on Ford's mid-size EUCD platform, which also underpins the Ford Fusion, Range Rover Evoque, Volvo's own XC60 and others. It's a good platform, basically.
The purest wagon in Volvo's U.S. lineup can be had in three flavors: T5 Drive-E, which has a 2.0-liter turbo four with 240 horsepower and front-wheel drive; T5, which in true Volvo fashion is a five-cylinder engine that also gets you all-wheel drive; and the T6 R-Design, my car, which gets a turbocharged inline-six and all-wheel drive.
The T6 comes with some impressive numbers. How's 325 horsepower and 354 pound-feet of torque for getting your children to school on time?
Older Volvo wagons are often referred to as "tanks," and this new one has the same qualities, but I mean that in a good way. It's a big, solid-feeling, comfortable car that is relaxing and easygoing to drive, full of room for all your stuff.
It is not a performance car; it does not have that edge to it that a BMW or an Audi might have. It is not really what I would consider a driver's car.
But once you get past that, if it's even an issue for you at all, you learn to appreciate the V60 for what it offers. The little things are what make it great, like the phenomenal headlights, the huge, clearly marked gauges, the overall build quality, the quiet cabin, the great ride, and the button that pops the rear headrests down so the driver can see better.
It's all very Swedish; you can tell the car was made by people with a different mindset, a different approach to things than the people who give us our de rigueur American, German, and Japanese cars.
Then there's the safety aspect, too. Modern cars are incredibly safe, modern Volvos exceedingly so. I was always mindful of the fact that it was virtually impossible to die in the V60.
That's kind of cool.
Exterior - 8/10
This is a great-looking wagon, no two ways about it. It's sleek and attractive with nice, clean lines, but it never comes off as shouty. I love the roofline, the side curves that turn into the rear taillamps, and the nose. From pretty much every angle, the V60 looks lovely.
It's unapologetic in its wagon-ness. It doesn't try to be a fake SUV with extra ride height or plastic body cladding or whatever. Wagon and proud, that's what the V60 is. Wagon and proud!
Interior - 7/10
I have to admit that I was kind of underwhelmed by the V60's interior at first. It was a little too dark, a little too understated and conservative, and it felt dated. I mean, that number dial on the dash? Your phone doesn't have those buttons anymore, but your 2015 Volvo does.
But the more time I spent driving the V60, the more impressed I became. The interior is incredibly well-built, and all the materials feel high-grade. Fit and finish is impeccable. The cabin is exceedingly quiet. It's just a nice place to be. Rear seat room is good, but it could maybe stand to be a little more spacious; I found the cargo area more than adequate for all my needs, and superior to a lot of SUVs and crossovers in terms of space.
When we talk about the interior, we really need to talk about the seats; they are the pinnacle of human achievement. Not the Internet, not spaceflight, the V60's seats. They are cushy and soft and perfectly bolstered. When you sit in them, your troubles melt away.
There are no seats better than these seats.
Acceleration - 7/10
The turbocharged 3.0-liter inline six is mounted transversely! That's magical. And like I said earlier, it posts some impressive numbers. Zero to 60 mph is said to be in the low 5-second range, which sounds right to me.
The trouble is, it never quite feels that fast. Don't get me wrong, it can definitely move, and it's potent enough that you'll have fun when you come full throttle out of a corner. But it doesn't give you that smash-your-face-with-a-brick acceleration you get from a BMW N55 engine. Chalk it up to the car's heft and overall quietness for dampening that speed-feeling.
Braking - 6/10
The brakes feel strong, and since this is a Volvo, I have no doubt that they will save you from trouble should you require their emergency services. I just didn't care for the pedal feel. Too soft, too cushy. Not my favorite.
Ride - 9/10
The ride quality of the V60 goes hand-in-hand with those wonderful seats and the car's overall quietness. It's incredibly smooth and comfortable. Whether you're driving the V60 or simply a passenger in it, you're in for a relaxing experience. At the same time, it transmits a decent amount of road feel without ever seeming too numb.
Handling - 6/10
Body roll. That's the big issue with the V60's handling. There's way too much of it, too much to ever make it feel like a true sport wagon. Other than that, the handling is actually pretty decent. It sticks in the corners and always feels solid, connected, tank-like. And in hard, tight cornering, you can feel that rear wheel power as well.
The electro-hydraulic steering is a bit too boosted for my taste, but it's nice and direct. Honestly, this car is an adept handler, especially for its size, it just has too much body roll. If I owned one, a set of sway bars would be on overnight order.
Gearbox - 6/10
The only gearbox option we Americans get for the V60 is a six-speed automatic. It's just okay. It's totally fine in full automatic mode, shifting smoothly and seamlessly for the most part.
The paddles are totally unimpressive. Manual-mode shifts never happen with any urgency, up or down. And the "sport mode" setting for the transmission doesn't really change its character much at all. It's no ZF8, that's for sure.
Toys - 7/10
The infotainment system is a mixed bag. It's pretty easy to figure out, clear and understandable, but operating it with one little dial — or worse, that number pad — is kind of infuriating. This is the first car I've driven where I only tried to use the navigation once before I said "fuck it" and switched to Google Maps on my phone.
I did like the big digital gauge cluster, which is gigantic and super easy to read. It also has different settings depending on your preference for outright speed (me) or fuel economy (other people). There's also the Volvo On Call smartphone app, which can locate the car, run diagnostics and even unlock doors and remote start from your phone. That was neat, even if I didn't use it much.
Still, I found my tester to be curiously devoid of toys for its price. While this is a Volvo, a company whose reputation is built on the principle of safety, there was no backup camera or fancy safety systems like adaptive cruise control or emergency auto braking, besides one system that only works at low speeds. What gives?
I will say this: the V60's xenon headlights are the best I've used on any vehicle. They bend with the steering wheel to light your path in the corners and are basically bright as daytime when you turn the high beams on. All headlights should be this good.
Audio - 7/10
Volvo's eight-speaker audio system is very good. It's one of the better factory stereos I've sampled that doesn't have a fancy brand name attached to it. It has a strong, clear surround sound with excellent bass. Both my Spotify, streamed over Bluetooth, and satellite radio sounded great.
I'd rank it higher in the audio category if I got a little more sound from that straight six. I know, I liked the car because it was quiet, but a bit more engine noise on demand would be nice. As it is, it's just a mild rumble. I wanted more of that.
Value - 7/10
My V60 T6 came in at $48,225. At that price I would have liked a few more safety features, especially the backup camera and a few other gizmos. But the V60 itself starts at about $35,000 for the four-cylinder front-wheel drive model, and overall I do consider the car a good value.
In the end, I liked this Volvo a lot. I will admit there were times I wished I was in a 328i Sport Wagon instead, because that's indisputably more fun. But this is a car for people who maybe want something a bit more unique.
Maybe they want a nice luxury car with a badge that isn't as flashy; maybe they want something comfortable and cushy and practical because their other car is a Boxster or an Ariel Atom or that fancy new 300 horsepower Kawasaki that's going to kill everyone who tries to to ride it; maybe they want something with that unique Swedish character.
In spite of whatever flaws it may have, the overall package is strong enough that it gets my recommendation for someone looking for a wagon that's a little different from the rest of the crowd.
Total - 70/100
Engine: 3.0-liter turbocharged inline six
Power: 325 HP at 5400 RPM/ 354 LB-FT at 3000 RPM
Transmission: Six speed automatic with paddle shifters
0-60 Time: 5.2 seconds (estimated)
Top Speed: Not listed
Drivetrain: All-Wheel Drive
Curb Weight: 3,790 Pounds
Seating: 5 people
MPG: 19 city/28 highway/22 combined
MSRP: $48,225 as tested
2015 Volvo V60 4dr Wgn T5 Drive-E FWD Specs
Engine type
Intercooled Turbo Regular Unleaded I-4
Transmission/Drive
Automatic w/OD