This is the Morning Shift, our one-stop daily roundup of all the auto news that's actually important — all in one place at 9:00 AM. Or, you could spend all day waiting for other sites to parcel it out to you one story at a time. Isn't your time more important?
---
1st Gear: How A Carpet Company Will Save Automakers From The Resin Crisis
Automotive News reported last night that our long national resin crisis might now soon be over. The makers of Stainmaster carpet may help prevent a shutdown of automotive production resulting from a recent shortage of resin. Wichita, Kan.-based Invista Inc. confirmed that its Victoria, Texas, plant is working at capacity to produce Cyclododecatriene or CDT — a chemical and a key ingredient in the widely used automotive resin called nylon 12. "We're doing what we can to fill the immediate need," said Jodie Stutzman, manager of business and external communications at Invista. "The CDT operations we have are running hard, and we're working to make available as much of the material as possible right now." Stutzman declined to identify auto companies purchasing CDT from Invista. Also today, chemical giant DuPont said it expects additional demand from automakers seeking to work around the nylon 12 shortage.
---
G/O Media may get a commission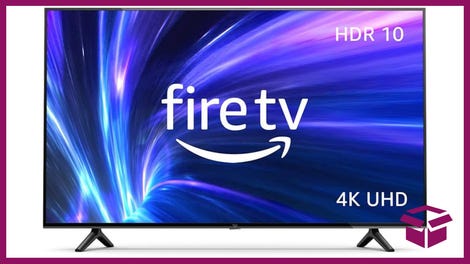 42% Off
Amazon Fire TV 50" 4K Smart TV
2nd Gear: The Ford Transit Custom Hints At F-150's Future
The new Ford Transit Custom just made its global debut at the U.K.'s Birmingham Commercial Van Show this week and, although it won't be sold stateside, as PickupTrucks.com tells us, there could be some hints from it about what's to come for future light-duty Ford pickup models. For example, as much as 40% of the Transit Custom's body is made from high-strength or ultra-high-strength steels. Also, it looks like what happens when a Fiesta makes love to an Econoline.
---
3rd Gear: BMW M President Confirms M135i; Claims M550d Still Might Come To U.S., And A Mid-Engine Supercar Still Possible
BMW M GmbH president Friedrich Nitschke revealed some new details about the company's future product lineup earlier this week to with Car & Driver. Nitschke confirmed there will be a production version of the M135i concept, saying it will be "virtually identical" to the show car and be powered by the N55 engine. Nitschke also revealed the model will be offered with an optional all-wheel drive system. A few drinks later, he then said the company is considering an M Performance 7-series with a tri-turbo 3.0-liter six-cylinder diesel engine that develops 375 bhp and 546 lb-ft of torque. Nitschke also said the M550d could be offered in the United States, despite research showing there isn't enough demand. Last but certainly not least, Nitschke said some at the company want to build a mid-engine supercar — but no green light yet.
---
4th Gear: Ford To Double Passenger Car Production Capacity In China
Ford said yesterday it will double passenger car production capacity in China — to 1.2 million units annually — with a $760 million investment in its new Hangzhou plant. The plans bring Ford's total investment in China up to $4.9 billion as it competes for a bigger foothold in the world's largest car market. Although Ford entered the market later than competitors it hopes to outpace them with plans to bring 15 new vehicles and 20 new powertrains to China by 2015.
---
5th Gear: Rural China Loves Little Electric Cars?
Good thing Ford's looking to boost capacity — hopefully one of the cars they'll build will be tiny little electric cars. Why? Because apparently, if Reuters is correct, they're the new hotness in rural China among lower-income buyers who want to get off their bikes and into any four-wheel vehicle they can afford. "Mini electric cars are getting popular in rural areas as farmers need something affordable to carry them around," said Wei Xueqing, vice chairman and secretary general of the Shandong Automobile Manufacturers Association. "Many are still taking their kids to school on bikes, motorcycles or even three-wheel farm vehicles, which are neither safe nor comfortable." Shifeng is apparently the top player in the market, with about a 50% share, delivering nearly 30,000 cars to its 200 dealer outlets across the country in 2011. Sales this year could hit 50,000, about a 13-fold increase over the level in 2008, the first full year of sales, said the company's vice president, Lin Lianhua. Trends!
---
6th Gear: Alfa Romeo Trademarks 4C In U.S.
Automotive News tells us this morning that Fiat's Alfa Romeo division took a step closer to its return to the United States — registering the brand of its 4C compact sports car, the unit's first model targeted for sale here in almost 20 years. The Alfa Romeo 4C trademark, covering accessories such as clothing and toys as well as the vehicle and parts, was issued by the U.S. Patent and Trademark Office on April 10, according to a release posted on the U.S. Federal News Service. Fiat CEO Marchionne said April 4 that that the rear-wheel-drive coupe will go on sale in North America by the end of 2013. This looks like it'll get 'em one step closer to that reality.
---
Reverse:
Honda seeks to reverse hybrid owner's small claims award. [USA Today]
Why Train Kids to be "Grease Monkeys"? Because We Need Them. [Car & Driver]
DAF YA-4440 Expedition Truck. [Motor Trend]
AMG officially disavows partnership with Ducati. [Auto Blog]
Will Chevrolet Volt Politics Disappear After November? [Motor Trend]
Nissan luxury car brand Infiniti announces plans for first China manufacturing in 2014.
Suzuki: Going Places Elsewhere, but Not in America. [New York Times]
Beijing show offers respite for weary GM execs. [Automotive News]
---
Today in Automotive History
On April 20, 2008, 26-year-old Danica Patrick wins the Indy Japan 300 at Twin Ring Montegi in Montegi, Japan, making her the first female winner in IndyCar racing history. [History]
Show us your tips!
Got tips for our editors? Want to anonymously dish some dirt on a competitor? Know something about a secret car? Email us at tips@jalopnik.com.
Lost in our new layout?
Click here for the Opposite Lock or Tips forums. Want a more "blog-like" look? Click the button up top next to "Top Stories."
Get more Jalopnik!
Want even more Jalopnik? Want to know which of your friends read us? "Like" us on Facebook and follow us on Twitter.