This is the Morning Shift, our one-stop daily roundup of all the auto news that's actually important — all in one place at 9:00 AM. Or, you could spend all day waiting for other sites to parcel it out to you one story at a time. Isn't your time more important?
---
1st Gear: Bob Lutz Kicks Stephen Colbert's Weak Ass
If you missed former GM Vice Chairman "Maximum" Bob Lutz on The Colbert Report last night for his rematch of his first interview with Stephen Colbert during the Carpocalypse, you should kick yourself. Mostly because it means you missed Stephen Colbert get beat by an 80-year-old former GM executive in a push-up contest. We love you, Bob. Luckily, the clip's online, so head over to the Comedy Central show's website to watch Bob dish on the Volt, Mitt Romney, and his new book. Also, the push-ups.
---
G/O Media may get a commission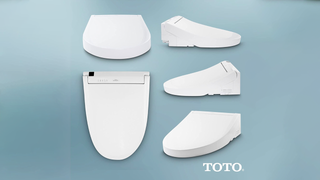 44% off
Toto Washlet Electronic Bidet Toilet Seat
2nd Gear: 2013 Stage 3 Roush Takes Mustang To Such Great Heights
Roush's latest creation is this — the 2013 Stage 3 Roush Mustang. Under the hood is a standard 5.0-liter V8 engine with a 2.3-liter Eaton TVS Roushcharger with all-new intake manifolds, intercooler, and radiator. The strap-ons help bring the already potent 420 HP, 390 lb-ft o' torque up to an amazeballs 565 HP and 505 lb-ft o' torque-y goodness. To help make sure the extra power charged out of the standard 5.0 block doesn't go to waste, the new Stage 3 has what they claim is a "sport-tuned" and lowered suspension. And — to help make sure you look like you're driving a Roush — there's all sorts of make-pretty bits n' baubles to complete the package. All this can be yours for the simple fee of just $16,500 for the full kit — including the three-year, 36,000-mile warranty from Roush. More photos here.
---
3rd Gear: NHTSA Kills Ford E-Series Switch Investigation
The Detroit News reports this morning that National Highway Traffic Safety Administration is closing an investigation into nearly 1.1 million Ford E-series vehicles over concerns switches could fail and cause a fire without a recall. NHTSA had 1,036 complaints and reports of failed blower motor control switches. Two fires were likely caused. The Dearborn-based automaker has agreed to change the switch to make it more resistant to short-circuiting starting with next month's production.
---
4th Gear: BMW Now Sells More Cars In China Than The United States
Bloomberg reports that BMW, the world's largest luxury automaker, delivered more cars in China than in the U.S. for the first time. First-quarter sales of cars under the BMW and Mini brands rose 37% to 80,014 vehicles in China, Hollie Yang, a Beijing-based spokeswoman for the company, said by phone to Bloomberg today. That's 4,285 more than the vehicles sold in the U.S., where deliveries rose 17%. China helped Munich-based BMW post a global sales record last quarter as growth in demand for luxury cars outpaces that for other types of vehicles in the country. The company, whose sales lag behind Volkswagen AG's Audi in China, plans to narrow the gap by introducing new models such as a long wheelbase version of its 3-series later this month.
---
5th Gear: Nissan May Revive 240SX?
Nissan's design boss Shiro Nakamura revealed to Aussie car mag Drive that the brand may look to downsize its sports models, which could include a revival of the Silvia that was sold there as the 200SX and here, stateside, basically, as the 240SX. "I much prefer smaller sports car," says Nakamura. "It is the time to look at that [smaller engines]. With 370Z, we still don't know next generation will have a larger or smaller engine." Nakamura says reducing the weight of the next generation Nissan sports cars is a priority. How cool would a Nissan 200SX be?
---
6th Gear: Honda To Drop Two Concepts At Beijing Auto Show
Honda has announced it will unveil two new concept cars at the 2012 Beijing Auto Show taking place later this month. Both models — one will be a sedan and the other, a hatchback — will be focused on Chinese customers and both will be an "official world premiere." More details — what little there are — over at Motor Authority.
---
Reverse:
⏎ How Chrysler Shows Its Love for Detroit. [The Street]
⏎ Nissan will invest $200 million to build Golf rival. [Automotive News]
⏎ Receivers: Saab Auto debt amounts to $2B. [Marketwatch]
⏎ With Concepts in Manhattan, Chevrolet Tries to Ignite Design Students' Interest. [New York Times]
⏎ TRW introduces touchpads for infotainment. [Automotive News]
⏎ Google, The Automaker? [Seeking Alpha]
⏎ Public opinion of auto industry bailouts greater than that of financial, insurance industries. [Detroit Free Press]
⏎ No hybrid at launch for new Nissan Altima. [USA Today]
⏎ How The U.S. Automobile Industry Has Changed. [San Francisco Chronicle]
⏎ More than moving metal; Hyundai drives brand makeover. [Reuters]
---
Today in Automotive History
On this day in 1879, Sandor Herz-the future John Hertz, the man behind what will one day be the world's largest car-rental company-is born in present-day Slovakia. [History]
Show us your tips!
Got tips for our editors? Want to anonymously dish some dirt on a competitor? Know something about a secret car? Email us at tips@jalopnik.com.
Lost in our new layout?
Click here for the Opposite Lock or Tips forums. Want a more "blog-like" look? Click the button up top next to "Top Stories."
Get more Jalopnik!
Want even more Jalopnik? Want to know which of your friends read us? "Like" us on Facebook and follow us on Twitter.