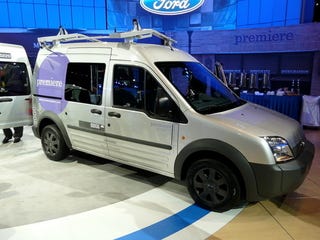 While a Chevy GM PR staffer yelled "FUCK!" in the crowd, the Ford Transit Connect, the Traverse-besting little-commercial-van-that-could, picks up North American Truck Of The Year. The Ford Fusion Hybrid, predictably, picks up Car Of The Year. We're predictably bored.
Frankly, we're nonplussed by Ford picking up both awards. NACTOY's a joke — picked by insiders for insiders. In fact, if the award weren't handed out at the Detroit Auto Show by the head of the Detroit Auto Show it wouldn't be worth a damn thing.
Not that we're complaining — we love the Transit Connect and the Ford Fusion Hybrid's an impressive beige car disguised as a Game Boy — but seriously, the award's not worthwhile to anyone but the marketing folks.