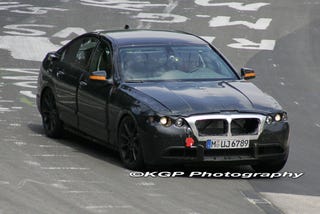 There's been some speculation as to the design direction of the 2010 BMW 5-Series. Specifically, there are those who wondered if it would be a conservative and evolutionary move from the E60 or a more drastic change similar to the BMW CS Concept. These spy photos, which show an undisguised grille, seem to point a larger and smoother opening more similar to the CS than the 2008 BMW 5-series. All the better for a twin-turbo V8 to breathe with? Spy report below the jump.



2010 BMW 5-Series
A new BMW 5-series prototype has hit the 'Ring, this time without the
heavy mesh camouflage that usually covers its grille. Of course its
twin-kidney grille is no surprise, but there are some nuances to the
new 5-er's face that promise an improved look over the somewhat
awkward lines of the current model. Elements of the upcoming 7-series
can be seen in the grille of the 5-series, such as the larger,
smoother shape to the openings. To our eyes, the shape of the front
"kidneys" is a bit of a throwback to the E39 5-series which ended
production in 2003.