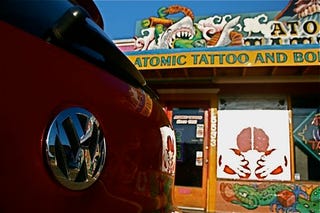 Jalopnik Reviews
All of our test drives in one convenient place.
Exterior Design: **** The 2009 Volkswagen Tiguan puts its best face forward, literally. The front fascia borrows more from the attractive Touareg and CC than its platform-mate, the bland Rabbit. The proportions look muscular enough to tackle harsh roads (it actually isn't), sporty enough to best the competition on the track (it won't) and roomy enough to stow your gear (it can't). Even from the back, the Tiguan is still attractive despite being a touch bland.
Interior Design: ** The interior is the familiar Volkswagen design, borrowing a radio from the SportWagen, the transmission position of the Golf and the steering wheel from the generic VW parts bin. What sets the cockpit apart from the rest of the VW lineup is higher positioning of the control surface on the dash. The seats fold forward all the way, including the front passenger seat, stretching the usability of the interior. All in all, it's nothing to write home about.

Acceleration: *** The turbo four, the standard engine for every version of the Tiguan, propels the Tiguan to 60 mph in just under eight seconds. It's enough power to quickly accelerate past traffic at highway speeds when the six-speed tiptronic transmission is in "sport" mode. In "regular" mode the transmission takes its time, almost as if it needs to call VW headquarters to make sure it's cleared to speed up before acceleration commences. Braking: **** As competent as the Tiguan's brakes are, and they're perfect for a vehicle this size, the parking brake is perhaps the neatest feature. Unlike the typical lever-activated handbrake or the modern push-button job, the VW has a paddle-actuated electronic parking brake with Auto Hold, which allows the driver to set the car to automatically engage the brake if on a hill. This serves almost no purpose on this tiptronic-equipped car but would have been awesome if we'd had been given a manual model to test. Ride: *** Even with the same three-spoke steering wheel as the Rabbit, you'll not be easily confused about what VW you're cruising in. The Tiguan offers an enjoyably soft ride ideal for the kind of customer it's going to attract. Crossing long stretches of highway there's little excess vibration and not a hint of harshness. Handling: ** Though the steering response is quick and the crossover has a tight steering angle, the Tiguan's height and excess weight conspire against it when it comes to piloting around turns. Perhaps it's because they've played up the sportiness of the Tiguan so much, but I felt it didn't meet expectations. Too much lean. Too much chirp in the corners. Nothing about the handling helps the Tiguan differentiate itself from the competition. Gearbox: *** Not surprisingly, we'd recommend the six-speed manual over the tiptronic six-speed automanual. In normal driving, the transmission suffers from a high-school-Senior-early-accepted-to-Notre-Dame level of torpor. Choosing to select your own gears doesn't help much, either. The "sport" mode, however, selects slightly more aggressive shift points and speeds up the process. Audio: ** Though the sound coming out of the 8-speaker system isn't bad, the basic in-dash CD system is too simple. The buttons are too large and the display too small, as if it were a Fisher Price My First Car Radio. Even more annoying, all models come with an auxiliary iPod port but this radio is unable to interface with it. It just sits there and basically mocks you. Booooo. Toys: * In S trim, the basest of base levels, the Tiguan doesn't offer much more than the auto hold feature as an added extra. If you want to expand the definition of toy, the rear seat features a fold-flat section with built-in cupholders. Yeah! Cupholders. Value: *** The Tiguan is well positioned as a vehicle slightly nicer than the cheaper-feeling and lower-priced Escape, with a better look than the Vue and performance not that far off from the significantly more expensive Acura RDX. Assuming good reliability, and this is a large assumption, the added cost may be worth it to someone who is not moved by the domestic or Japanese offerings but can't swing a Lexus. Overall: *** Based on the rest of the segment, Volkswagen has accomplished no small feat with the Tiguan. They've built a CUV with sporty looks and the quickness necessary to appeal to buyers who think it's what they want, but cushy and comfortable enough to meet their actual needs. If I needed the space and wanted a VW I'd be more inclined towards the more nimble SportWagen. But, the Tiguan's a vehicle something I'd let my girlfriend get without much protest. Also see: