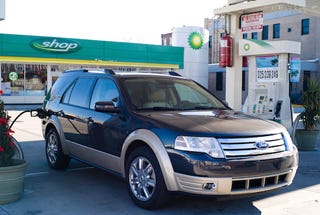 Jalopnik Reviews
All of our test drives in one convenient place.
The Taurus X has an identity problem. By trying to be part station wagon, part SUV and part luxury car. It aims to draw from the best qualities of each, but so far, I'm afraid it might be doing the exact opposite. Take the economy for instance. Ideally, the Taurus X would provide SUV versatility with lower fuel consumption. At 18mpg combined and the inability to haul truly large loads, it does the reverse.



Ford claim the AWD Taurus X achieves 15mpg in the city, 22 on the highway. We're averaging 18 through a mix of highways, rural roads and city driving. This is pathetic considering it barely has enough acceleration to get out of its own way. Ford's new 3.5L Duratec V6 fails to offer either performance or economy, while mated with a new 6-speed automatic that specializes in always being in the wrong gear. The result is a frustrating driving experience. Ford Europe's 7-seat S-max is only 300lb lighter, but since it's equipped with the company's 2.0-liter turbo diesel engine, that car manages a combined average of 32.2mpg with an automatic transmission.
The big Taurus does drive better than its taller cousins. Ford's Edge is equipped with the same engine and feels smaller, but is outclassed by the Taurus X on the road. The Volvo underpinnings are evident, delivering a vehicle that feels safe in any condition. Gone is the Edge's scary waywardness on high-speed highway off-ramps. But mere competence is hardly the pinnacle Ford should be trying to achieve. We can't help but wonder what might be possible if its center of gravity was just a few inches lower.
Somehow, Car and Driver managed to squeeze a 7.7 second 0-60 time out of this thing. We haven't hooked the Taurus X up to timing gear, but in the real world, it's not that quick. This is largely due to the gearbox, mash the accelerator to pull into a gap in highway traffic and you have to wait 3-4 seconds for it to shift down two or three gears before the meaningful acceleration kicks in. By the time you're up to speed, the gap you were aiming for is gone.
Photo Credits: Cydney Goldberg, Grant Ray