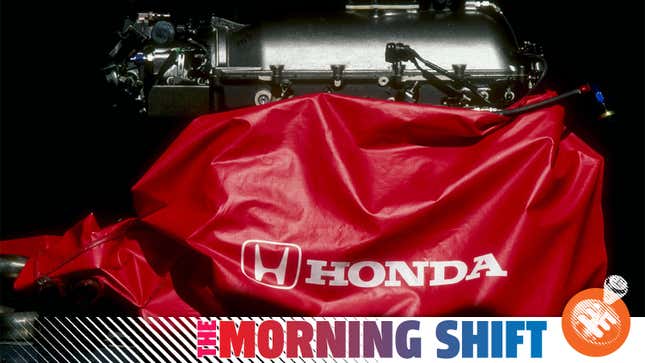 Honda doesn't see itself stopping production of gas-burning engines anytime soon, while Germany has successfully delayed the European Union's final vote on banning gas-burning engines. Also, Hyundai's going to be in court a lot over the whole immobilizer thing. All that and more in this Friday edition of The Morning Shift for March 3, 2023.

1st Gear: Engines in Honda's Future
Ever since the waning months of last year, Honda's been singing a livelier tune around EVs. It's joining forces with LG to raise a battery facility in Anna, Ohio — a facility that both itself and its partner have agreed to put up at least $3.5 billion for. Its first mass-market EV for North America, the GM Ultium-based Prologue, has been revealed and is on target for a 2024 release, alongside Acura's version of the SUV, called the ZDX. An EV division will soon be spun off, and then there's whatever the hell Afeela is.
But much like Toyota's sudden fascination with EVs, don't take this to mean that Honda isn't sticking to its habitual conservatism in the background. The automaker's CEO, Toshihiro Mibe, recently told Reuters that combustion engines could remain in production even beyond 2040, perhaps with the help of synthetic fuels.
Regarding the Japanese automaker's accelerating transition to EVs, Chief Executive Toshihiro Mibe said, "I've been in the engine development business for more than 30 years, so personally it's a little threatening. But I have to separate my own feelings from what is best for the business."

That includes the establishment next month of a standalone business unit to oversee development of Honda's EV and battery business, which eventually could include an investment in charging stations, similar to Tesla Inc's Supercharger network, Mibe said in Marysville, Ohio, at the hub of the company's U.S. operations.

"The charging infrastructure is not at a place that it needs to be for our customers," he said.

Mibe added that Honda is running feasibility studies on everything from chargers and advanced batteries to aerial vehicles and rockets, as well as new low-carbon e-fuels that could help keep combustion engines around - in performance cars, big trucks and airplanes - for another decade or two.

But Mibe added, "as we move toward carbon neutrality, we are focused on electrification and fuel cells - those are the two core components of future mobility."
There are pragmatic reasons for the so-called multi-pronged approach that Honda and Toyota keep touting, even once you get past the political factors that may explain a slow embrace of EVs. The infrastructure certainly isn't where it needs to be, sure. Setting a vague, arbitrary death date for ICE cars has proven to be a popular investor play more than anything else, so I'll even say the realism both companies have displayed is refreshing.
That said, at the end of the day you've still got to have compelling electric cars, because that's where we're ultimately headed. And maybe if Honda was a little more bullish, the Prologue would've been out two years ago and not next year. Maybe it'd have its own EV architecture by now, instead of having to pay GM for its homework. The wait-and-see strategy makes sense now when EVs comprise 6 percent of the market. But down the line, if it leaves your tech a generation behind everyone else, how might you feel about it then? Honda's trying to thread that needle between the present and the future, and I only wish I had a crystal ball to see how it works out for them.
2nd Gear: Germany Delays EU ICE Ban Vote
While the European Parliament, Commission and each of the Union's member states approved a 2035 death date for internal-combustion engines last year, the law still needs one more round of votes to go ahead. Earlier this week, Germany and Italy indicated they wouldn't continue to support the proposal unless ICE production was permitted with the use of synthetic fuels. That language was never formalized.
Since Germany's made it abundantly clear that it won't pledge in favor without that stipulation, the EU has saved itself embarrassment and called off the impending vote, originally scheduled for next week, indefinitely. From Reuters:
German Transport Minister Volker Wissing reiterated on Friday that the use of synthetic fuels should remain possible after the 2035 deadline and that the European Commission's promised proposal on how to make this happen was still missing.

"We want climate-neutral mobility", and to do so means being open to all conceivable technologies, he told a news conference.

A non-binding section of the EU law says the Commission will make a proposal on how vehicles running on CO2-neutral fuels can be sold after 2035, if this complies with climate goals. But Germany's transport ministry wants clearer assurances.

A Commission spokesperson on Friday said it "will consider the potential contribution of CO2-neutral fuels to reach climate neutral mobility", adding that it was in contact with countries to discuss their issues with the law.
And in case you're curious about how Italy feels about this whole thing:
Italy, which has previously said it will vote against the EU cars law, on Friday welcomed the postponement of the vote.

"Italy has a very clear position - electric (cars) cannot be the only solution for the future," Energy Minister Gilberto Pichetto Fratin said, adding that vehicles running on "renewable fuels" should be considered an "equally clean" option.
As convenient as it would be if synthetic fuels were "equally clean" compared with EVs, they simply aren't. "Lab testing commissioned by European campaigners Transport & Environment shows that cars powered by e-fuels emit just as much poisonous nitrogen oxides as fossil fuel engines," Australia's The Driven reported little more than a year ago. Besides, synthetic fuels will continue to be expensive for quite some time, as Bloomberg reiterated around today's news:
Splitting hydrogen from water and combining it with carbon to make a synthetic fuel requires lots of electricity. The process today is inefficient and thus costly; At best, it converts half of the energy in the electricity into liquid and gaseous fuels according to the International Council of Clean Transportation. By 2030, the production of a liter (roughly a quarter of a gallon) of e-fuel will still cost around $3 or $4, the US-based nonprofit organization forecast in 2020. That's down from about $5 today, according to a study by German energy agency Dena, but still much more than petroleum-based fuels.
The International Council of Clean Transportation estimated that even by the end of this decade, a liter of synthetic fuel will still cost $3 to $4 to make. As of 2016, a barrel of crude oil — 42 gallons — cost $5.15 to produce in the United States.
3rd Gear: It's Class Action Season for Hyundai
Hyundai's got a number of class-action lawsuits on its hands as a result of its decision not equip some 8.4 million vehicles with engine immobilizers. The company issued the first batch of software fixes a few weeks back, but attorneys argue the damage has already been done. They're pressuring the automaker to compensate owners who have already suffered damages or can't sell their cars. From Automotive News:
Matt Van Fleet, a senior trial attorney with MLG Attorneys at Law in California, who represents clients in a class-action lawsuit on the issue, called the move "commendable" but not enough to stop the litigation across the country.


"We're thankful that Hyundai and Kia are recognizing that there's a problem, but the bell's already been rung," Van Fleet said.

"The fix does nothing to address the thousands of dollars that our clients have had to dole out to repair the damage caused to these vehicles after they've been stolen, if they're able to recover their cars at all," he said.

Litigants are claiming Kia and Hyundai must pay for the economic losses they suffered when their vehicles, which were not equipped with engine immobilizers, were stolen as the result of a social media-driven crime wave.

A spokesperson for Hyundai told Automotive News the company is committed to the security of its customers and plans to continue its ongoing support of the communities affected by this theft issue. But he did not comment directly on whether the automaker would address the damages caused to consumers who claim their vehicles have already been stolen.
It's hard to see this playing out well for Hyundai, but as long as the amount it ends up forking over to class action members totals less than the cost of installing immobilizers in 8.4 million cars on the production line, I suppose it's still a win.
4th Gear: Volkswagen <3 Gigafactories
Volkswagen is the latest automaker to start talking broadly about EV and battery-making plants in the U.S., per Reuters. One of the sites might even be dedicated to production of its future Scout electric SUVs that we still weirdly know almost nothing about.
Volkswagen's supervisory board will on Friday discuss plans for two new factories in North America, one production plant and one battery cell factory, two people familiar with the matter said.

While the committee is expected to approve a site for its Scout brand in the United States, discussions around a gigafactory are open-ended, the sources said. Other issues on the meeting's agenda are Volkswagen's annual results and its dividend, the people said.

A person familiar with the matter earlier this week said the supervisory board would discuss a new plant for the Scout brand, which is a key part of Volkswagen's target to gain 10% market share in the United States. [...]

"We are still working hard to find a suitable location for our first gigafactory in North America and are in good, constructive talks," a Volkswagen spokesperson said on Friday, adding no decision has been made yet.
It'll never cease to amaze me how the world's largest carmaker can so shamelessly copy Tesla's language without even a hint of embarrassment. They're down so bad.
5th Gear: Self-Driving Trucks Get More Lights
Tractor-trailer drivers are required to place reflective triangles behind their trucks when stopped on the shoulder. However, self-driving trucks have no drivers and therefore cannot do this. It's for that very reason that Alphabet's Waymo and Aurora have jointly filed for an exemption from the Federal Motor Carrier Safety Administration. The two companies have proposed an alternate procedure for warning other drivers, per Automotive News:
Instead of triangles or flares at night, Waymo and Aurora have requested their partner motor carriers be allowed to equip truck cabs with flashing warning beacons that would be activated when a truck stops along the side of the road.


The beacons would be mounted on cabs at a height above the upper edge of side-view mirrors, according to the exemption request.

While some companies have experimented with a digital replica of the orange triangle affixed to the rear of trailers, such an arrangement would not be practical because trailers are frequently exchanged between carriers, a Waymo spokesperson said Thursday.

This marks the first time two self-driving technology companies have jointly sought an exemption from FMCSA rules.
Mounting these beacons above the side mirrors does nothing to inform you where the edge of the trailer lies, of course, though Waymo and Aurora claim that their independent studies have found flashing lights to be a more effective tool anyway. To any other drivers plagued by light sensitivity reading this, just know that I am thinking of you and I hate this, too.
Reverse: Some Called It 'Ladybird'
It was on this very day in 1958 — 65 years ago — that 365 Days of Motoring tells us Subaru launched its very first car, the adorable 360:
At [the] time, Japanese automobile manufacturers were working on developing small cars according to a plan calling for the production of a "people's car" as advocated by Japan's Ministry of International Trade and Industry. The Subaru 360 was developed in line with this concept. In those days, passenger cars were too expensive to be within the reach of most people. Building a small, affordable car that could perform well proved to be technologically tough, and many manufacturers were reluctant to tackle the problem. However, with its roots in aircraft manufacturing, the company took up the challenge backed by its pride and prodigious technological strength. It beat the other manufacturers in developing a four-passenger, four-wheel minicar, the Subaru 360, which became a milestone in the history of Japan's automobile industry. Because of its ladybug shape, the Subaru 360 was affectionately referred to as the Ladybird. For 11 years after its debut, the Subaru 360 enjoyed tremendous popularity. It finally went out of production in May 1970.
Neutral: It's Friday
What are you doing this weekend? Tonight I'm going to a concert, seeing The Beths and Sidney Gish at Philly's Union Transfer. I haven't been to nearly enough shows since they started happening again post-pandemic, so this one should be a good time.