Woody Smith likes to build cars that are slightly different. Instead of going with an old nailhead for his classic-style hot rod, he decided on a mighty Lincoln V12.
G/O Media may get a commission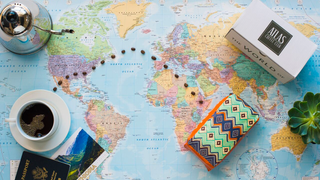 First Bag Free
Atlas Coffee Club - Free Coffee
Explore global coffee
With each bag, Atlas includes details on the coffee's tasting notes and a postcard about the region and its coffee history. And when you subscribe, you have options to tailor frequency, grind size, and roast preference of your beans, so you'll always be brewing the perfect cup.

The siamesed exhaust ports on the passer by leads most to believe it's just another V8, but such is not the case. A V12 thumps in the heart of this beast and clever details abound. Cool parts: The elegant sweep of the exhaust pipes, the Mobile Pegasus, hand pin striping, and a torque tube mounted up with a multilink suspension modeled after lakes speedsters, a fuel indicator made by drilling a hole in the cap, welding a red-painted allen key to a pushrod stuck into a fuel float, hood ornament as shifter knob. The one detail we really like is the steering. Take a look at that head on image and think about what's missing. Take your time.
There's no drag link between the wheels. Woody didn't want extra parts hanging off the front. He wanted everything to be moving forward as much as possible, so he dug through history and discovered a Ford tractor steering box with two output shafts which counter rotate, for a push-pull effect, no drag link necessary. How cool is that?