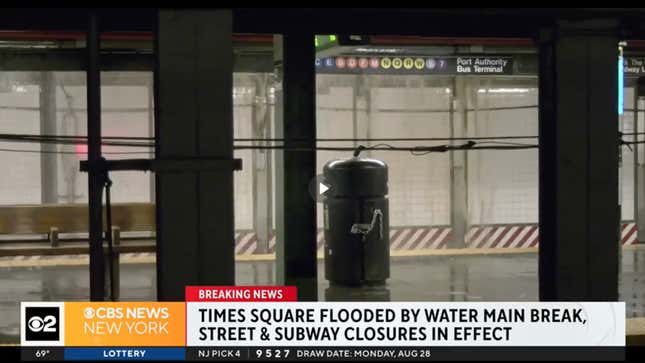 A 127-year-old water main running under Times Square burst on Tuesday morning. As you may have guessed, this is a bad thing that ended up flooding streets in Midtown, Manhattan and doused the city's busiest subway station right in time for the morning commute. According to ABC News, the 20-inch pipe gave way under 40th Street and Seventh Avenue right around 3 a.m.
The water may have only been a few inches deep on the street, but social media video shows water rushing into the Times Square subway station down stairwells and through ventilation grates. ABC News described the subway tracks as "mini rivers."
The outlet says it took Department of Environmental Protection crews about an hour to find the source of the leak and shut the water off. The excavation of the area reportedly left a big hole at the intersection of 40th and Seventh where workers dug with construction equipment to get to the broken section of pipe.
Thanks to quick work by DEP employees, surrounding streets were open by rush hour, but that intersection remains closed. Subway riders, however, have not been as lucky. Service was reportedly suspended through much of Manhattan on the 1, 2 and 3 lines which run directly under the broken pipe. At this point, 1 train service is still partially suspended, but 2 and 3 trains have been restored in the area.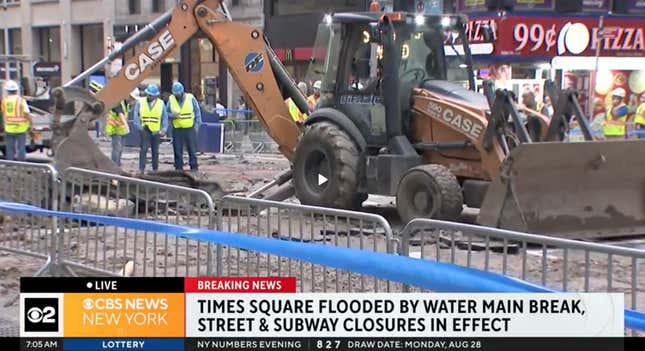 Commuters told a CBS News reporter that the incident sounded like an "explosion."
"All of a sudden, debris started coming down. We thought it was an explosion, but it was water. Everybody started running. It started to flood the tracks, they had to call the cops. Everybody ran out of the subway," John Baldey, a commuter, told CBS News. "We didn't know what happened, we thought it was a collapse, I guess, all the water."

As hard as it may be to believe, the situation could have been even worse. The outlet reports that a 48-inch pipe next to the bust one remained intact.