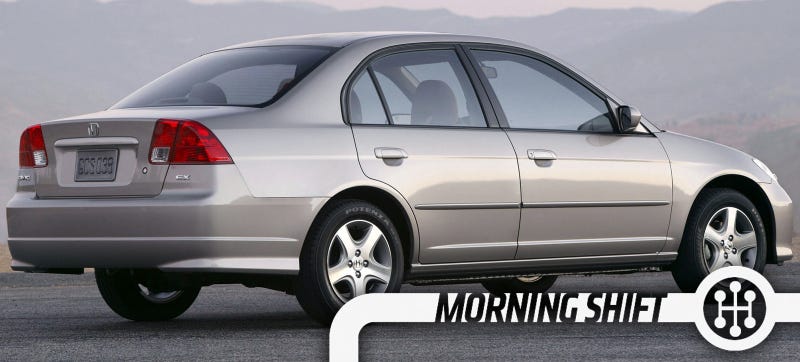 The Morning Shift
All your daily car news in one convenient place. Isn't your time more important?
Good Morning! Welcome to The Morning Shift, your roundup of the auto news you crave, all in one place every weekday morning. Here are the important stories you need to know.
1st Gear: If You Don't Drive One You Know Someone Who Does
I can think of few cars as ubiquitous on American roads as the 2001-2005 Honda Civic and the 2003-2007 Honda Accord. They're all about to get recalled to fix their potentially deadly and explosive Takata airbags — 1.39 million of them. Via The Detroit News:
It's the latest expansion of part of the estimated largest-ever single auto recall; NHTSA estimates 11 automakers will call back 33.8 million vehicles. The expansion comes just days after Honda confirmed a seventh death in one of its vehicles linked to air bags rupturing and sending deadly metal fragments flying.

Honda had said the latest passenger recall would cover just 350,000 vehicles in high-humidity areas, so Monday's announcement expands the callback by 1.04 million vehicles.
Oof. That's a lotta cars. But it's important to get them fixed because...
2nd Gear: Seventh Death Confirmed From Takata Airbag Deployment
You may remember last week the case of Kylan Rae Langlinais, the Louisiana woman who died after she suffered severe puncture wounds when her Honda struck a utility pole in April. She was believed to be the seventh known U.S. death related to these airbags. A lawsuit has been filed. That has now been confirmed by Honda, via that same Detroit News article:
On April 5, Kylan Langlinais was traveling in Lafayette, Louisiana, when the car hit a utility pole. The suit says the air bag "violently exploded and sent metal shards, shrapnel and/or other foreign material into the passenger compartment ... Langlinais sustained a penetrating injury to the right side of her neck, causing an immediate and profuse loss of blood." She died four days later.

NHTSA Administrator Mark Rosekind said in a statement Friday that the most recent death is "likely" because of a faulty Takata inflator. NHTSA reviewed the police report, medical records and inspected the vehicle. It held talks with Honda as well.

"This tragedy underscores the necessity of the actions NHTSA is taking to ensure that every vehicle on America's roads has a safe air bag," Rosekind said.
3rd Gear: Euro Recovery Slows Down
European car sales have been in comeback mode as the Old World's economy slowly recovers, but they hit something of a road bump in May. From Automotive News:
The recovery in European car sales slowed down in May as buyers' concerns about unemployment and the Greek sovereign debt crisis held back demand. Sales were also hit by fewer business days.

Registrations in the EU and EFTA markets increased 1.4 percent to 1.15 million vehicles, industry association ACEA said today in a statement. Five-month sales rose 6.7 percent to 6 million autos.
Here's the solution, people of Europe: Go out and buy a Civic Type R.
4th Gear: Plaintiffs Accuse GM Of Racketeering Too
The big consolidated lawsuit against General Motors for their ignition switch defect, which combined some 200 existing suits, continues to march its way through federal court. As the official death toll rises to 114, plaintiffs have added an accusation of racketeering against the automaker and its outside law firm, Reuters reports:
The revised lawsuit said GM committed fraud and violated racketeering laws by covering up the ignition-switch defect. The complaint said GM, its outside law firm King & Spalding and claims-management company ESIS knew about the problem but kept it from private litigants and the public.
5th Gear: A Rare Sales Decline For Audi In China
A rep from a large luxury automaker (that isn't the one in question here) told me in 2013 that they weren't worried about China's economy slowing down anytime soon, because that country has been cranking out tens of thousands of millionaires every year.
But now it seems China isn't invincible after all. Bloomberg reports Audi reported their first sales decline in more than two years last month, joining BMW in a sales slump.
Audi, the best-selling luxury brand in China, saw sales decline 1.6 percent from a year earlier, the first drop since February 2013. BMW and Mini sales fell 4 percent in May, the first decrease in a decade.

The sales declines mirror the slowing of the broader vehicle market, which saw deliveries fall for a second month in May, according to China Association of Automobile Manufacturers data. A slowing economy and a stock-market boom have combined to draw money away from auto purchases.
Bad news for automakers who have been expecting China to be their golden goose.
Reverse: Ford!
At 9:30 in the morning on this day in 1903, Henry Ford and other prospective stockholders in the Ford Motor Company meet in Detroit to sign the official paperwork required to create a new corporation. Twelve stockholders were listed on the forms, which were signed, notarized and sent to the office of Michigan's secretary of state. The company was officially incorporated the following day, when the secretary of state's office received the articles of association.
Neutral: How Bad Will This Get For Honda?
Like Takata, Honda knew about the airbag defect for years but only ordered half-measure recalls until recently. Why no backlash against them the way there's been one for GM?
---
Contact the author at patrick@jalopnik.com.