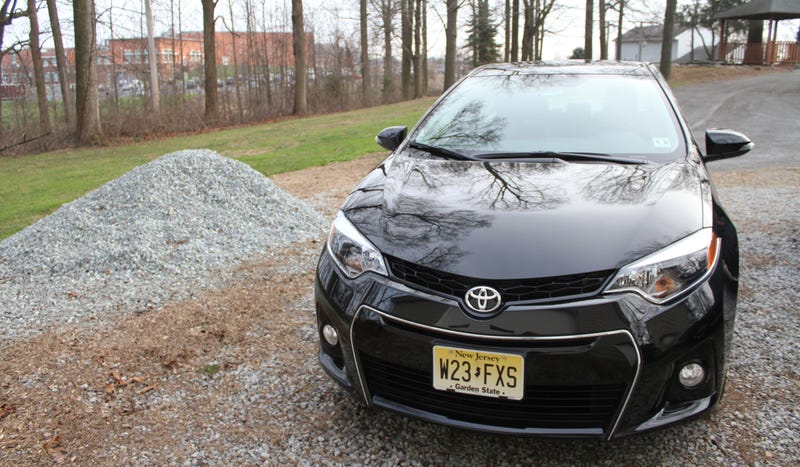 A Toyota Corolla is not a car bound for a pampered, garage-kept existence. It is instead a utilitarian conveyance that will live the hardest life possible in the hands of people who won't be kind to it, precisely because it is a common Corolla—cheap, reliable and robust. So, I wasn't kind to the Corolla I was loaned either. I took it on a time-speed-distance rally in the middle of winter in the northeast.

(Full disclosure: I needed a car while I was in the northeast this January, so Toyota let me use this Corolla to fetch pork roll sandwiches, pass Amish buggies, and oh yes: enter in a winter rally. It came with a full tank of gas which was promptly eaten up driving across Pennsyltucky.)
If you or your family have never owned one of these small Toyota sedans, you probably know several people who have. Toyota built such a reputation for reliability that the ubiquitous Corolla is as common in high school lots as it is in the garages of corporate America. Corollas are driven by the young and old alike. Corolla owners are many. They are legion. You cannot escape the Corolla.

The Corolla is by no means an enthusiast's car, but its run-of-the-mill status invites a certain lack of care and hooliganism. You accidentally curbed a wheel, but oh well; it's a Corolla. You don't care if your kid roasts the clutch when he's learning how to drive; meh, it's a Corolla. You need a car to get places even though vehicular maintenance is a foreign concept, so you bought a Corolla.

For 50 years now, Corollas have had the reputation of a car that will just take whatever gets thrown at it. They're simply hard to break.
But is Toyota's newest Corolla just as unbreakable? While I can't simulate your forgetful aunt's years of neglect, I could at least take it through some adverse conditions. So in January, I took a manual 2016 Corolla S into the woods of upstate New York and Pennsylvania to do a winter road rally to find out.

Brisk-paced winter road rallies don't exist in Texas, so I really wanted to do one again while I was in the northeast. For me, winter driving is a novelty, and whenever I go somewhere else, I want to take on as many cool things as possible that I don't get at home. I had a blast with the first winter rally I tried, so the second I found out I'd be around for another one, I was all over it.