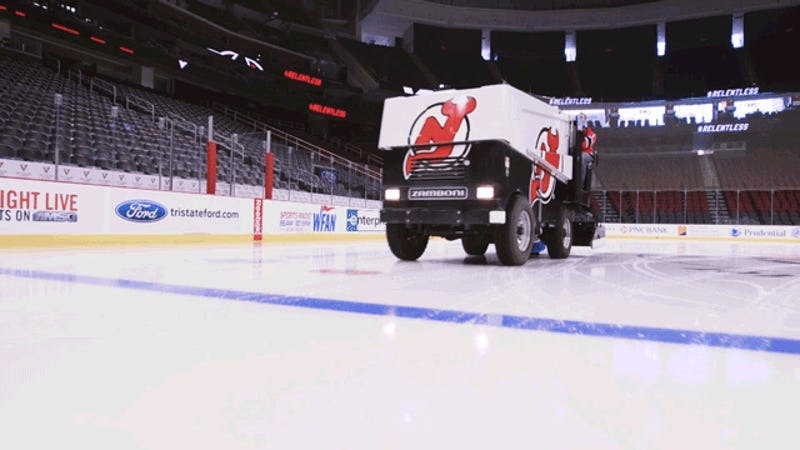 Years ago, after swilling an entire bottle of 20W-50 motor oil, I had a vision. The Great Junkyard Dog appeared to me, and asked me what I most wanted to drive. "A vehicle that transcends time and space," I whispered. "A vehicle that uses the light of humankind as its road." The dog nodded, and answered surprisingly…
When we came across this amusing video of what appears to be an ice resurfacing machine cruising at highway speeds on Bangshift.com this past week we had a simple question—how did someone turn a Zamboni into a street legal vehicle.
Everyone knows lakes lined with "Thin Ice" warning signs are ideal places to play hockey and drive a Zamboni®©℠™. The next hockey game's going to have some interesting defensive strategies.
The failure of an electric ice-resurfacing machine (like Kleenex, colloquially known as a Zamboni®©℠™) at the Vancouver Olympics has the builders of actual Zamboni®©℠™ machines seriously freaked the world is going to think their machines aren't awesome. Silly Zamboni®©℠™.
Here's Car and Driver's K.C. Colwell doing a review of a Zamboni. Frankly...umm...'nuff said. Where do we sign up for one of these first drives? [Car and Driver]
While not entirely car-related, it's entirely amazing to watch a Zamboni fail on center ice during an intermission ice sweep at an NHL game, ain't it? And yes folks, that's transmission fluid, not blood. So fear not all you loyal fans of the Pittsburgh Penguins — the Penguin did not get caught underneath. [Deadspin]
Only in Michigan do we worry about Zamboni fires. Well, maybe in Canada and up-state New York too. [Detroit News]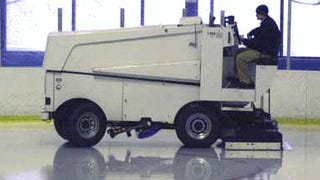 A judge in New Jersey has ruled that a man busted for operating an indoor-ice-rink Zamboni with a blood alcohol level of 0.12 percent (Sambuca-and-Valium breakfast, with some dispute about the timing of subsequent beer and vodka consumption) won't get a DUI offense out of it, because a Zamboni can't be driven on…
Man, those French. They'll do anything not to buy American, including build an ice-smoothing machine using what's apparently a drivetrain from the car the Krauts call the Ente. Our boy in the South of France, generally known as Philippe, sometimes known as French Guy and professionally known as Callaghan tossed us…