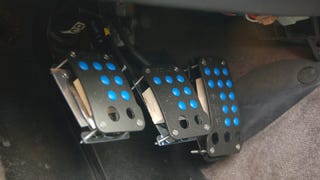 Reddit user Nizidramaniiyt's wife asked him for a manual, but found out she was too short to work the pedals. That's when he devised this "fix" to mount wooden blocks in the pedals themselves.
Joining our stunning collection of There I Fixed It! photos is this great shot from reader Matt of a Saab owner who knows not of build quality but is clearly well acquainted with office supplies.
We've been making "that'll buff right out" jokes almost as long as this site has existed, which is why we're now pleased to finally see an entire site devoted to the meme. Our twelve favorite TBRO's below.
The best intentions of mice and modders often go awry. We follow up our last iteration of There, I Fixed It with a look through ten Jalopnik readers' best worst car mods.