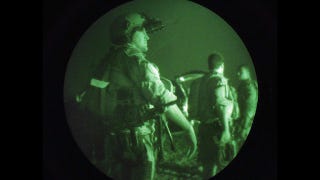 Details of what happened on the night we killed Bin Laden have been dripping slowly from the White House, but anonymous government sources have just handed the AP the entire story. Every single detail. Even the SEAL dog's name.
After Osama bin Laden's death, proud Americans poured into the streets. They cheered in Times Square! They waved flags on Ground Zero! They flashed their boobies in front of the White House! And, on the NYC subway line that runs through Williamsburg, they stared blankly and stifled yawns while some guy implored…
President Obama's statements on the death of Osama bin Laden ushered in one of the greatest moments of collective catharsis in American history. Though only nine minutes in length, the excellent speech managed to incorporate tactical details, an acknowledgment of profound grief, an entreaty for religious tolerance,…
Twitter is freaking out right now over news that Osama bin Laden is dead. Jill Jackson, a producer for CBS News, seems to have broken the story on her feed. Major news organizations like The New York Times and CNN have confirmed it. President Obama has called a news conference. Up-to-the-minute updates after the jump.